6 Ideas to Refresh Your Home Decorating
After so many weeks spent at home, you're probably sick of looking at the same household decorations day after day. Home decor and organization companies are booming right now, for good reason! We're all longing for change, but want options that keep our spaces comfortable as well as expand their uses.
Before ordering a non-refundable mistake online or making a drastic change, consider a couple of questions:
What features do I hate or avoid in my house?
Are the flow and design working for our family?
The answers to these questions will put you on the right path for refreshing your space beyond adding new sofa pillows. The best strategy is to combine two or three of these suggestions. By joining the ideas together, you'll get the biggest impact for the least investment.
6 Ideas to Refresh Your Home Decorating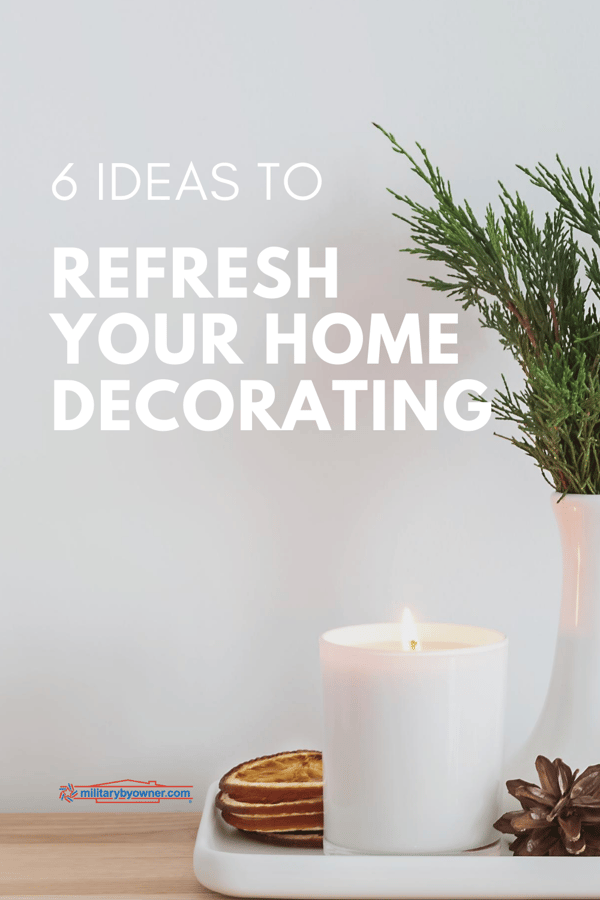 1.Style your home for the season and holiday.
After assembling an inventory of DIY projects, it's easy to become overwhelmed, which is why taking advantage of the calendar is a helpful tool. Although Christmas is probably the first holiday to pop in your head in regards to seasonal decorating, there are year-round opportunities to take advantage of. The trick is to blend the two into a seamless installation.
Fall and Thanksgiving: Regardless of the temperatures outside, September (post-Labor Day) is the unofficial beginning of fall. Start with the fall color scheme of your choice, and as October approaches, sprinkle in Halloween specific items. You'll have no problem finding inspiration. The amount of Halloween decor is second only to Christmas decorating. In November, leave the fall, but remove Halloween and toss in a turkey or two!
Winter and Christmas: After Thanksgiving, begin a base layer of winter decor. As December moves along, add Christmas or other holiday specific items into the mix. In early January, pack up the Santa gear and add in new winter wonderland items and a few Valentine touches to get you through February.
Spring and Easter: Coupled with a deep spring cleaning, pastels, spring grasses, and fresh blooms in a vase force a much needed rejuvenation of home decor in March, April, and May.
Summer and Independence Day: Americana style never goes out of fashion, but if flags and red, white, and blue aren't your taste, nautical or beach vibes are perfect summertime accessories. Capture summer scents indoors with candles that mimic rain or fresh cut grass.
2. Add small bursts of color.
This is a perfect update technique for military renters. Choose a small, but impactful project to add personality that you won't regret when the time comes to PCS. Doors, both interior and exterior, provide a strong visual statement. Paint is simple to apply and if chosen with care, your new hue could remain if your homeowner is happy with the appearance.
Colorfully painted window pane separators provide unique visual appeal which is perfect to enhance the view outside while attending to kitchen chores.
For a pain free, temporary color injection, drape your tabletops or hard surfaces with linens that make a statement. More than standard tablecloths will work. Do you have old scarves packed away, or a linen shower curtain? How about a thin, patterned blanket? You'll want to stack books or heavy candle holders to keep the material in place.
New home buyer? Learn how to balance your home buying dreams against the reality of your budget!
3. Subscribe to "buy nothing" sites for inspiration.
Start a habit of watching buy nothing groups online to find inspired finishing touches. Generous people consistently donate decorating items that no longer make them happy. Curtains, tabletop accessories, lamps, and furniture are all options that regularly come through. Plus, you'll be able to unload any items that you now consider boring.
When searching, stop to consider a second life for an item that catches your eye. Although you might not need a silver platter to serve from over the holidays, a new function might be a coffee table corral, a wall hanging or a tray that holds bathroom items.
4. Re-imagine your room layouts.
If one of your chief home decorating complaints was the functionality or flow of the room, a layout redo might be in order. It sounds intimidating, but the only thing you'll lose out on is manual labor. Furniture can be moved over and over.
There are two rules to keep in mind.
Don't shove all of your furniture against the walls, leaving a huge space in the middle. The arrangement should encourage conversation and coziness.
Anchor the space with a rug. A big rug. Hopefully large enough to set all four feet of the furniture on top, but two works if necessary. Undersized rugs don't serve a utilitarian function or an aesthetic purpose.
Don't be afraid to take an item that has a traditional purpose, such as a dresser, and repurpose it in another room. A clothes dresser turns into a TV and entertainment center easily with plenty of storage to offer.
5. Focus your energy on a space you hate, but has a big impact.
You've probably avoided the task, but now it's time to tame the beast. A great example of an often ignored area is the front door foyer. More utilitarian than pretty, the foyer's first priority is functionality, meaning you need storage to hide shoes, keys, purses backpacks, dog gear, and more.
Invest the time and money into finding organizational furniture and accessories, ensuring each item pulls double duty. A coat rack, hooks, baskets, hall trees, and a storage bench are simple ways to start. Add a quick coat of paint, a durable but pretty rug, and a few decorative touches to take the space from somewhere you hate to the imaginative framework that shows off the rest of the home.
6. Brighten a dark corner.
All homes have a corner or a room that natural light doesn't reach. A dreary space equals a wasted space, because it means no one likes to hang out there. There are plenty of ways to bring in more light, but starting with clean windows, inside and out, is the foundation of adding brightness, so use elbow grease and glass cleaner for a strong start.
After, take a look at the window coverings. Are they needed for privacy or just for decoration? If complete privacy isn't needed, remove the curtains or blinds. Instant brightening! Or reposition the fabric and rods so that they don't actually cover the windows, but simply supply an attractive frame. Strategically placed opaque adhesive film on the glass also allows light to pass through, but isn't transparent—neighbors won't be able to see in.
Windowless rooms need extra attention. Inventory the options for adding better overhead lighting (new bulb wattage may do the trick) in addition to floor and tabletop lamps. Mirrors bounce light and enlarge the room. Strategically placed mirrors could bring brightness from the hallway or other nearby sun sources.
If more brightness is needed, paint the room with fresh, white paint. There are literally are hundreds to choose from and this change alone could create a whole new vibe.
For more inspired refresh ideas, take advantage of the wide variety of creative options online right now. Creativity is soaring as people are at home, trying to improve their overall living space. If you've never tapped into MilitaryByOwner's decorating resources and blogs, now is the time!