Get the Best View for Your Buck!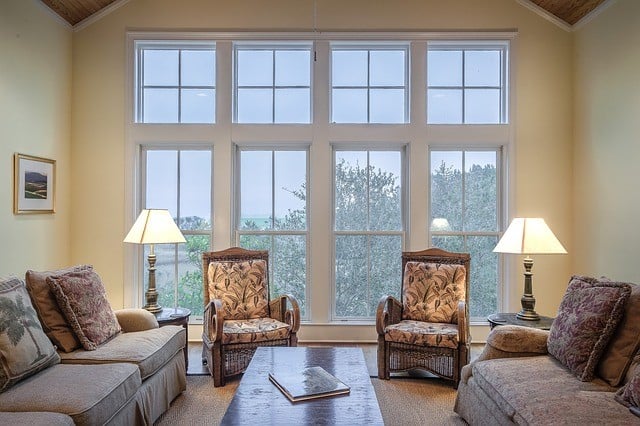 Windows may not be the first thing on your mind when home shopping, but consider placement, type, and even materials used when buying a home for best energy performance, comfort, and view.
Having lived in the picturesque town of Pacific Grove, California, I understand the importance a home with a view. Homes in this area are built with ocean or mountain vistas in mind, and owners pay a hefty price for those beautiful sights to be showcased in creative ways. Whether bountiful, small windows or mammoth-sized singular windows, more is more and bigger is better.
These windows not only provide a visual connection with quaint streets, beach front scenery, and frequent deer friends from nearby, but also much needed daylight when the fog and mist just won't seem to budge. It's easy to see that windows are very important in this community for numerous reasons.
The citizens of PG aren't the only people who know about the importance of efficient and effective windows. Homeowners across the country realize windows are an important and expensive investment. Resale, energy efficiency, and functionality are only three of the reasons windows are on the tops of buyers' and sellers' lists of concerns.
Investigate Before You Buy
Researching windows and window installation can seem technical and overwhelming. However, to get your home a perfect view, it's necessary to dig in and gather as much information as possible. Consumer Reports updated its window buying guide just last month. It's a great first step for understanding the types, costs, and particulars of window shopping. Consumer Reports documented and tested products from industry leaders Anderson, Integrity from Marvin, JELD-WEN, Kolbe, Lincoln, Pella, Ply Gem, Reliabilt, Simonton, and Weather Shield.
Did you know there's a difference between replacement windows and new windows? This is a common misunderstanding of shoppers. New windows are typically used in new construction or when the current frame is damaged. They have a nailing flange attached. Replacement windows do not have a nailing flange and normally fit in the current frames. In general, it is preferable to install replacement windows because the expense is less.
These are brief descriptions of the common types of window frames to choose from:
Vinyl Frame Windows are the most cost-efficient choice. They also offer the most durability and insulation. Attractiveness comes into question because fused seams are visible and color options are limited. The standard color is white. While some professionals say an epoxy-type paint will offer a custom color, a majority out there disagree because of poor adhesion during expansion and contraction from temperature change.
Wood Frame Windows have natural beauty going for them, but require a large amount of maintenance to prevent rot and insect invasion. Custom and high-end homes frequently use these windows to enhance the look of the house, and the price tag will reflect this investment--particularly if it is done in a period theme, such as Craftsman.
Fiberglass Frame Windows are becoming more popular due to their low maintenance reputation, high-durability factor, and varied color options. Some manufacturers produce real wood interior frames. Prices tend to be higher than vinyl windows, but less than wood.
Within these frames lie the numerous types of windows. The two most popular are the double hung and casement style windows because of the ease of cleaning and availability.
Double Hung allow for screens because both the top and bottom sash move.
Casement Style hinge on one side and use a hand crank to extend outside.
Single Hung are less expensive because only the bottom sash is mobile.
Awning Style hinge at the top and extend outward.
Hopper Style hinge at the bottom and open in and out.
Fixed Windows offer light without ventilation or the option to open.
Other features to inquire about include cladding to protect vinyl, double or triple glazing for insulation, and Low-E coating to regulate the amount of light that is let through the glass. It's also important to take the time to find the right installation because highly qualified and trained professionals are the only way to secure the integrity and longevity of expensive windows.
Windows are often ignored initially, but offer so much to a home's comfortability level. They of course supply visual statements and project the look and feel of the house, but they also factor into many more practical features such as temperature, energy savings, and performance.