Fall Home Maintenance for Military Homeowners
If fall has arrived where you live, that means you're probably settled in after PCS season and ready to tackle the fall home maintenance chores that make the transition into the winter season easier. Or, if you're headed out during a mid-cycle PCS move, this list of maintenance chores can help you get the house in top shape for a sale or potential renters.
Take a look at the most common fall home maintenance tasks homeowners should know about.
Indoor Fall Home Maintenance Tasks
1) Inspect and service the HVAC system.
Scheduling a service appointment for your HVAC system before the cold air sets in is essential to ensure the heat kicks on when you need it. Ask friends and neighbors for recommendations of trustworthy and reputable professionals.
2) Clean and inspect the fireplace and chimney.
Chances are you haven't thought about your fireplace all summer long. Now's the time to check gas lines, look for obstructions, and test damper functions to keep you safe and warm. Plus, a roaring fire is the perfect backdrop for festive parties, Instagram-worthy photos, or maybe catch inspiration and capture that holiday card image early this year.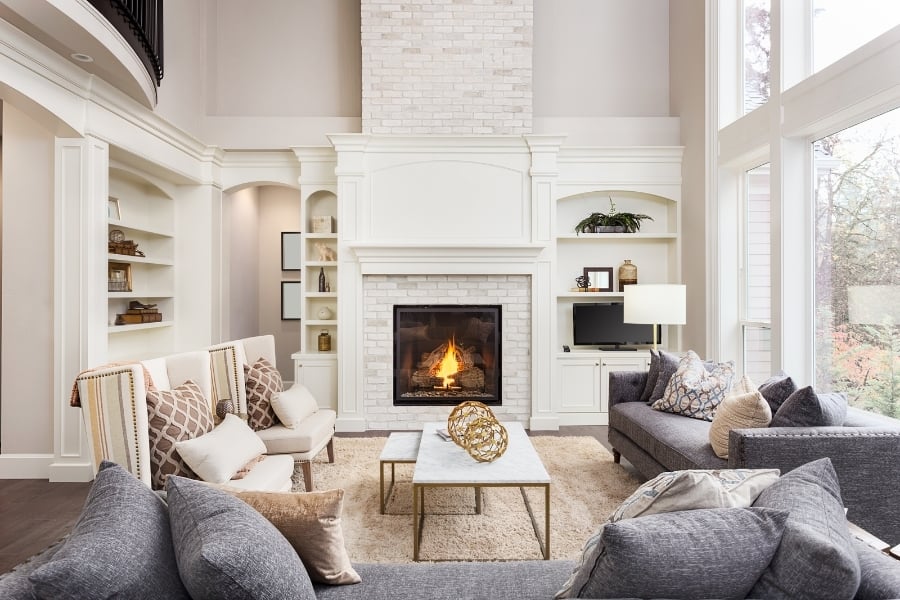 Photo from Canva
3) Change the batteries and check smoke and carbon monoxide detectors.
The batteries in smoke and carbon monoxide detectors need replacing twice a year. The perfect time to plan this chore is when daylight savings time ends in the fall and begins in the spring. Even if you live in an area that does not "fall back," you can still plan this task for when the rest of the country observes the time change.
4) Replace and clean air filters.
Air filters are an "out of sight, out of mind" household item, so let the changing from air conditioning to heat remind you that these important filters need to be cleaned or changed. Remember to dust the intake cover as well!
5) Change the direction of your ceiling fan.
Over the warm months, you set your fan counterclockwise to help keep the room cool. In the fall, it's time to change it to clockwise to grab the upward draft that pulls warm air from the ceiling and send it downward.
6) Vacuum and dust electric baseboards.
October is Fire Safety Month, so use this a a reminder to clean your radiant panel radiators or electric baseboard heaters. It's important to clean the dust and lint from the vents to avoid potential fire hazards. You also won't have to smell the "first of the season dust burning" odor that kicks in after months of zero use.
7) Bleed the hot water radiators.
Trapped air in radiator fins decreases the amount of heat it puts out. Each fall, use the radiator key or screwdriver to slowly turn the valve counter-clockwise until the water drips out. Unclogging the block moves the trapped air and lets hot water into the cold fins, warming the whole radiator.
8) Empty the dryer vent and clean the hose.
Pull out your dryer and vacuum the lint from the top of the hose and behind the dryer. You could also consider hiring a reputable company to blow out the lint accumulated in your dryer hose. Performing this accessible maintenance item can also significantly reduce a potential fire hazard. If you're getting ready for a PCS move, this is an easy item to check off your home maintenance to-do list.
9) Test well water and replace reverse osmosis system filters.
If you rely on well water, pros recommend having the water tested for contaminants or high mineral content. Also, if you use a reverse osmosis system to provide filtered drinking water, don't ignore the light indicating that the filters need replacing.
Outdoor Fall Home Maintenance Tasks
1) Power wash the exterior of the house.
One of the best things you can do to prepare your house for a sale is to power wash the exterior. The clean slate sets the bar for maximum curb appeal. If you're preparing for renters, you can reduce the risk of future mold or algae growth when the warm weather returns.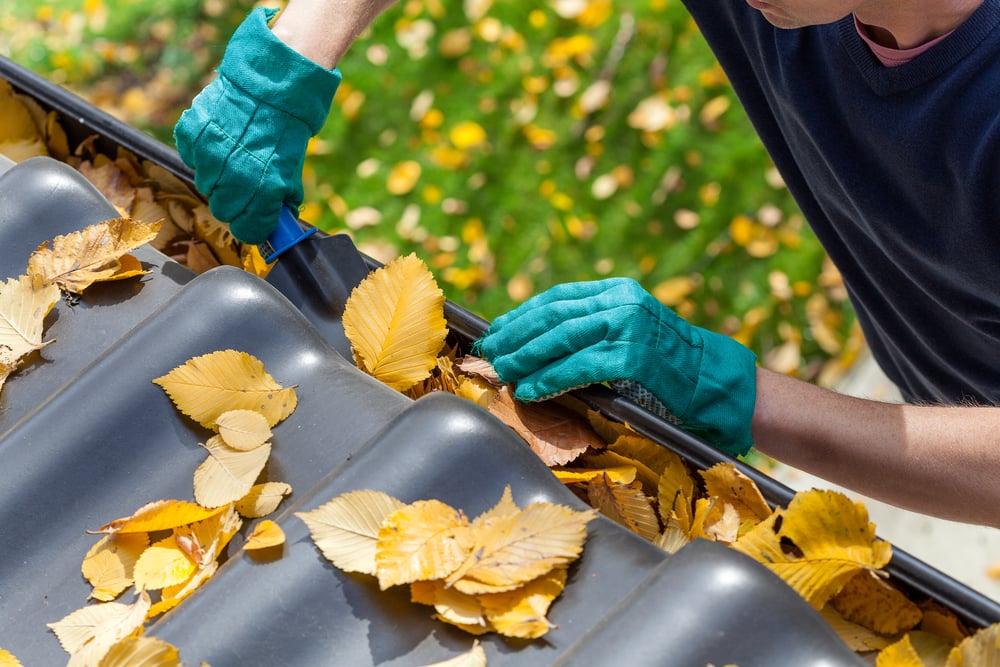 Photo from Canva
2) Empty and repair rain gutters.
Clean out debris from rain gutters and repair or replace the damaged areas that don't drain properly. Eliminating debris allows rainwater and snow thaw to move away from the roof and home efficiently, eliminating the potential for water damage. If you have window wells, you'll also want to clear the area of leaves or risk water leaking in.
3) Inspect the roof.
Weather wreaks havoc on your roof. Ice, wind, snow, and humidity take a toll on shingles. So does their age. It's a good idea to have an expert take a look at the condition of the roof before the frigid temperatures set in; it is, after all, the first line of defense for your interior.
3) Mulch, aerate, seed, and fertilize the lawn.
Face it, these days, online photos are the number one way home shoppers find their favorite properties, which means if you have a potential home sale in the future, you're beholden to the lawn life cycle maintenance for the greenest and most lush lawn in the neighborhood. Or, if you're staying, these steps will bring a barefoot-worthy yard come spring.
Mow the leaves instead of raking for free mulch.
Aerate the lawn to break up soil and allow seed and fertilizer to penetrate.
Spread grass seed on the bald spots and in the new aeration holes.
Schedule your sprinkler system for regular watering, and later, winterize the system.
Fertilize the young grass seed before the cold arrives.
4) Prune and mulch the shrubs and trees.
Use regional guidelines or gardening zones to help you prune and fertilize shrubs and trees. Not all plants can handle pruning in cooler temperatures. In cold-weather regions, protect shrubs and trees with a thick layer of mulch, which beautifies the landscape and ensures proper growth, greening, and blooming in the spring.
5) Look for holes and entrances for rodents.
Your furry backyard friends like warm air, too, and will work hard to share yours, especially in basements and lower levels. Take inventory of holes or gaps large enough for mice, squirrels, and raccoons to come in. It's much easier to prevent them from coming in than to evict them later. Caulking and sealing help to keep warm air in and animals out. This is also a good chance to note any foundation cracks and whether or not you need an expert's opinion for repair options.
Homeownership can be both joyful and burdensome for everyone, but it's true moreso for military homeowners who often relocate with very little notice. Keeping up on home maintenance items can help ease the intensity of PCS preparation. While you're at it, it could increase the success of renting or selling a military home in a hurry.
Download our free, easy fall home maintenance checklist below to keep track of all your chores!