How to Add Top 2020 Home Design Trends to Your Decorating Style
Modern tradition dictates that as the year turns into the next, individuals should jump into 2020 and a new decade with heightened ambition for their personal, work, and even home life.
In turn, businesses across industry lines, especially those involved with design, and more specifically, interior design and home decorating, are heeding the call for the need of new inspiration. Companies are seeking to capture their customer's home decor interests in 2020, while aligning their values with those of their customers for future engagement.
Consumers can expect the continuation of sleek and minimalist design and the return to color palettes that have strong influences of blue and green and colors that reflect earth tones, such as terracotta. These land, sea, and sky colors complement the sustainability movement which continues to be one of the top trends throughout a large cross section of high end and discount buyers.
With this backdrop in mind, here's what will be seen throughout design trends in 2020 and beyond. Do keep in mind however, no matter the year, design always includes a bit of "anything goes" and consumers will notice some departures from mainstream trends. For example, the mix of patterns is trending, but is contrary to the pared down look that remains popular.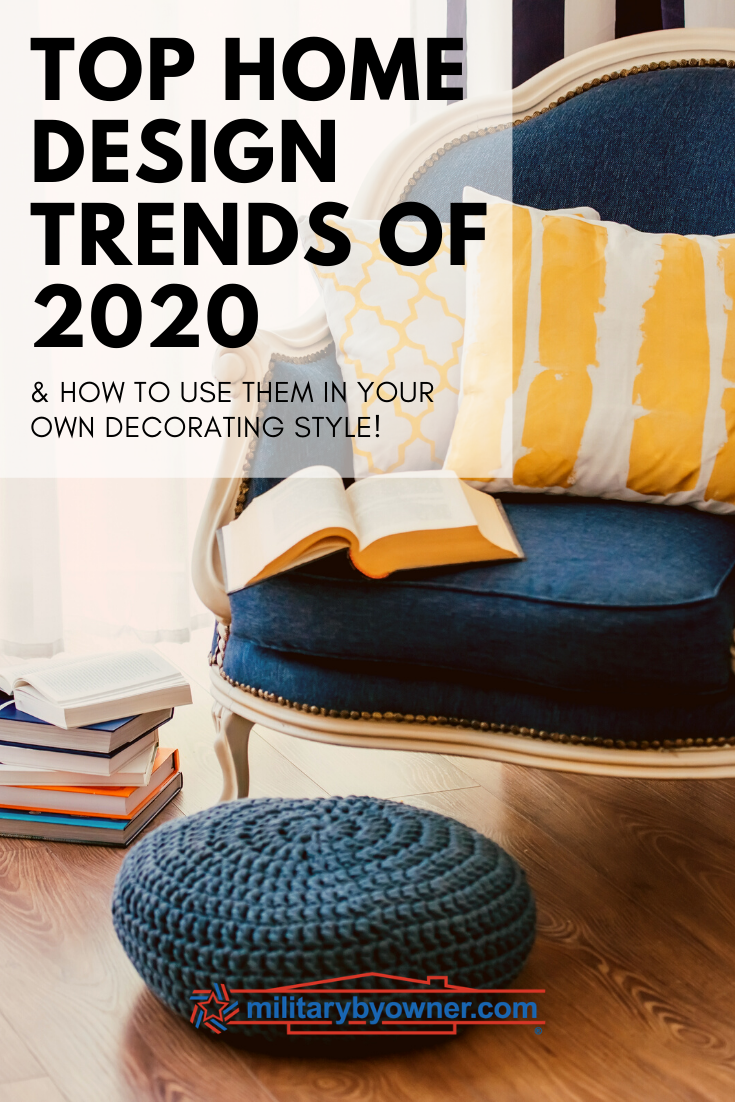 Shop for similar styles!
How to Add Top 2020 Home Design Trends to Your Decorating Style
Color Trends in 2020
There's no better place to start than with Pantone, the industry influencer who whose yearly Color of the Year designation ripples across any industry that happens to rely on color trends. This year, Pantone declared Classic Blue, a mid-range blue that is very close to navy, as the Color of the Year in 2020.
Pantone 2020 Color of the Year, Classic Blue
Classic Blue is a big departure from last year's color of the year, Living Coral, a pink/orange coral shade which was a shot of energy in comparison to this year's grounding blue.
The company says of Classic Blue, "Instilling calm, confidence, and connection, this enduring blue hue highlights our desire for a dependable and stable foundation on which to build as we cross the threshold into a new era."
In response, the major paint companies jumped on the 2020 color wave and forecasted their own hues as the must-have color of the year. Notice that several repeat a version of blue, green, and natural colors as their custom picks.
Sherwin-Williams Naval (deep navy)
Benjamin Moore First Light (soft rose)
Behr Paint-Back to Nature (light sage green)
Valspar choose an entire color palette of the year including: Winter Calm, Mint Whisper, Canyon Earth, Grey Brook, Tempered Sage, Desert Fortress, Secluded Garden, Bombay Pink, Pale Powder, Utterly Blue, Crushed Out, and Secret Moss.
How to Use Colors of the Year in Your Home
The good news is that many of this year's chosen colors are simple to work with, particularly if paired with a neutral color. While scrolling designer's Pinterest accounts or online decorating magazines, DIY decorators might be thrown off by the intense way they incorporate the colors, either by painting every wall navy or by taking an adventurous turn and wallpapering the ceiling in a paper with green nature scenes.
Don't be discouraged; there's always a way for everyday decorators to take advantage of these color choices. As a starting point, choose small ways to begin incorporating color: an accent wall, sofa pillows, or a guest bathroom.
Fabric and Linens
There's no better way to achieve a fresh feel for the new year than by restocking and updating bedroom linens. Quality sheets are decadent, and adding a new duvet or comforter also checks the box for self-care management in 2020. Sleepers spend more than half of their life in bed, after all. Experiment with blue and green color combinations to maximize relaxation.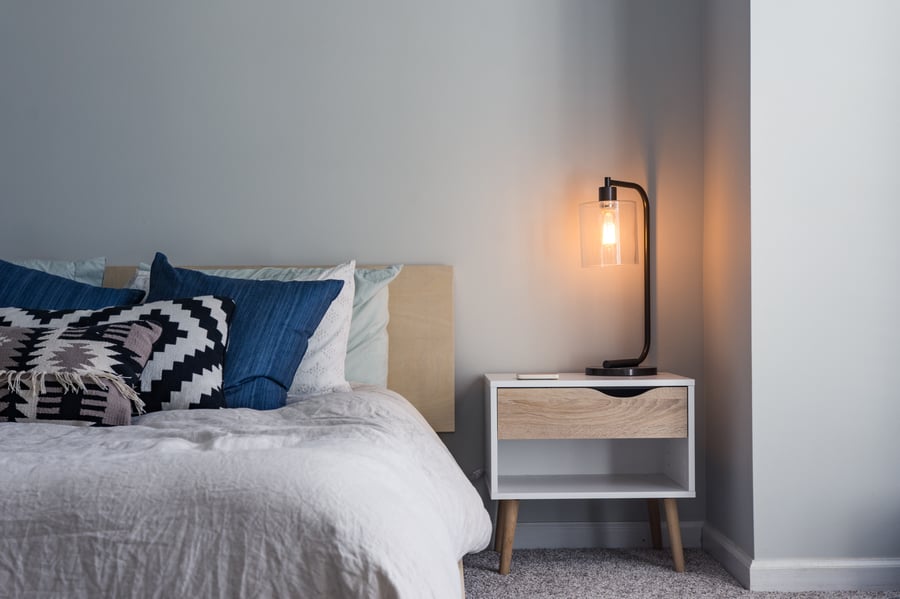 Extend these modern color combinations into the bathrooms with a crisp shower curtain, soft rug, and sumptuous towels.
Plan ahead for the warmer months and update window panels. There's no need to replace expensive hardware, when a simple change in color scheme adds on-trend style. Mix and match colors—there is minimum investment of both money and permanency with an upgrade in linens and fabric throughout the house.
Having trouble pairing complementary colors with shades of blue? Use these as examples for guidance:
Navy + gold, copper, or gray
Carolina blue + sage green
Classic blue + white or yellow
Kitchen Design
In the kitchen, two tone upper and lower cabinets are still in demand, but navy cabinetry is replacing the black lowers as the go-to look, especially if brass or gold hardware is used. It's still true to say, however, that predominantly white kitchens are very much in demand, just less so than previous years.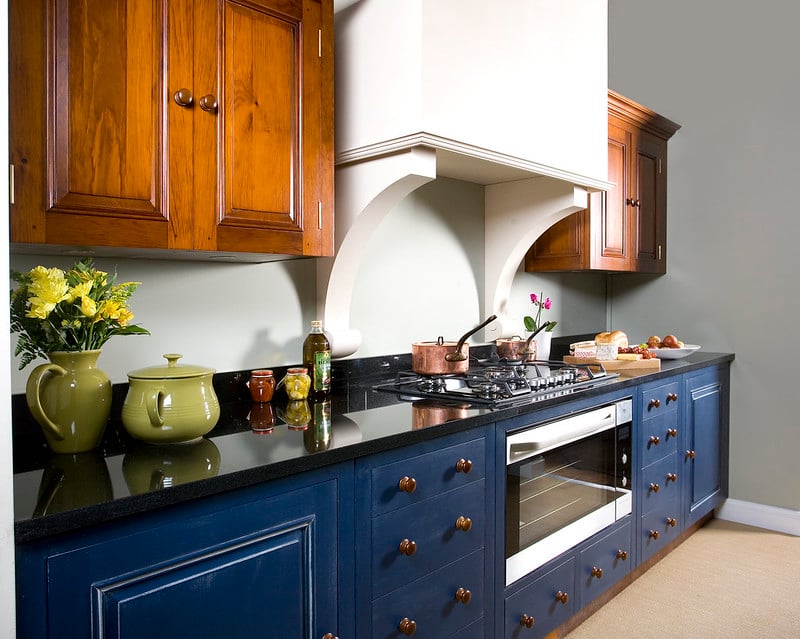 Image via Chalon Handmade Flickr
If not already for most homeowners, the kitchen, in particular the island, is fast becoming the focal point of the home. Not only are design elements increasingly at the forefront, but integrated uses of technology are a trend destined to become a mainstay within the next 10 years.
Appliances are leading the technological advances in multiple realms of the kitchen, including the use of artificial intelligence to create menus according to the detected food inside the refrigerator and remotely starting and stopping dishwashers and ovens over WiFi.
In 2020, hidden functionality in a kitchen is a highly desired feature. Appliances are covered in coordinating cabinetry, pet feeding stations are tucked away, and hands-free faucets are all examples of high function amenities that homeowners prefer, in part because the innovative design keeps the overall look in the kitchen cohesive.
Read more about home design that includes pets: Pet-Friendly Home Upgrades: What Are You Willing to Pay For?
Furniture and Accessories
There's a strong call for individuality and personal touches when buying furniture and accessories. Consumers are tired of the same looks over and over and are leaning toward personalized artwork and one of a kind furniture, from local artisans if possible.
Military and housing and rental homes benefit from individualized design, because it breaks down cookie cutter replication and instantly turns the homeowner's house to the renter's home temporarily. Combining removable features such as light fixtures or sofas with today's color trends adds another layer of individual preference.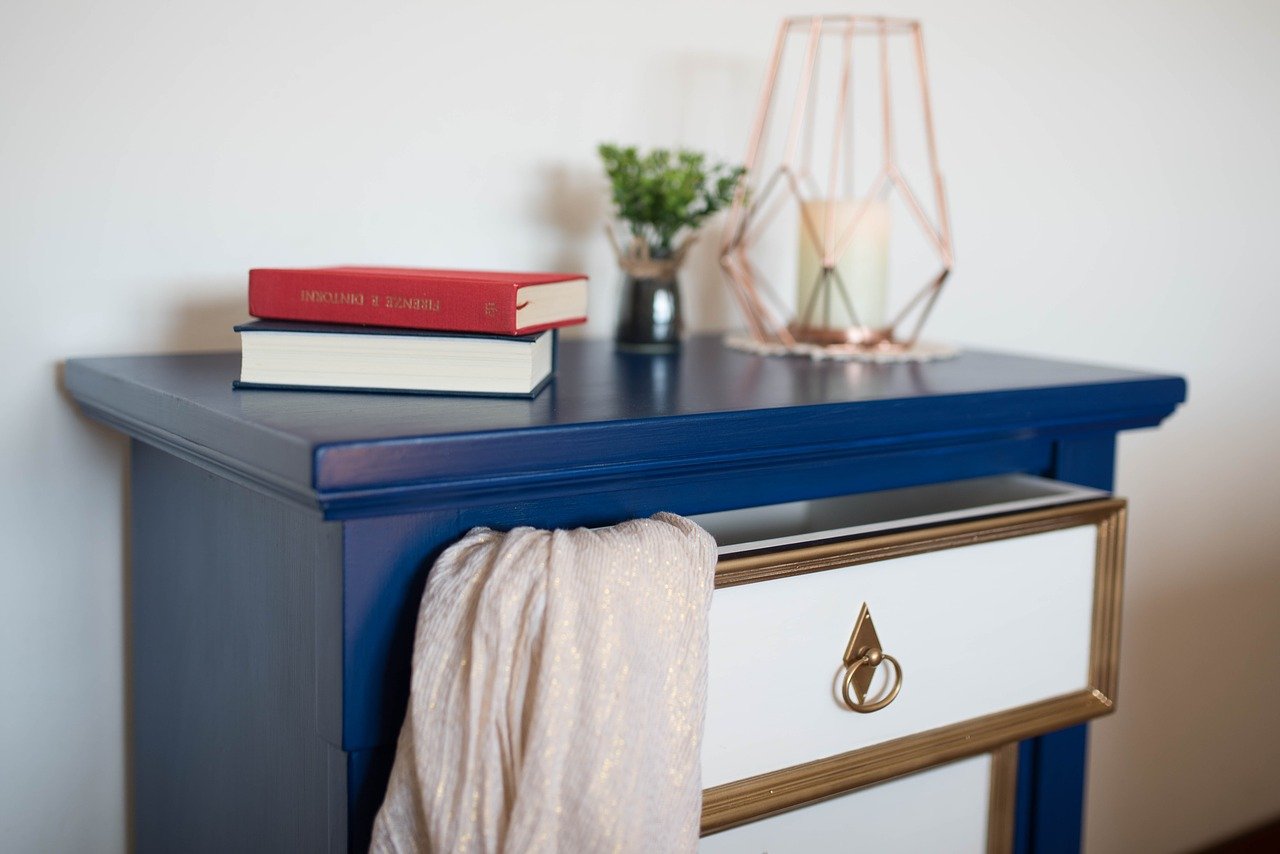 Rattan and wicker furniture are on trend pieces this year, but they certainly don't look like your grandparent's back porch wicker collection! They've been refined and updated to reflect sustainable harvesting and production. They also serve as the natural element that is often featured against blue, green, and other earth colors.
Find more inspiration in Home Decorating Tips for Every Room.
Wall Hangings
Mass produced artwork found in big box stores is being replaced by items that have significant meaning to those living in the house. This shift highlights the fact that most precious memories are stored on a phone, never to be displayed. 2020 is the year to spend a dedicated weekend to sorting and printing prized photos. Framing options are endless--from traditional table top to canvas wall hangings and all sizes in between.
A twist on this is to round up items from momentous family events to frame and display. There's plenty of room for creativity, but some ideas include birth announcements, marriage certificates, dated immigration papers, or other antique documents, such as landownership.
Plants
At this point, succulents are dated, and fiddle leaf figs occupy the sunny corner of everyone's home. Two new front runners are taking over in the decorative plant family: potted olive and citrus trees. Both grow well in containers and have easy maintenance, but it's imperative to purchase dwarf or hybrids that were created to thrive in a pot indoors.
Each plant has a strong color story that reflects current year trends. The olive tree leaves are a muted sage green with gray brown bark and of course the citrus tree will yield vibrant variations of orange and yellow fruit in addition to the strong green leaves. All of these accent colors work very well with Classic Blue.
Home Decor for Now and Later
Consumers will have to adjust to paying for quality up front and rely less on casual furniture made with less than quality materials. The overall design industry is taking small steps to create less waste and will likely continue down this path. There's no better time than now to embrace this way of thinking about interior design.
As a shopper, carefully choose items for longevity, but have the flexibility to update every 2-3 years if so desired. For example, invest in a high quality sofa that has a lifespan of 10-15 years, but choose one with a slipcover for frequent changes in color and fabric.
The majority of the previous ideas, outside of a complete kitchen renovation, are DIY friendly and require little installation expertise. Designing one room at a time limits sensory overload and helps to keep a budget intact. Do keep in mind that sustainable and environmentally friendly trends are growing and will likely become the norm in the next decade.
For more decorating inspiration, review MilitaryByOwner's decorating resource articles and blogs for up-to-date information on how to individualize your home at each duty station and beyond!