Pet-Friendly Home Upgrades: What Are You Willing to Pay For?
Across the country, pets of all shapes and sizes are changing the way the real estate industry embraces the animals we often prefer over humans! Homeowners, buyers, and rental property managers are finally accepting pet ownership as a predominant lifestyle choice and expanding their definitions of pet friendly and pet approved concerning products and policies.
The majority of Americans own a pet (68%), equaling 84.6 million homes. As a percentage of the U.S. population, dogs rule at 48%, while cats come in at number two, with 38%. Dominating numbers like these prove there is a very strong relationship between real estate in all of its variations and how the connection is affected by pet owners and their preferences.
For example, it wasn't too long ago that "no pets" was the hard line written in rental agreements. These policies were, and are, especially difficult for military families to overcome due to the frequency of our PCS transitions.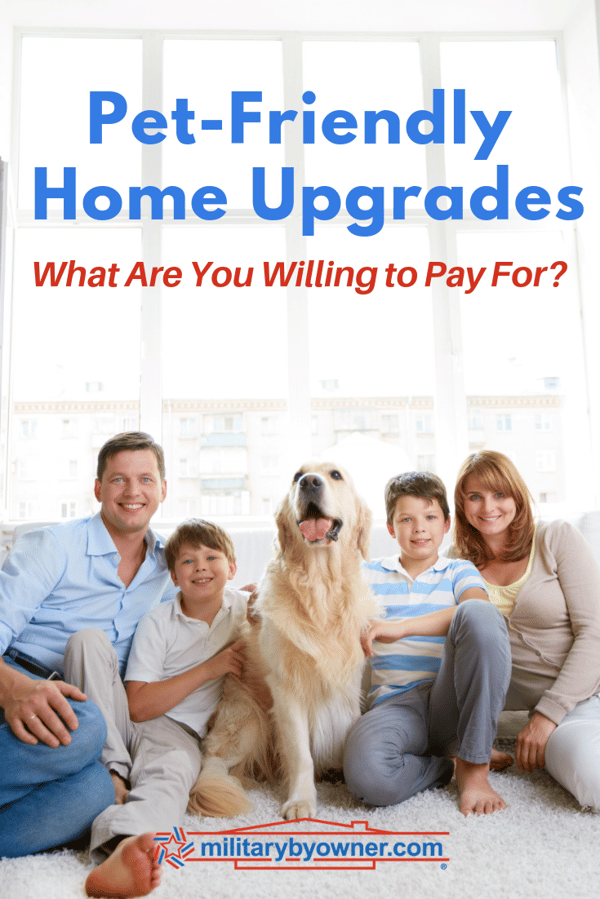 True, the sentiment remains that pets can ruin a property and some owners prefer to keep the property pet free, but the chances of finding a pet-friendly home are better than ever, especially if choosing large housing complexes vs. individually owned homes. After all, the typical pet deposit added to the special fees collected to have access to on site pet themed amenities are significant money makers for corporations and management companies.
To quantify just how crazy in love pet owners are with their animals, the American Pet Products Association created the 2017-2018 National Pet Owner's Survey. Most takeaways from the survey seem to be right on par with what you'd expect form devoted pet owners. More than ever before, pet parents are "humanizing" their animals, and paying more money across every category to ensure the health and happiness of not just their dogs and cats, but birds, fish, horses, and reptiles too.
One stat was surprising, however. Almost one quarter of dog owners find ZERO drawback to owing a dog. None. Really? Not even poop patrol?
Interior Design for Pets and the Humans They Live With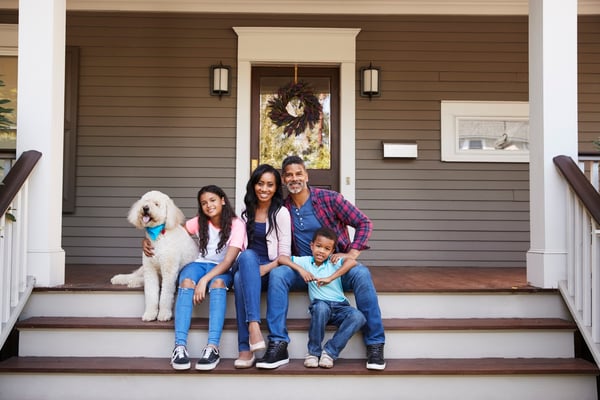 Pet wellness, pet toys, and pet security are a few of the niche businesses that continue to emerge from the expansive pet industry. But how does all of this pet spending factor into real estate?
Aside from renters with many more choices than in the past, home buyers and home building companies are stepping up their pet friendly game by hiring pet consultants and interior designers who specialize in turning a house with one pet, or multiples, into a haven of comfort, luxury, and envy.
Meet interior designer, Kayla Weiner, ASID, CID. Kayla is an entrepreneur who combined her love for dogs and creative instincts into a design business that caters to pet owners who need help implementing pet-inclusive interior design and decorating into their homes. Homeward Hound Interiors was born from Kayla's personal take on living with dogs, but the company has solidified as a necessity among design savvy pet owners who want the best of both worlds: practicality and personality.
Gone are the days of a shabby dog house in the back yard—custom kennels, pet suites, and durable but gorgeous couch fabrics are just a smidge of what today's pet owners are demanding in their homes.
Kayla sums up the feelings of many pet families by writing, "If you're like me, the house is actually for the dogs. I just am lucky enough to share it with them." This attitude toward design concepts that include the needs of pets has grown over the past two decades, and isn't wavering. In fact, overall pet spending remained steady during the recent economic crisis that saw thousands of U.S. home owners who owed far more than their homes were worth at the time.
The phenomenon of treating pets like children or grandchildren isn't strictly American.
In Denmark, the revolutionary Hundehuset, or in English, The Dog House, is in planning stages. Eager renters are lining up to fill the 18-unit apartment complex that was conceptualized, designed, and will be built with pets front and center. Don't bother trying to sign a lease sans pet; you won't be permitted.
Canine behavior consultants are weighing in on the planning to maximize comfort for the dogs. Expect to see easy access bathing options, an in-complex dog run, and plenty of opportunities for dogs and people to socialize. Hundehuset isn't strictly for dog living--cats are invited too--but the Danish creator has an eye to the future, suggesting further investigation into a similar complex created specifically for cat people and their fur babies.
Real Estate and Generational Pet Preferences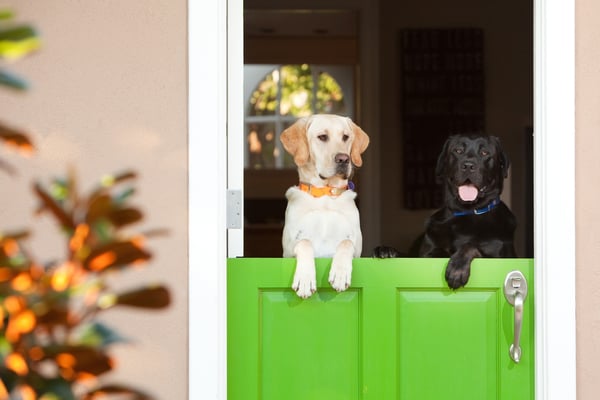 Pet real estate perks are rooted in rental properties, namely high-rise apartments or condos in big cities, but pet amenities have progressed beyond attracting Millennial renters who'd gladly pay for accommodations like communal dog washing stations and roof top dog parks.
Here's a telling statistic from a Realtor.com survey describing Millennial home buying trends:
75% of home buyers with pets would pass on a perfect home if it didn't meet the needs of their pets.
Today's home builders, both nationally recognized and regional favorites, are cashing in on not just Millennials, but empty nester Boomers who are looking to spoil their pets. If you were to ask many owners if dog elevators and climate-controlled pet spaces are over-the-top features, they'll likely reply with a hearty, "No!" Because after all, their precious pup requires a customized Dutch Door to be able to see who is on the other side!
What about the Gen Xers in the middle? They are holding their own in the spending category, but are still taking care of kids and likely a parent or two, making extra funds scarcer.
Generational Breakdown of current pet owners:
Millennials 35%
Gen X 27%
Baby Boomers 32%
Planned neighborhoods and 55+ communities are two housing concepts that are taking pet amenities to the next level. Appealing fencing systems and canine concierges are attracting buyers not willing to sacrifice aesthetics or accessibility. If a dedicated neighborhood employee is available to organize mobile grooming appointments, holiday parties, and yappy hours, then who's to complain about higher home prices?
Popular Pet Projects and Products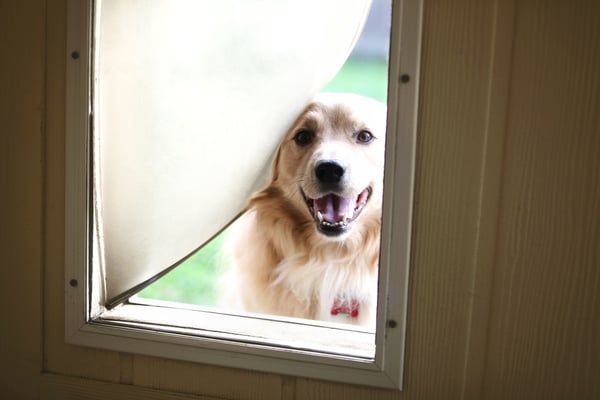 Kayla is a devoted mom to three pooches, but she carefully advises her clients before recommending they invest in over the top pet home upgrades. Although clients may come to her gushing over a total renovation that includes a gorgeous pet suite, she'll examine the details of why they need such an upgrade, especially if there are ways to incorporate less expensive luxuries. She'll likely ask clients to fill her in with these details:
What size is your pet?

How often do you need to bathe the pet?

What is your budget?
Do you have the room in your home to add a pet bathing station?
The client's answers typically reveal the essential need for the pet accommodations, sometimes signifying that a costly makeover may not be necessary. An upgraded shower or tub installed with high-end hand shower might be more than fine to tackle pet bathing. In fact, it'll probably be worth more than the initial investment because the people of the home also benefit.
Even if a future home sale is a possibility, don't waver from all pet-friendly design features.
There are plenty of buyers who would consider purchasing a home originally outfitted with nonslip bathroom floors and curbless entry showers to accommodate precarious pet bathing. Humans like to shower with care, too!
Some of the most popular requests for pet home improvements are often focused on the convenience and space saving factors.
More and more, home buyers are looking for inconspicuous dog crates, utilizing the space under a stair case, for instance, and built-in storage options for food and supplies.
Pet doors are the epitome of convenience if properly installed and utilized.
Doors that are equipped with pre-installed dog doors are usually stronger than the versions where the pet door is an add on. Big dogs easily tear up dog door frames if not properly inserted. Always chose an option that allows temporary closure to keep raccoons, neighborhood cats, and other unwelcome critters outside.
What homeowner hasn't wanted a cozy window seat, complete with cushy pillows?
Your dogs and cats love hours of squirrel and bird watching there, too. Owners find visual access to the action outside provides plenty of entertainment for pets, especially while their parents are away at work for many hours.
Catio. It's a cool name for an outside enclosure that cats can't escape from.
Found outside, either under netting, or in a more robust environment with scaling and climbing features, cat aficionados love the freedom their cats get outside without the dangers of wandering.
Homeward Hound offers various solutions for homeowners to improve their pet style at home, proposing multiple service options— from full service design visits to virtual coffee chats. But if you prefer DIY projects or aren't ready to dive into doggy design just yet, Kayla offered a list of products and vendors which she has found useful to source quality materials.
Consider commercial carpet manufacturers, such as Masland Carpets. Many companies produce lines that are similar to residential carpeting intended to repel messes.
Linoleum flooring isn't just for Grandma's house anymore. New and improved versions are far better quality than back in the day. Durability, comfort, and attractive design are no longer at odds. Kayla likes the brand Marmoleum by Forbo Flooring Systems. She is particularly drawn to the soft under foot feel and the sustainability of the product.
Perennial fabric favorite, Ultrasuede, wins kudos over and over again for style and durability. More textile options include those produced by ArcCom, Archtiex, Sunbrella, and Greenhouse.
Hand-held showers from the Hansgrohe line of fixtures are at the top of Kayla's list of suggestions for clients who'd prefer new bath fixtures.
How Stagers and Sellers are Enticing Buyers with Pets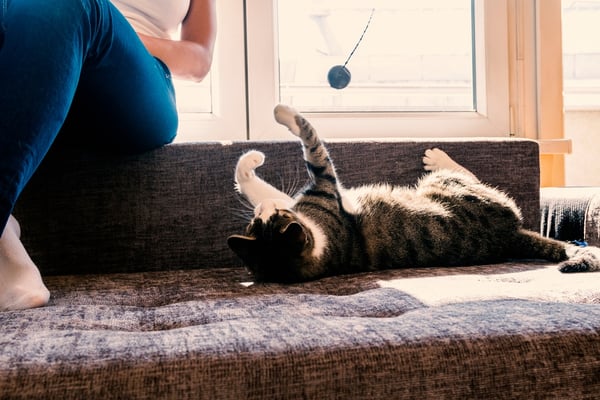 One of the number one rules of professional home stagers is to de-personalize. That is, get rid of the family portraits and sentimental photos. The idea is for the buyer to envision their own precious items on the mantle. But hold up—leave the framed pic of the handsome golden retriever. He just might help sell your house.
The hard and fast rules of preparing a house to sell are changing somewhat when it comes to keeping your pet owing status on the down low. Since more than half of the population owns a cat or dog and most of us consider our pets family, we want to envision our pets frolicking in your home, muddy paws and all.
Staging techniques that have been updated:
Place a few new, non-chewed, clean toys and leashes (you might have to buy items for pics and open houses) in the entry way on decorative hooks and pretty baskets. Nothing says welcome home like visions of wiggly tail wags in the foyer.
Comfy beds tucked into sunny corners are sweet and homey.
Kitchen staging comes in the form of coordinated treat containers and food and water dishes. Better yet, have custom, tucked-away-in-pull-out-drawer feeding stations built.
Staging techniques that NEVER change:
No animal odor. Ever. Not even a whiff. Buyers like to see pets, not smell them. If they catch a bit of eau de cat pee in the air, they are immediately walking out. Or, they're calculating the amount it will cost the seller to sterilize HVAC systems and remove carpeting before considering a contract.
The importance of immaculate, poop free backyards and animal cages. If the property isn't spic and span, potential buyers will leave and remember your house for sure, but won't be back to make an offer. They'll probably even share with friends about how gross the yard was. Clearly, not the impression sellers should leave.
Pets are a Powerful PCS Component
If you are a typical pet parent today and looking to find a new home conducive to your lovies living with you; well, then you are in good company. You'll have plenty of competition searching for the best pet-friendly homes. It's no longer weird to pass on a house with too many steps for your aging dog BFF or to demand a home seller fix the broken fencing before continuing with the sale. Debating whether or not you need an elevator dedicated to moving your cat is, however, taking pet love to the next level.
Here at MilitaryByOwner, owners who list available rental properties get it— military families want and deserve to have homes that accommodate pets. While searching the MilitaryByOwner inventory, the housing around your designated base can be filtered for "Pets Allowed" and "Pets Upon Approval." For a great example of pet love, just take a look at the hundreds of rentals available near Fort Belvoir, Virginia, who are pet friendly!