How to Throw a Fabulous Holiday Party...So You Enjoy It, Too!
Every host goes through the push and pull of whether or not to plan a get-together over the holidays. On one hand, what better months of year are there to spend time with family and friends? Festive ambiance is practically built right into November, December, and January.
But there are so many competing events like work parties and Christmas concerts, not to mention the quick drain of the bank account from the must-buy items for loved ones. There's really never money just sitting around, left over, to throw a party.
For the host with the natural instinct to entertain (and sometimes the obliging host), the need to mingle takes over and the planning begins. Incorporate these time and money saving techniques to lessen the anxiety provoked from entertaining over the holidays, allowing you to enjoy the party, too.
How to Throw a Fabulous Holiday Party...So You Can Enjoy It, Too!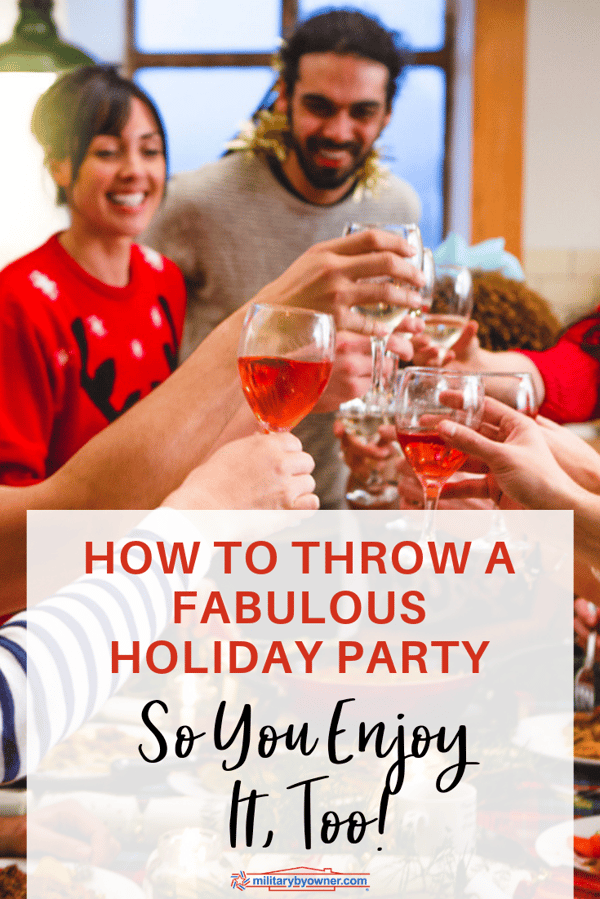 Here's pro tip #1. Someone, if not many people, will offer to help in one way or another. Take them up on it, whether it's bringing a side dish, preparing flower arrangements, or offering to plate hors d'oeuvres when they arrive.
Say yes, particularly if you are the go-to host throughout the year. Make this holiday event one when many people pitch in. Most are glad to help and just happy the party isn't at their house!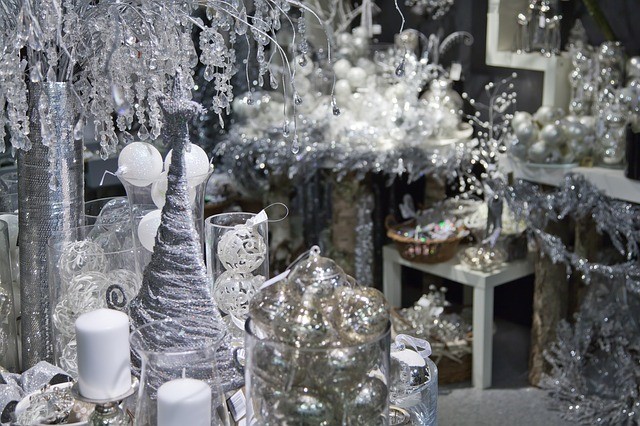 Food and Drinks
Crowdsourcing is a way of life now. From funding honeymoons to organizing a clothing drive, mass donations are here to stay. It's a safe bet to say that potluck dinners were one of, if not the original crowdsourcing concept. Play both sides of the coin and usher in tradition while becoming completely modern and ask your guests to bring their best dishes!
If you'd like a little more control, or prefer to handle the food offerings yourself, there's so many reasons to consider having the party catered or to place orders for trays of food to pick up from local restaurants.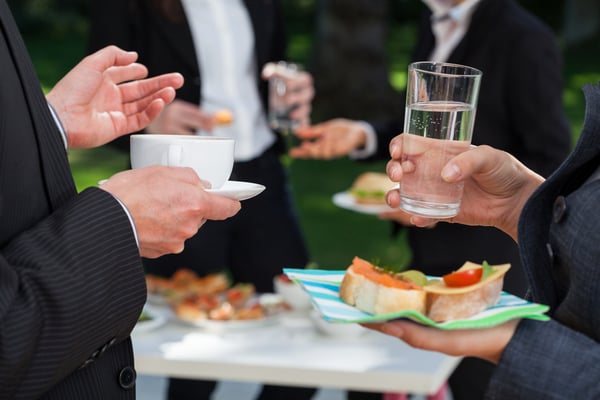 Grocery and specialty stores are two good places to start researching menus. Even some fast food restaurants present good options. Not many people will turn down a plate of Chick Fil A nuggets with dipping sauces.
Taco bars are steadily holding their place in entertaining how-to books. Local mom and pop eateries are fantastic places to get amazing catering on a budget. An assortment of appetizers always pleases, and many varieties can be made ahead or cooked from frozen. Add in strategically placed bowls filled with simple snacks such as individually wrapped candies and chocolates. Savory and sweet varieties of nuts are always crowd pleasers.
Entertainment
Preparing a DIY bar of some kind is an instant way for guests to mingle and leave the host to either spend their attention on another task or to take a few minutes to chat with friends.
Choose a festive cocktail recipe and leave all of the ingredients for guests to prepare on their own. Ice, garnishes, and fancy drink ware make a statement and allow guests to customize the strengths of their cocktails. Non-alcoholic mocktails are also a possibility.
Gingerbread and/or other cookie decorating stations serve both as entertainment and individualized desserts for guests to enjoy at the party or later, at home.
Hot cocoa and candy assortments on a bar arrangement achieve the same effect. They are fun for guests and provide an opportunity to create treats exactly to their preferences.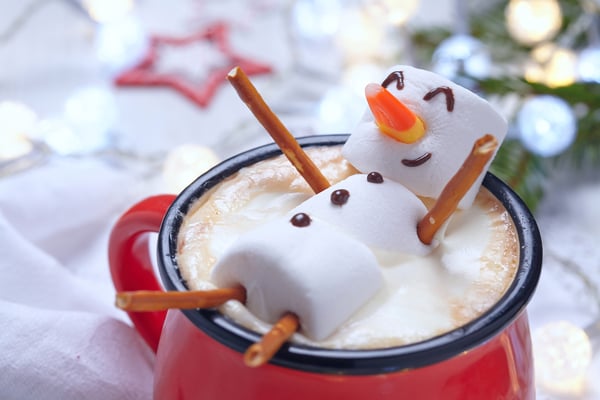 Traditional entertainment such as music and board games are simple and cost-effective ways other party guests can contribute. Ask a trusted friend to provide a holiday themed playlist and use a portable speaker to keep the music flowing. Leave a pile of board games within eyesight of your guests--your more outspoken friends will take the lead and begin a few rounds of charades or card games.
Decorations
The best place to make up for time and money is during the decorating process. Most homes are already decorated for the holidays, so there isn't much more to embellish. Focus on the front entry to provide a welcoming space. A wreath and outdoor candles are perfect.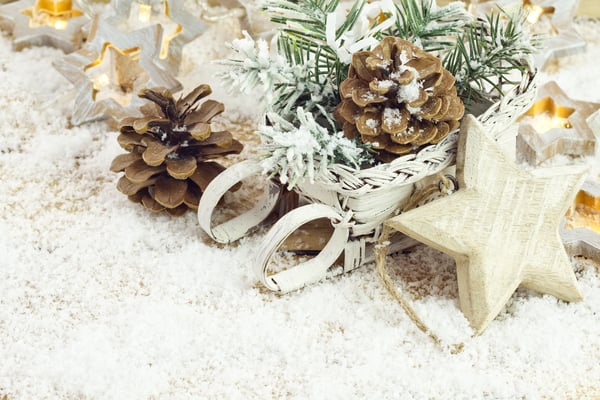 Inside, your table tops will only need a few items to dress up their appearance. Table cloths, candle sticks or votives, and small floral arrangements should do the trick. If more is needed, add creative uses for Christmas tree decorations. Snowflakes, colored glass balls, and star shaped ornaments all pull double duty elegantly.
Don't forget the guest bathroom should be cleaned and touched up with scented candles and hand soap.
The Brilliance of a Night Before/Day of Prep List
It's likely you've had several versions of party preparation lists since the decision was made to entertain over the holiday. The most important of these is arguably the day before and day of lists. The heavy duties of purchasing and planning have been done, so it's easy to relax a bit. In doing so, however, the details get away from you.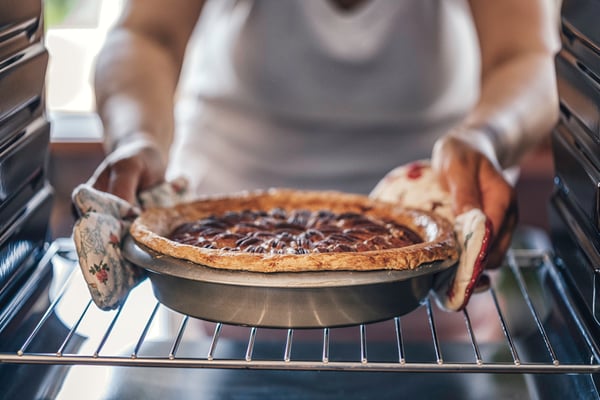 Here's pro tip #2. Split last-minute chores into lists of what can be accomplished the night before and what has to be done the day of the party.
Examples of chores to do the night before: iron and set table linens, place serve ware and label if needed, rearrange furniture to accommodate guests and drink bar, make space in the refrigerator, clean guest bathroom.
Examples of chores to do the day of: cut fruit and vegetables, coordinate oven times, add ice to buckets, light candles, sweep front porch, put pet beds and toys away.
No matter how many hours of prep went into the party, there are bound to be a few hiccups. Even pro party planners prepare for the unexpected as much as possible. As mere hobbyist hosts, you're going to get a few things wrong, which leads to the inevitable "give up point." After the guests are fed and happy, you'll probably reach a point where, asking for the fifth time if you can get somebody something is going to get old.
This is the time to sit down, grab a drink, and let be whatever will be. You've done all you can, so try to relax and don't think about clean up until tomorrow. Or, better yet, enlist those friends who offered to help anyway they could. Have them load the dishwasher and take out the trash!
The holidays are some of the best days to be in the military. Entertaining current friends and friends from the past is a lovely reminder of the best of what military life has to offer. Check out all of the content MilitaryByOwner has to host the best event of the year.