Meet MilitaryByOwner's Content & Social Media Teams
The content writing and social media teams are the last group of MilitaryByOwner staff to be featured in our series of posts highlighting all the folks behind the scenes.
Without a social media and writing presence, MilitaryByOwner.com would be just a pretty website of pictures to scroll!
MilitaryByOwner's Content Creation Team
Each week day, MilitaryByOwner publishes a blog post about real estate and military life topics. This team is also responsible for the other expert content you see from MilitaryByOwner: resource articles, downloadables, and our ongoing series of ebooks, as well as posts on other sites like Military.com.
Danielle, Mary, Jen, and I had the lucky fortune to start together as a new crew of content creators three years ago. Because we all work virtually from across the country, we always look forward to the occasional work events when we're able to connect in person.
We have personal biographies available on MilitaryByOwner that describe our backgrounds and experiences (linked from our names), but for this portion of Meet the MilitaryByOwner Staff, I wanted the answers to questions that were a little more personal and fun.
Enjoy our eclectic answers and musings!
Which book do you read over and over?
What did you want to be when you grew up?
What is your guilty pleasure?
Tell readers about a hidden talent.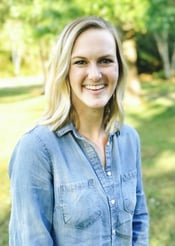 1. I wish I could answer with some philosophical book, but unfortunately, it's the Harry Potter series. I spent most of my childhood reading those.
2. I wanted to be a child psychologist. Ideally, I would've created a nonprofit and reached kids who came out of less than ideal living situations or whose parents were divorcing. I ultimately decided against this path because I didn't think I'd be able to separate work from home and therefore wouldn't invest as much in my own family as much as I'd have liked.
3. Netflix. Just everything Netflix. Since I'm like most women and can't shut my brain off, there's nothing like unwinding and watching a good show—or five.
4. Memorization. I used to memorize my scripts for high school theater in a week. And if you tell me your number, I'll remember it!

1. Little Women by Louisa May Alcott. I love Jo's sass! Alcott's tone reminds me of my favorite Nebraskan author, Willa Cather. An added bonus of our last assignment was living down the road from the actual home where the Alcott family lived and where Louisa's novels were written! (Concord, MA).
2. I totally wanted to be an astronaut after watching the 80's movie "Space Camp." As a kid, I'd look out my window at the dark night sky and wonder what the stars were doing up there! When I realized it would be a career big on math and science, and those were not my forte, I changed that dream to being Tanya Tucker—a popular country music singer. Can I sing? Nope! But I had a spotlight sashay ready for concerts!
3. Bags of Brookstone chocolate covered berries and the TraderJoe's knockoff called PowerBerries. They are my weakness.
4. I used to ride my bicycle for miles and never get tired! I am the least athletic person on the planet, but I started riding a bike as a kid and absolutely loved it. I continued riding through school and, after college, I joined a trail riding group. We would ride to a small-town cafe for tacos and margaritas! A few years back, I tore my ACL and I haven't ridden a bike since, but I hope to try it again.
My dream is to be the Granny in a pantsuit who rides her bike to bingo parlors.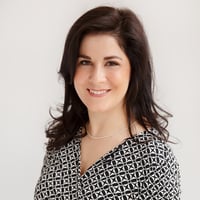 1. Call me unoriginal, but The Great Gatsby is my go to re-read for its vivid imagery of the 1920's glittery lifestyle and the perfect portrayals of silly Daisy and over-the-top Gatsby.
2. At various times I wanted to be a model, an astronomer (I loved Space Camp, too!), an archaeologist, and a diplomat. None of these make one bit of sense now, but they foreshadowed my random collection of future jobs. I currently own about 200 different titles that describe mom, milspouse, and writer.
3. Old-timey general stores along the highway. I have no idea why. They have such a bizarre assortment of items that always surprise me. Antiques, chewing gum, and canned goods just to name a few. Bonus if they have a lunch counter with local dishes.
4. No matter what the object is--clothes, furniture, dish set--and regardless of the retail space, I can walk in and choose the most expensive items without seeing a price tag and immediately fall in love and have to buy it. This talent works in Nordstrom as well as a thrift store. It's a curse, I tell you.
The multi-talented and ever patient Jen McDonald, our beloved Content Editor-in-Chief, brilliantly pulls our writing together every day, as well as writes for the blog and creates images, ebooks, videos, and downloads.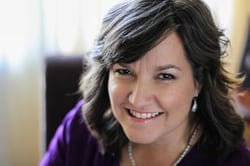 Jen McDonald, MilitaryByOwner Content Editor
1. When I was young: Little House books. Adult: anything by Maeve Binchy. I've read all her books numerous times.
2. I was a child of the 80's and figured girls could do anything. My dreams varied between tractor operator--a purple tractor, no less (can't explain this now!), doctor, a businesswoman doing some sort of vague work while wearing a power suit, and what I finally ended up going to school for: nursing.
3. Nightly glass of wine. But, I don't actually feel guilty!
4. I sing and play the piano and was the contracted musician for the base chapel when we were stationed in California. I'm also a foodie who loves to cook, and people usually seem to enjoy my food!
MilitaryByOwner's Social Media Team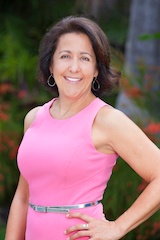 Monica Schaefer, Newsletter Editor and Facebook Manager
Monica's history on staff with MilitaryByOwner spans twelve years. During this time, she's worn many hats such as Customer Service Representative, Blog Manager, and Social Media Manager.
As a licensed real estate agent in Hawaii and former military spouse of 22 years, Monica has vast knowledge of frequent military relocation and the ins and outs of buying, selling, and managing real estate.
Fun fact: Monica's true passion is to become a pastry chef! Yum!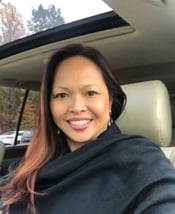 Trung Ngo, Northern Virginia Social Manager
As a former Marine Corps spouse, Trung has years of military life experience, including mothering three young military kids. In addition to managing Quantico Live, she is passionate about higher education and continues to work in this sector today.
Trung enjoys spending time combining her love for her family and friends with cooking a variety of cuisines. Exploring the Washington, D.C. area is always on her "must do" list.
Fun Fact: Trung has found all of her rentals and listed homes for sale and rent on MilitaryByOwner.
Because the following individuals are oh-so-talented, they play multiple roles within the company. You've previously met them in our posts Meet MilitaryByOwner's Home Office and Meet MilitaryByOwner's Customer Service Team.
Adam Gran
Adam manages advertising for Google and Bing as well Facebook. He also manages email marketing campaigns and helps to plan future expos that MilitaryByOwner attends.
Christy

Shields
Christy creates eye-catching infographics to support MilitaryByOwner blogs, articles, and e-books. Her reader-friendly designs are perfect for social media posts as well.
Diane Christian
Diane manages the San Diego Military Lifestyle Facebook page and the MilitaryByOwner Southern California Twitter account.
Heather Whitfield
Along with her other duties in the home office, Heather manages the MacDill Happenings social media accounts.
Although many of our talents and hobbies vary, the staff at MilitaryByOwner know and live military life, so it's simple to relate to customers and readers. Your experiences are our experiences, and we work hard to maintain that connection.
Reach out to any of us, and you'll get an honest answer or opinion!