PCS to Hanscom AFB, Massachusetts
Is your PCS destination Hanscom AFB, Massachusetts? Lucky you!
Ask any military family about the best reasons to move to Hanscom, and they'll tell you about proximity to Boston and all of its glorious offerings from history to fine food, professional sports, travel opportunities, and so much more. Of course, a bonus is the area's friendly people, who create a warm community feeling both on and off base.
Hanscom AFB's Ideal Location
Hanscom is about 20 miles northwest of Boston, 25 miles south of Nashua, New Hampshire, and 85 miles from Portland, Maine. Set in Middlesex County, the base borders towns you probably learned about during your U.S. History classes back in the day. Bedford, Concord, Lincoln, and Lexington; all are popular and in-demand locations for off-base living.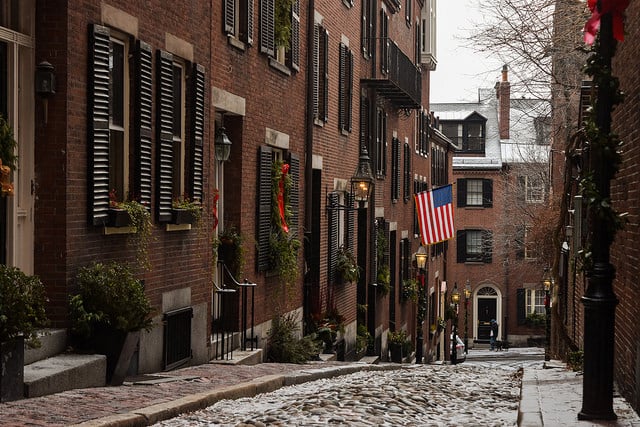 Acorn Street in Boston. Photo via Flickr user
Guilherme Nicholas
Your time stationed at Hanscom will be conducive for travel up and down the East Coast, thanks to the I-95 corridor and abundance of planes, trains, and automobiles! Most of New England is accessible, and so is Canada if your passport is burning a hole in your travel bag. Speaking of international travel, Logan International Airport is less than 25 miles from Hanscom and has flights into Europe every day. Ever wanted to visit Reykjavik, Iceland? It's only a 5 hour and 30-minute flight!
Boston Metro Area: Winter Weather and the Cost of Living
With all of this goodness Hanscom has to offer, is there a reality check? Yep. Cost of living. It's a challenge in and around Boston. Prepare and save early for high-cost expenses you probably haven't had to pay in the past, including housing deposits, insurance policy increases, utilities, and grocery expenses.
For tips on cost savings, read 5 Real Ways to Offset the High Cost of Living at Expensive Duty Stations.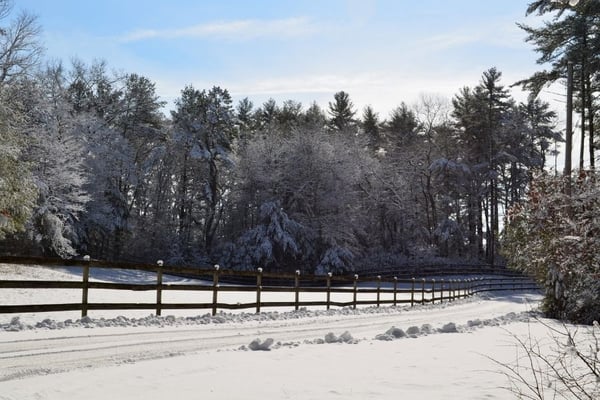 Image via Canva
New England's winter weather can be a turn-off for some moving to Hanscom. There's no way around cold temperatures and snow. Expect winter lows that plummet to single digits and which may only reach into the 20s or 30s during the day. If your family is into snow and winter activities, this is your chance to thrive!
However, there's a reason you hear about New England's glorious fall season and why millions of tourists annoy locals each year while taking in spring and summer splendor on coastal vacations. If celebrity sightings are your favorite pastime, head to Martha's Vineyard or Nantucket, just a short ferry ride from the shore.
Hanscom AFB's Top 10 Must See List
To get your Hanscom bucket list started, take a look at the 10 of the most popular attractions in and around Boston.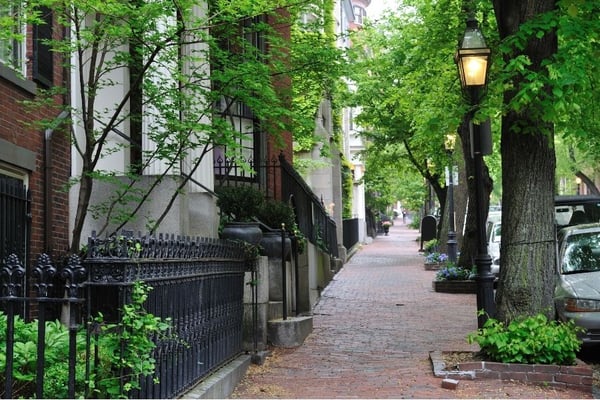 Historic Beacon Hill Neighborhood in Boston. Image via Canva.
Fenway Park
Freedom Trail
Faneuil Hall
New England Aquarium
Boston Museum of Fine Arts
Museum of Science
John F. Kennedy Presidential Library and Museum
Boston Public Garden
USS Constitution
Beacon Hill
While this list certainly isn't exhaustive, it's an ambitious start. Don't forget to take advantage of Hanscom's Ticket and Tours office. They'll help you craft affordable getaway itineraries for the most requested locations.
Where to Live While Stationed at Hanscom AFB
On Base Living
Living on base is a popular option for many families because of convenience, especially in the winter, and simply because it's less expensive. Hanscom offers privatized housing through Hunt Military Housing Communities. Most of the housing is relatively new. Within the base neighborhood, older properties are available at market rent rather than the BAH rate. The base housing community includes several playgrounds, green spaces, and a clubhouse is available for social gatherings.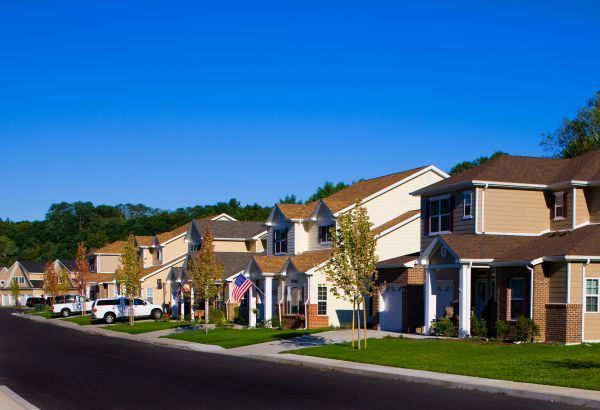 Hanscom AFB housing, image via Hunt Military Communities.
Kids who live on base attend either Hanscom Primary (K-3) or Hanscom Middle (4-8) Schools, which are part of Lincoln Public School District. Families rave about the quality of education and the welcoming atmosphere provided by the military family-friendly administration. High school students (9-12) attend Bedford High School, part of the Bedford Public School District.
Hanscom AFB Amenities
Hanscom AFB offers a wide variety of amenities, including an Aero Club, Auto Skills Shop, Movie Theater, Outdoor Rec office, Pharmacy, Thrift Shop, Veterinarian, and Youth Center. The Base Exchange (BX) plaza includes a food court, dry cleaner, barbershop, salon, optical shop, and florist. The Airman and Family Readiness office consists of a computer lab and reference materials instead of a base library.
Easy Transit into Boston
Part of Hanscom includes the Massachusetts Institute of Technology (MIT) Lincoln Laboratory, a Department of Defense research and development center. Each weekday morning, a shuttle bus leaves from MIT Lincoln Lab at Hanscom AFB to Cambridge's MIT University campus, offering a stress-free way to commute into the city.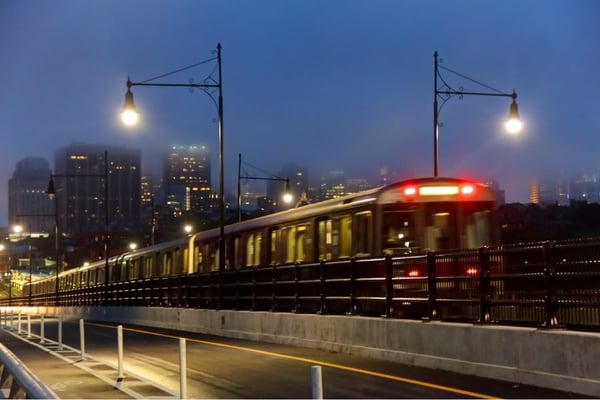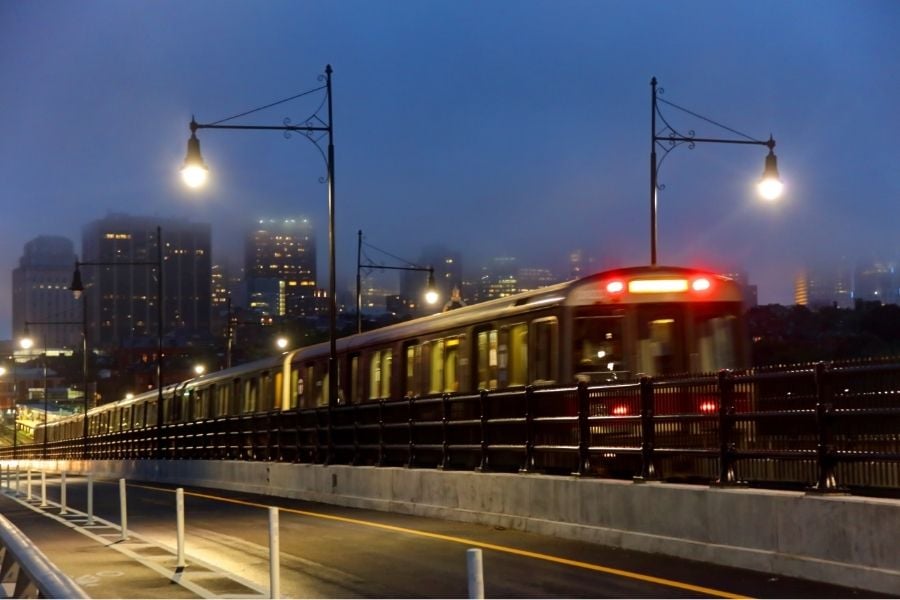 Boston Redline Subway Train. Image via Canva.
Another way to avoid driving in Boston traffic is a 12-mile trip from Hanscom to a parking garage at the Alewife train station. The red line subway train from Alewife leads to stops in Cambridge and Boston in under an hour.
Finding a Home Near Hanscom AFB: Popular Places to Live
Outside of the Hanscom gates, Bedford, Concord, Lexington, and Lincoln are all cities where military members regularly chose to live. The towns are peppered with museums and historical sites and plentiful options for shopping and dining. Breathe easy, parents of school-aged kiddos; Massachusetts is regarded for its top-ranked schools.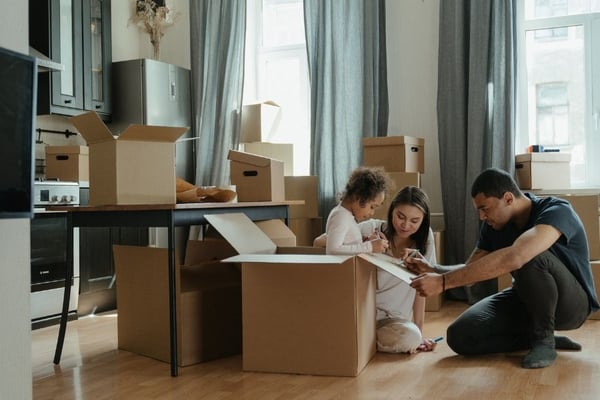 Small Towns with Big History
Bedford is known as the home of the first United States flag flown during the American Revolution. This artifact is the oldest battle flag in the U.S. and is displayed at the Bedford Public Library.
Besides being notable for Concord grapes, the town of Concord became a hub for writers. The homes of Ralph Waldo Emerson, Nathaniel Hawthorne, and Louisa May Alcott are now museums. Additionally, nearby Walden Pond State Reservation gained notoriety from author Henry David Thoreau.
Lexington is the location of the first shot of the American Revolutionary War. Emerson penned it as "the shot heard 'round the world." From Lexington, the British marched on towards Concord, where the minuteman militia had organized resistance.
On his midnight ride, patriot Paul Revere was captured by British army patrol near the town of Lincoln. That site and other notable landmarks are found along the trails of the Minuteman National Historic Park.
If you're stationed at Hanscom, there's no doubt you'll enjoy the friendly atmosphere and peaceful setting of this woodsy area. With plenty of history to engage in all around the base and access to Boston, your assignment in Massachusetts will be a memorable experience!