10 of the Best Scenic Railways Across the U.S.
Before we sat on traffic clogged multi-lane highways most days, America had a love affair with trains. Getting us coast to coast, ambling through mountains, prairies, and forests, the train is a staple in our imaginations, found in many beloved books and movies.
Across the country, historic railways have pivoted to becoming tourist destinations since they are no longer in demand as essential travel. There are many scenic trains in the United States, from short 30-minute open air rides to multi-day luxury lines. Take a look at ten places that military families wanting a railway adventure can visit—some even offer military discounts!
1) Grand Canyon Railway and Hotel
Recently, we shared tourist attractions near the Grand Canyon that offer military discounts, and the Grand Canyon Railway and Hotel is on that list. You can plan a whole vacation through Grand Canyon Railway and Hotel, including hotels, dining, tours, and of course, daily train rides between Williams, AZ and the Grand Canyon Historic Village.
Every train ride includes entertainment, with six options of service levels. At certain times of the year, there are special rides, including the Polar Express train during the holiday season and Steam Saturdays, where restored vintage steam locomotives are used.
Headed to Luke AFB in Arizona? Learn all about the area here.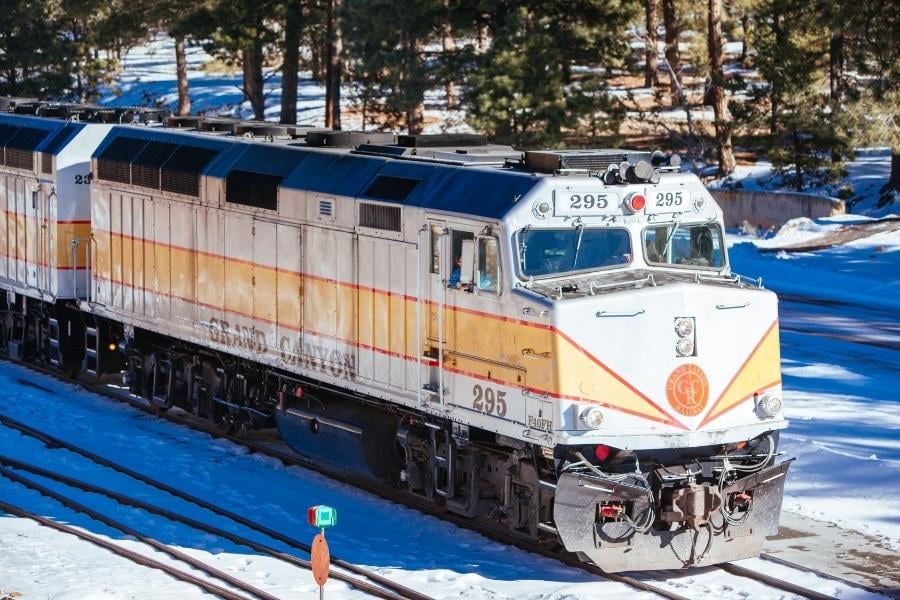 Grand Canyon Railway. Photo from Canva
2) Rocky Mountains
The Durango and Silverton Railways that travel scenic routes through the Rocky Mountains in CO are owned by the same company, American Heritage Railways. Both offer a 20% military discount, and their website provides details and booking information. Various seasonal trips offered include views and outings of locations such as the historic mining town Silverton, the San Juan mountains, and Cascade Canyon. They offer hotel and tour packages, but for the more adventurous, you can combine a train journey with opportunities for adventure tours such as snow mobiles, river rafting, and zip lines.
One of the most famous mountains in Colorado, Pike's Peak, has a Cog Railway that offers an exciting way to get to the vistas at the top through The Broadmoor Manitou and Pikes Peak Cog Railway. For nine miles you'll enjoy views as you increase in altitude 14,115 feet, and the train is ADA accessible. While they are not currently offering any discounts other than group rates, this is still a site that military families stationed in Colorado will not want to miss.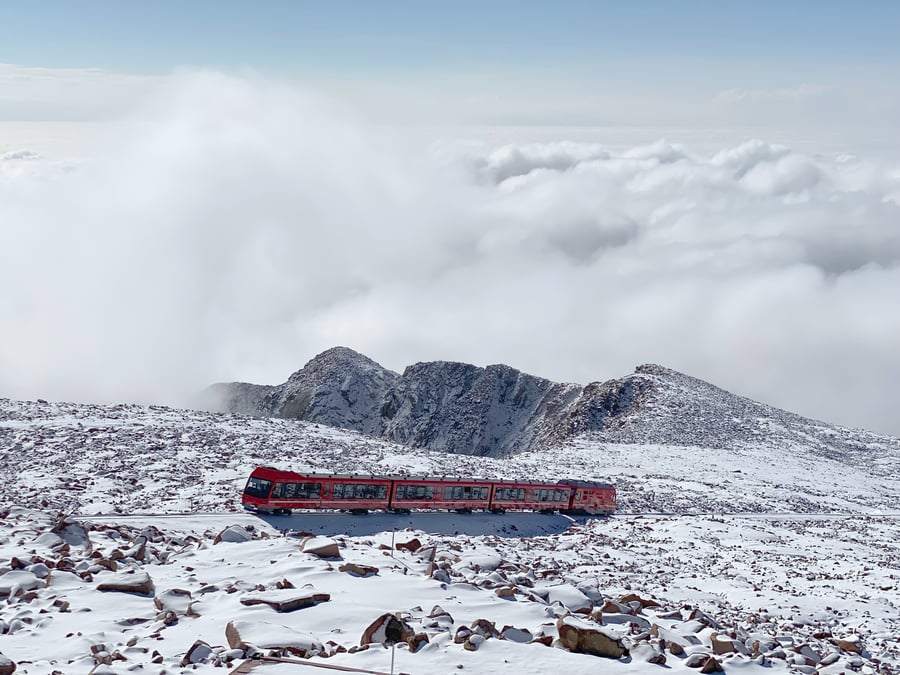 Pike's Peak Cog Railway. Photo from Ride the Incline.
3) West Coast Adventure
The Amtrak line that runs from Seattle to L.A. is known as the Coast Starlight Train and is one of the most scenic Amtrak routes to use for business or pleasure. The complete trip take 35 hours, but you can book sections of the journey for any of the California, Oregon, or Washington train stations the route serves.
Amtrak offers a 10% military discount for active duty families, and has a variety of discounts for students, Veterans, seniors, children, and passengers with disabilities. Each discount has exceptions for upgrades and certain routes or times, so check closely to see which type of ticket will work best for your travel needs
4) Alaskan Railway Adventure
Military families stationed in Alaska will probably want to make the most of their time in "the last frontier" exploring all the beauty the state has to offer. A train ride is a great way to accomplish sightseeing ,and the Alaska Railroad won't disappoint. With a variety of seasonal routes that can take you on coastal adventures to Denali National Park or to see snow covered landscapes in comfort, it's an amazing way to see Alaska in luxury. Join their email list for information on specials like "kids ride free" or new excursions.
Making a military move to Alaska? Find out what you need to know before you go!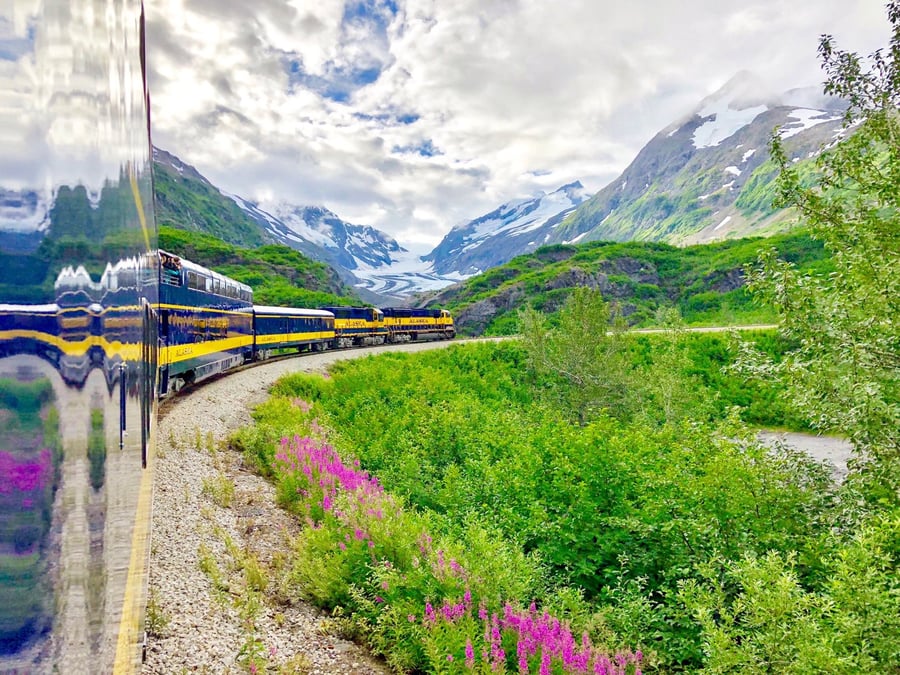 Alaska Railroad - Riley Stefano. Photo from Alaska Railroad.com.
5) Glacier National Park
Glacier National Park is on the bucket list for many National Park aficionados, but its remote location in Northern Montana make it out of reach for many. Luckily, Amtrak can help with that. Its Empire Builder route from Chicago to Seattle has a stop in Glacier National Park, so if you are stationed in Washington State or the Midwest, there might be a route for you.
The full ten-day itinerary is a large investment at over 3k per person, making it an adventure to consider for a celebration trip like retirement or major anniversary, but shorter legs of the trip are also available. Check out all their specials for National Parks.
6) Chattanooga, TN
Chattanooga, TN, is a city that loves trains! With an important history as a train hub, history and train buffs can enjoy hotels, museums, and train excursions catering to their interests. The Tennessee Valley Railroad offers train excursions, including their popular Thomas the Tank Engine event. For train fans interested in a luxury stay, check out the Chattanooga Choo-Choo Hotel downtown, whose rooms include refurbished Pullman train cars.
The Incline Railway in Chattanooga is a funicular railway system that is over 125 years old. Its steep ten-minute ride takes you up Lookout Mountain. While there are no current military discounts, it's moderately priced at $15 for adults and $7 for children, and the station at the top is within walking distance of the beautiful Park Point. Park Point is part of the Chickamauga and Chattanooga National Military Park and accepts the America the Beautiful Military Pass.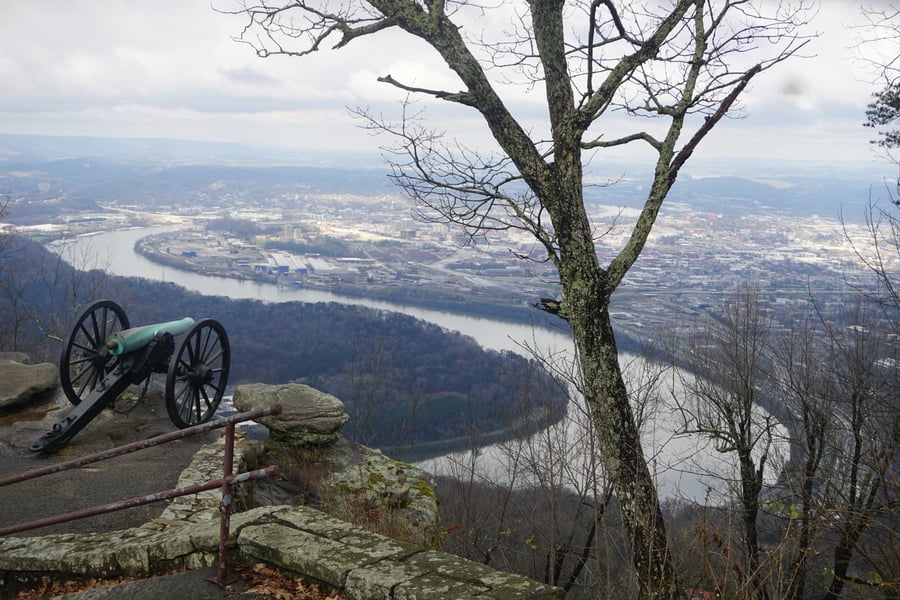 View from Park Point. Photo from Meredith Flory.
7) Smoky Mountain Railway
For servicemembers located in the Southeast, the Smoky Mountain Railway provides an opportunity to experience all the year-round beauty of the Smoky Mountains. The railway offers a military discount on certain excursions in standard seating that include both the servicemember and up to three family members. Each train trip leaves from Bryson City, NC which has lots to offer including local breweries, waterfalls, hiking, and elk watching.
8) Virginia Scenic Railway
There are a multitude of military bases in Virginia, and historic sites abound in every region. The Shenandoah Valley is no exception, with beautiful views of the Blue Ridge mountains, and spectacular foliage and flora year round. The Virginia Scenic Railway lets you see these sites with two different three-hour round trips, leaving from the picturesque town of Staunton.
All tickets are the same cost per person, but you can sign up for their newsletter for special offers. While the train is perfectly suited for a day trip for those close by, Staunton also makes for a wonderful home base to explore the Blue Ridge Mountains for a longer trip that explores hiking, wineries, historic sites, and more.
More things to do for the whole family in Hampton Roads, Virginia.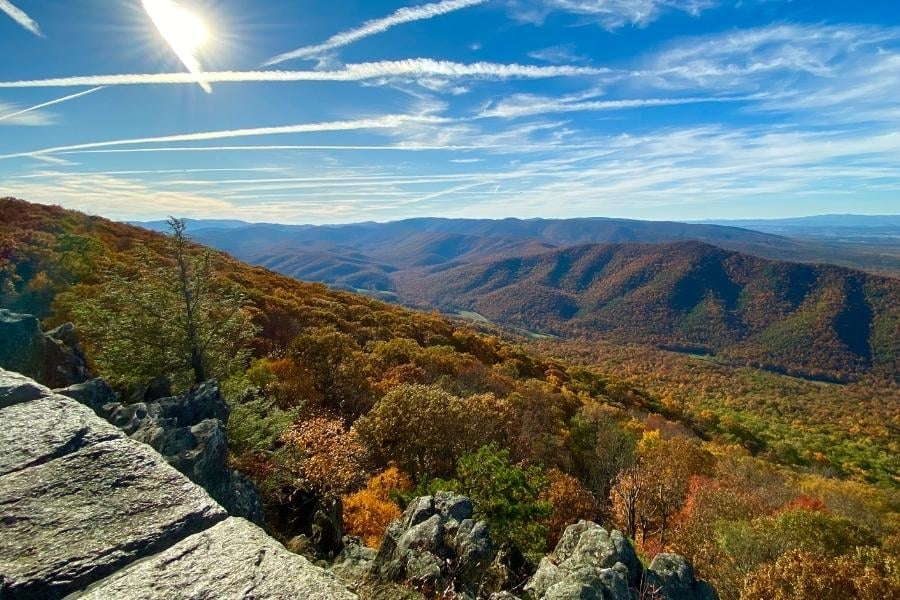 Shenandoah Valley. Photo from Canva.
9) Lancaster, PA
Lancaster, Pennsyvania, has a historic railway to ride, but it's also the perfect destination for someone who truly loves trains. The Strasburg Railroad is the oldest operational railroad in the country, and you can enjoy a 45-minute sightseeing tour of the area on their trips. They also do special events and they are another location of the Day Out with Thomas event.
For history buffs, the Northern Central Railway uses a replica of an 1860s steam locomotive and educational entertainment during its excursions. You'll find a variety of family-friendly unique hotels in Lancaster as well, such as staying in a train car at the The Red Caboose Motel or meeting your favorite cartoon characters at the Cartoon Network Hotel. Lancaster is a tourist destination with something for the whole family, including Amish tours, train and military museums, and amusement parks.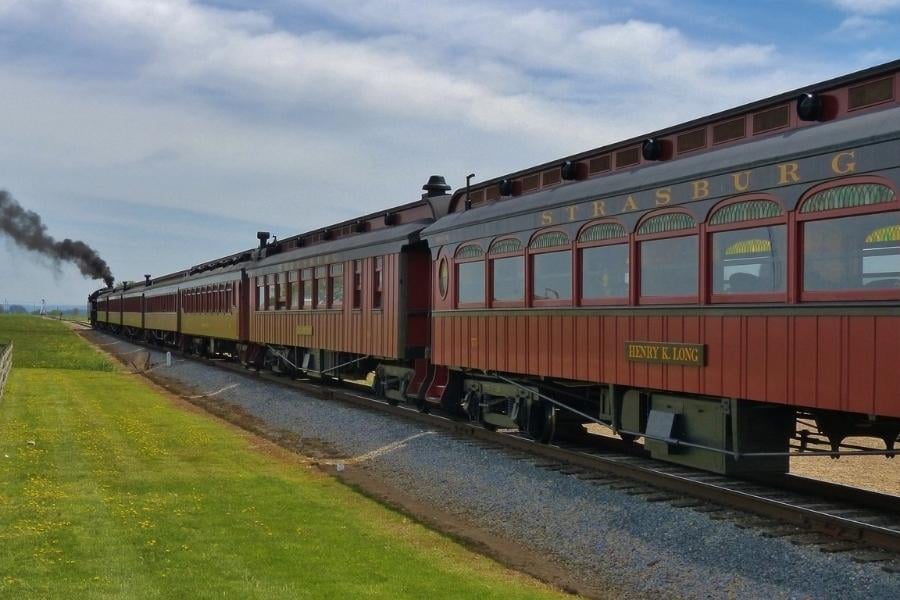 Strasburg Railroad. Photo from Canva.
10) Cape Cod
If a summer at Cape Cod is a relaxing vacation destination for your family, don't miss out on the Cape Cod Central Railroad. This scenic railway offers a variety of excursions with different class options. Enjoy dinner on a train or a sightseeing trip through bridges and bogs. Select excursions trains have a 10% military discount, but dining trains do not, so contact reservations for questions about your specific travel plans.
Get even more information and tips for your military family's travel! Grab your free guide below.