Home Buyers: Should Ancient Applicances and Shag Carpet Keep You from Making an Offer?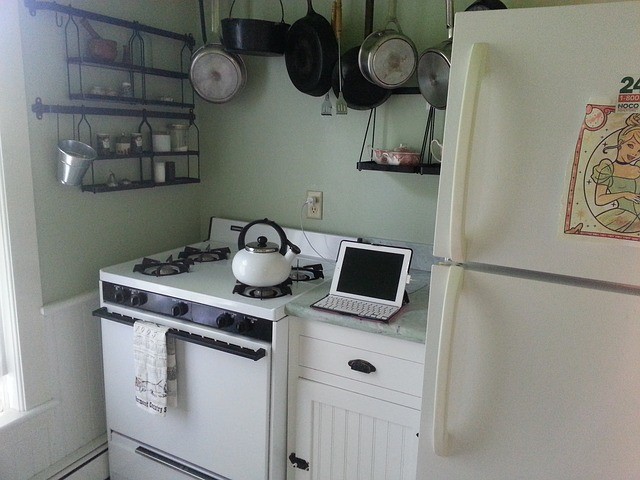 Brown shag carpeting, a dungeon style chandelier, yellow and green appliances…don't be afraid! These are not reasons to ignore a perfectly good house for sale. A house that has passed inspection with flying colors and is priced right is a combo that is hard to come by for sure. Don't let the decorating styles inside distract you from the home of your dreams.
Many cosmetic issues with a home can be easy fixes! Following are some common problems that are fairly simple to correct.
Carpet Removal: The majority of home buyers these days are looking for hardwood floors, especially in the main living areas. Carpet removal and hardwood installation are some of friendlier DIY projects for a homeowner to attempt. Installation of the new laminates or hardwood floor can be tricky, but products today are more user friendly than ever with tutorials and advice all accessible online. The same holds true for refinishing floors. Researching in advance will eliminate some mistakes first timers typically make.
Lighting Fixtures: Fixtures make statements with minimal effort. That statement might be negative if it's outdated or if it clashes with the buyer's style. The homeowner's personality will show through whether their choice of a modern pendant light or an ornate "princess" chandelier hangs in the room. These personal decorating pieces are easily changed or updated, inexpensively. Instead of an entirely new purchase, maybe the brass fixture just needs to be spray painted black?
Appliances: It seems that a majority of the homebuyers want stainless steel appliances. The rage is still so popular that prices and installation are more affordable than ever. But don't write the home with the avocado kitchen off too quickly. If an immediate appliance overhaul isn't monetarily feasible, Rust-Oleum has produced an epoxy spray paint that covers metal appliances. Color choices include: stainless, black, white, biscuit, and almond.
Paint and/or Wallpaper: Trends for color or patterns on walls move at warp speed. As soon as it becomes affordable for most people, the fashion fad is almost over. But, although time consuming, these rehab projects are doable for most homeowners. Quality primers and paper removal tools make all of the difference when updating. Oh yes, if the house comes complete with synthetic dark wood paneling in the basement, you are in luck! It's paintable! It's a quick, cheap, easy way to brighten up the space if a total tear down isn't in the picture yet.
Outdoor Space: Lush green spaces with comfy lounge chairs and lovingly tended gardens are part of the very popular outdoor living movement. What happens if the homeowner doesn't have a green thumb and doesn't want the upkeep or extra water bills? Well, dig it up and put sod down. Both projects are labor intensive initially, but supplies are inexpensive. Time consuming chores like weeding and pruning turn into simple mowing.
If these projects seem overwhelming, consider handyman services. This is a great opportunity to explore professional help with smaller home improvement projects. Often, experienced handymen will be able to offer a far more competitive price than a big name installation company.
By using guides like Home Advisor or Angie's List, some of the background and referral work is done for you. Handymen will also frequently advertise specialty projects such as floor refinishing in addition to their menu of services offered.
Remember that most houses can be updated, rehabbed, or renovated into anything a homeowner can dream up, but the resources must be available. Money and time commitments are precious commodities, and each homeowner must determine their own threshold as to what is fixable and what is beyond their resources. Knowing your boundaries before selecting a home will determine which properties are worth the sweat equity to improve the interior look of the home.