Stationed at the U.S. Air Force Academy? Here's What to Expect!
Headed to the United States Air Force Academy? Located just north of Colorado Springs is the USAF Academy. Their mission? "To educate, train and inspire men and women to become officers of character motivated to lead the United States Air and Space Forces in service to our Nation."
While many of us are familiar with military colleges, did you know that an Academy education is valued at $146,000, but is tuition-free? The Academy provides knowledge in exchange for service in the Air or Space Force. What an incredible opportunity!
And what a place to attend a school or call your next duty station as you help mold the next generation of Air Force officers! Colorado Springs is home to several military installations belonging to multiple branches. Peterson AFB is centrally located and has two Air Force bases as its neighbors. Schriever AFB lies to the east and Cheyenne Mountain Air Station to the west. The Army's Fort Carson is located south of Peterson AFB.
Military Installations in the Colorado Springs Area: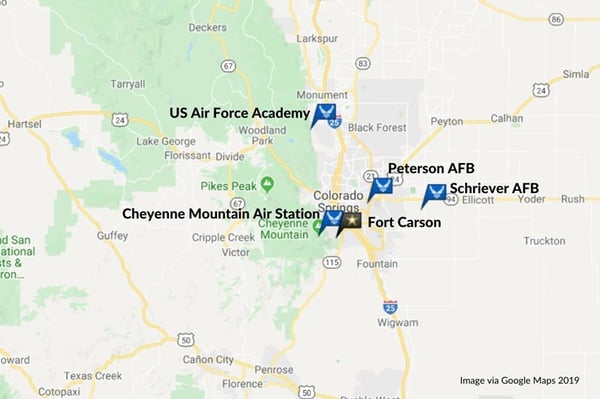 There's so much to do in the Colorado Springs region! Whether you're just visiting, on short-term orders, or stationed here, let's take a look at the area and a few activities to get you started.
What to Expect at the United States Air Force Academy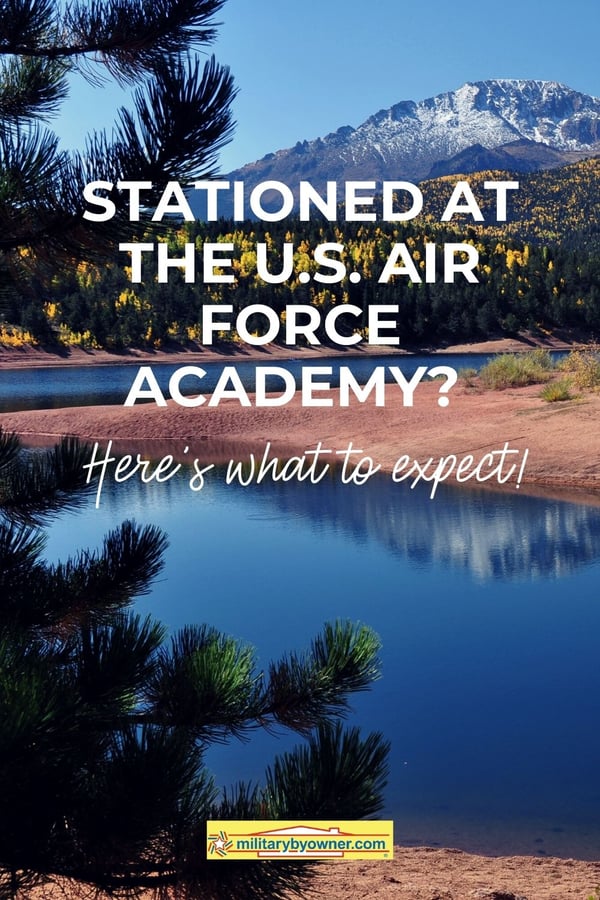 Getting to Know the USAF Academy
Not many people ask the question, Is Colorado Springs a good duty station? when headed to the area. Why? The culture and overall vibe leaves residents with an overwhelming feeling of contentment. The convenience of city life and small town camaraderie intermingle to form a well-rounded community. And it's one that is hard to say goodbye to when orders are up. Outdoor adventures abound, while the nightlife is far from dull. Along with that, you'll find plenty of family-friendly outings!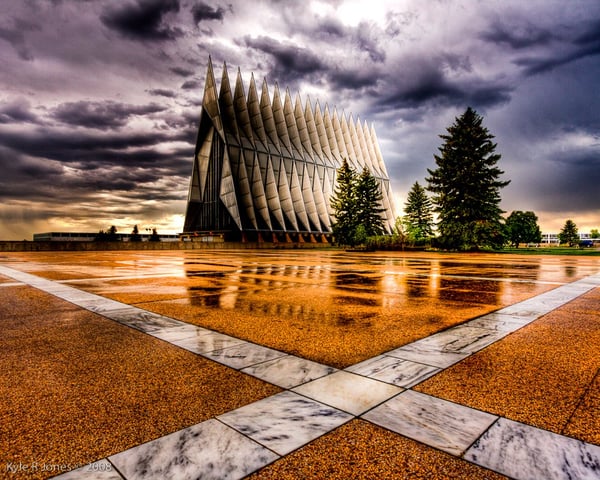 View of the iconic U.S. Air Force Academy Cadet Chapel. Image via US Air Force Academy Cadet Chapel Facebook page.
Places to Live Near the Air Force Academy
If you're not a cadet housed in a dorm, you may be looking to live in military housing. The Air Force Academy Family Housing is administered by Hunt Military Communities. You'll find two distinct communities in Colorado Springs that offer different floor plans and amenities.
When living off base, it can be difficult to know where to start the search at a new duty station. In Colorado Springs, a few of the more popular (and competitive) neighborhoods include Downtown Colorado Springs, Old Colorado City, Manitou Springs, Broadmoor Bluffs, Briargate, Northgate, Fountain, and Powers.
When stationed at the USAF Academy, you'll find that Briargate and Northgate are closest. Old Colorado City and Manitou Springs are next up and the rest fall in either downtown or south of the city which make for an extended commute.
---
Are you relocating to Colorado Springs and looking to buy a home? Take a tour of this gorgeous home for sale!
Colorado Springs, CO
5 Bed, 3 Bath (single-family)

For Sale: $535,000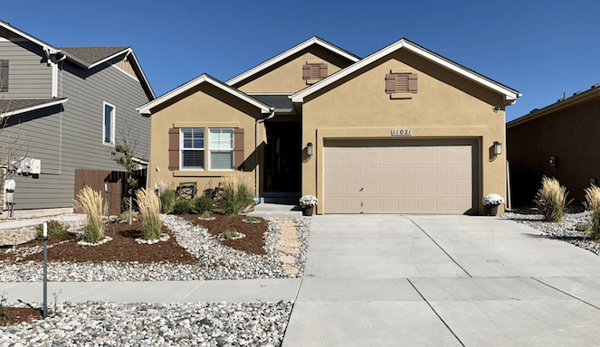 Located at the Northfork at Briargate, this beautiful single-family home sits just minutes from restaurants, grocery stores, and shopping (Promenade Shops at the Briargate and Chapel Hills Mall). It's centered around the main floor which offers its main living areas, three bedrooms, a laundry room, and more. Plus, you'll notice that the home is complete with hardwood floors and solid wood plantation shutters. The kitchen is finished with gorgeous granite countertops and a large island. The basement houses two additional bedrooms with an oversized bathroom. But you'll also find a wet bar, theater room, storage room, and great room, so when it comes to playing and relaxing, this is your haven. The home has a radon mitigation system installed as well as AC/heat and an irrigation system.
Note: although this home is no longer listed, click below to view more homes for rent or sale near the USAF Academy!

---
Things to Do Near the USAF Academy
Garden of the Gods: Set your sight on the beautiful Garden of the Gods! Embrace your adventurous side and scramble, climb, or rappel the Garden. Or, welcome a softer, more gentle experience with a simple hike or a guided bike tour.
Cheyenne Mountain Zoo: The perfect outing for the whole family, the Cheyenne Mountain Zoo lets the kids explore the animal kingdom and even interact with it from time to time. Watch for opportunities to feed the giraffes and pet the goats!
Bonus: Military members get $25 off any membership level.
Garden of the Gods
The Broadmoor Seven Falls: Enjoy "The Grandest Mile of Scenery in Colorado" as you make your way into Seven Falls where the water cascades 181 feet down between the Hercules Pillars ( a 900-foot frame for this Colorado natural wonder). And to make this outing even more unforgettable, take the steep 224-stair climb to the top where you'll access several trails above this phenomenon.
Want a sneak peek? Check out the Broadmoor's Seven Falls live stream.
Pikes Peak Highway: Setting your sights on the incredible beauty of Colorado has never been easier with this 19-mile long winding road. It takes you to the summit of Pikes Peak and offers breath-taking views of the lakes, mountains, and wildlife. The trek takes about two to three hours round trip.
Or, forgo the car and head on foot up the Barr Trail or Crags Trail to the summit. It's not easy, but the effort might just make the view that much sweeter.
Cave of the Winds Mountain Park: Explore another side of nature as you venture through the Cave of Winds Mountain Park. Offering both family-friendly well-lit tours through the electrically wired portions of the cave as well as darker sections requiring a lantern, this attraction can be fun for the whole family or just adults!
Red Rock Canyon: This 1474-acre stretch of the unincorporated Wild West is free to explore. With over 653 acres designated as "open space" to ride horseback, hike, run, and bike, you can visit Red Rock Canyon a dozen times and cover different ground each trip.
If you need help narrowing it down, Hogback Trail is especially memorable. It guides you to a plateau overlooking Red Rocks, America's Mountain, Pikes Peak, and the city below. Plus gorgeous wildflowers greet you during the warmer months!
Manitou Incline: Just as the name implies, this mile-long hike is all uphill. Gaining over 2,000 feet within a mile, this hike isn't for the faint of heart (or those who just ate a big lunch).
The trail was once used as a cable car route to transport supplies up Pikes Peak. After that, it turned into a tourist attraction until a rock slide wiped out the rails on the trail and created the 2,744 step incline we know today.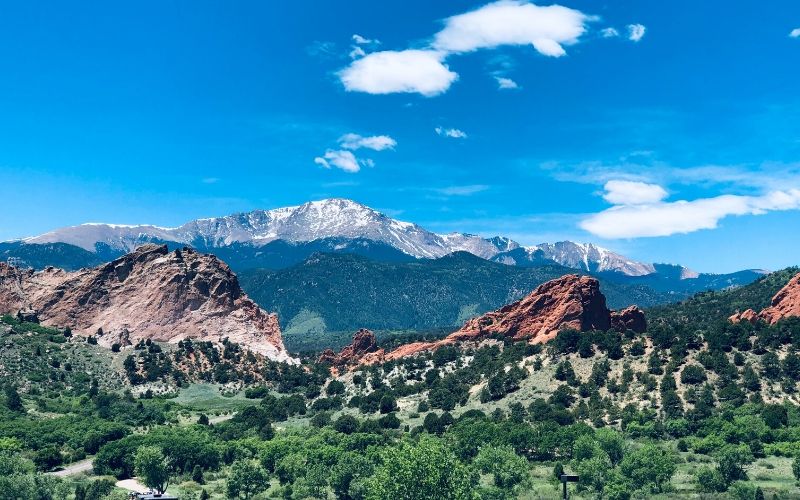 The Rabbit Hole: "Upscale New American cuisine and cocktails — waiting for you just beneath the Springs." The Rabbit Hole offers a unique underground nightlife, full of eclectic food, exotic drinks, and haunting decor. With 4.5 stars and just under 3,000 reviews, it's a definite must on your Colorado Springs bucket list.
Jack Quinn's Irish Pub & Restaurant: The host of authentic Irish food, live music, and (cough, cough) those staple Irish libations, this downtown eatery might just be a regular in your rotation. Oh, and with 4.5 stars and over 2,500 reviews, you're not likely to leave disappointed.
Want to learn more about the Colorado Springs area? Take a look at these posts about the area, then download our free guide!