Take Me Out to the Ball Game Near Fort Meade, Maryland
Are you a baseball fan? There is nothing like being in the stands, anticipating a hot dog or two while gearing up to cheer on your favorite team. But if you can't be near your hometown team while stationed at Fort Meade, there's plenty of action on the diamonds north and south of the base.
True fans of the game will be thrilled to have professional and minor league baseball just minutes from the cities surrounding the base. The Baltimore Orioles play to the north in Oriole Park at Camden Yards, a.k.a. Birdland, and their AA affiliate team, the Bowie Baysox, play their home games in Bowie, Maryland, at Prince George's Stadium.
Popular cities such as Columbia, Bowie, Odenton, and Hanover are short distances to the stadiums, and some have public transportation to avoid parking and traffic.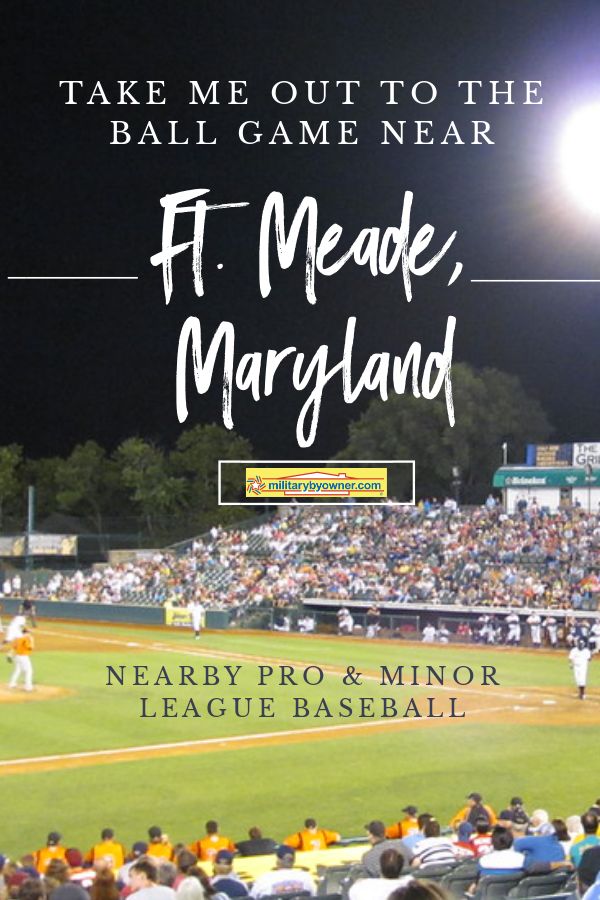 Baseball Near Fort Meade, Maryland
The Baltimore Orioles
Must-See and Do's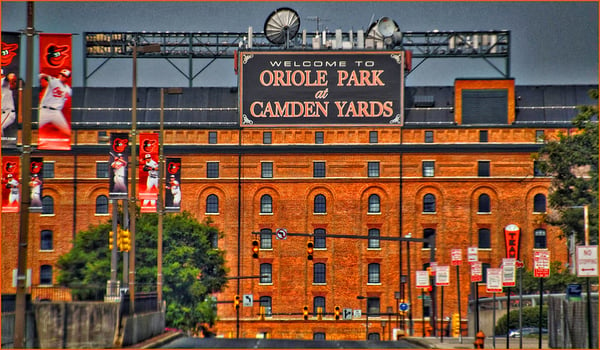 Camden Yards, Baltimore MD (Image via Ron Cogswell)
With the Orioles home opener just weeks away, the stadium is a-buzz with preparations, especially on Eutaw Street. Crowd favorite, Eutaw Street, is a gathering area between the Warehouse and the stadium. It is a huge draw for fans to hang out, eat, and get ready for the game. Eutaw Street is open to the public, but closes two hours before start time on game days. Only fans holding tickets are allowed in during this time.
Inside, fans are free to roam, including the bleachers, to find coveted batting practice balls. Games and concession stands pass the time quickly before the first pitch is thrown. Baseball historians will love Legends Park, which features "six larger-than-life bronze sculptures of the greatest Orioles of all time" including Frank Robinson, Brooks Robinson, Earl Weaver, Jim Palmer, Eddie Murray, and Cal Ripken, Jr.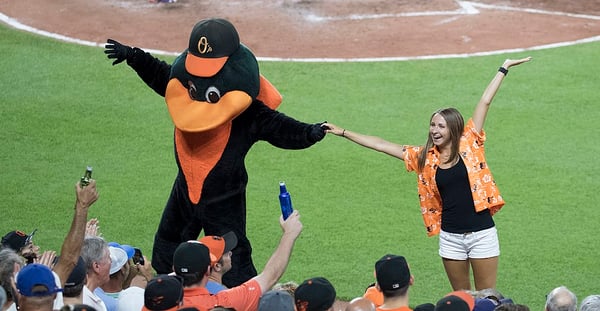 Orioles Fan and the Orioles Bird via Keith Allison
Orioles' Military Guests
The team operates the Orioles' Military Programs, which presents a variety of opportunities for military families throughout the year, including discounts and celebrations. Service members should also connect with Fort Meade's USO and MWR office to be notified when free tickets and military appreciation events are scheduled.
First-time visitors to the park are treated to a free certificate commemorating their visit to Oriole Park at Camden Yards. And, if the kids are fans too, take advantage of the Kids' Corner which has games and activities like a moon bounce, jungle gym, and skeeball. Kid friendly food and drinks are available. Don't forget the Kids Run the Bases program. After each Sunday home game, kids ages 4-14 can run the bases like their baseball heroes.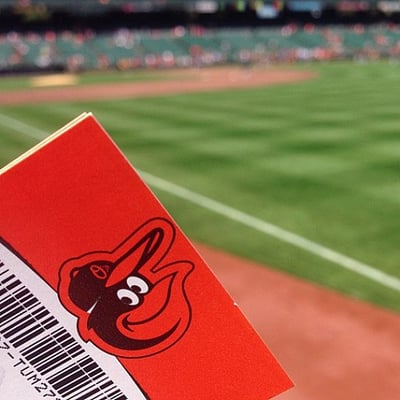 Ticket at Oriole Stadium in Baltimore via Jeffrey Goldman
Transportation to Camden Yards
Camden Yards is about 18 miles from Fort Meade, but driving time in traffic could be well over an hour depending on the day and current traffic. Many fans choose to take public transportation into the stadium, avoiding parking fees and gridlock on the interstates.
The Maryland Transit Administration conducts light rail, bus, MARC train, and subway service to Camden Yards each day. Convenient stops near Fort Meade include Odenton and the Baltimore-Washington International Airport.
Need more ideas for summertime activities? Take a look at The Best Beaches Near Military Towns for suggestions near Fort Meade.
The Bowie Baysox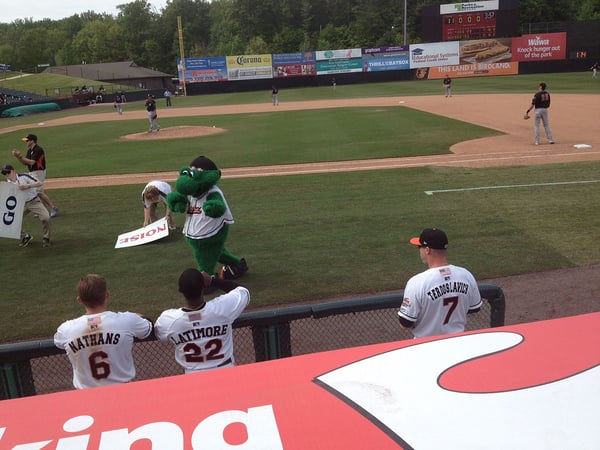 Prince George's Stadium in Bowie, Maryland
Travel south of Fort Meade another 18 miles, and baseball fans can enjoy the Boys of Summer Baysox style. The AA team has plenty of home games, and a much more affordable experience for those who enjoy trying to predict which player is headed to the big leagues and will move up to Camden Yards.
The Baysox offer the quintessential minor league game experience: casual and fun, without big money pretension. Families get to mingle with players, ask for autographs, and have a great time dancing to between inning crowd-pleaser songs. An updated menu is on the way, as a new vendor is bringing Chesapeake Bay-themed food—think Old Bay Seasoning on fries and crab cake sandwiches, in addition to traditional stadium favorites.
Baysox Military Discounts and Events
Active duty, Reserve, and National Guard service members with a valid military I.D. can purchase discounted Reserved (200 seating level) and General Admission Tickets for all regular season and playoff home games. Throughout the season, the Baysox host Wednesday Military Appreciation Day events. ID holders can purchase half-price Box or Reserved seat tickets on game day.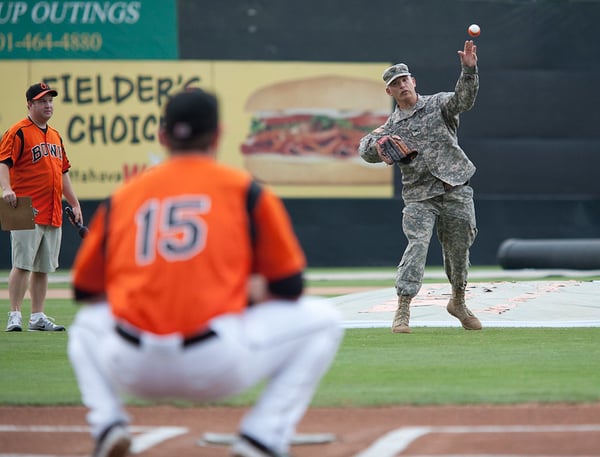 Garrison Commander Col. Edward C. Rothstein throws out the first pitch at a Bowie Baysox game. (Photo by Nate Pesce)
Don't be surprised if your school aged kids head to the Baysox ballpark for a school field trip. Schools in the area often sign up for behind the scenes tour of the stadium.
Fort Meade families have two very good choices when it comes to baseball. Both the Orioles and Baysox have something for every type of fan, from those who are just learning the game to wanna-be pros who missed joining the big leagues by this much.
If you prefer the college baseball experience, don't forget the U.S. Naval Academy is a short drive away in Annapolis, and there are several colleges in the area with thriving teams including the University of Maryland and Towson University.
Headed to Fort Meade this PCS season? You definitely need to download your copy of the Military Family Guide to Washington, D.C. It's full of tips and tricks to make the move simpler and less intimidating.