The Top Improvements You Should Make Before Your Home Sale
Thinking about ways to affordably improve your home to attract quality buyers is an important step in your overall home selling strategy. But before you start your home improvement projects, you'll need solid advice from a local real estate agent to help you spend your time and money wisely.
Although many projects like painting your home in neutral colors are tried and true home selling techniques, other popular projects like adding stone veneer to your exterior could fall flat if your pool of buyers isn't interested in that kind of update.
To kick off our list, we've asked Karen Hall, co-owner of @home real estate in Alexandria, Virginia, to share a few home selling improvement tips and tricks with home sellers to entice buyers to tour your home. Take a look.
If you want more home selling projects to consider, we've listed projects that prove to be some of the best ROI dollars spent year after year.
Exterior Updates for Home Sellers
Landscaping Curb Appeal
When short on cash and time, investing in your property's curb appeal is the biggest bang for your home selling buck. A recent survey of HomeLight agents reported that buyers will pay an additional 7% for a house with substantial curb appeal compared to another home that needs serious TLC.
The more sweat equity you invest in exterior projects, the more money you can save. Just be careful not to take on too much. These projects are time-consuming, and sometimes hiring a professional crew with the right equipment is less expensive to finish the job quickly and safely.
The good news is that these are simple fixes that greatly enhance the overall appeal.
Trimmed bushes and trees
New mulch
Lawn maintenance
Weed control
Potted and in the ground flowers
Power-washed siding, porches, and sidewalks
Read Easy Ways to Add Curb Appeal Before Your Home Sale for more inspiration.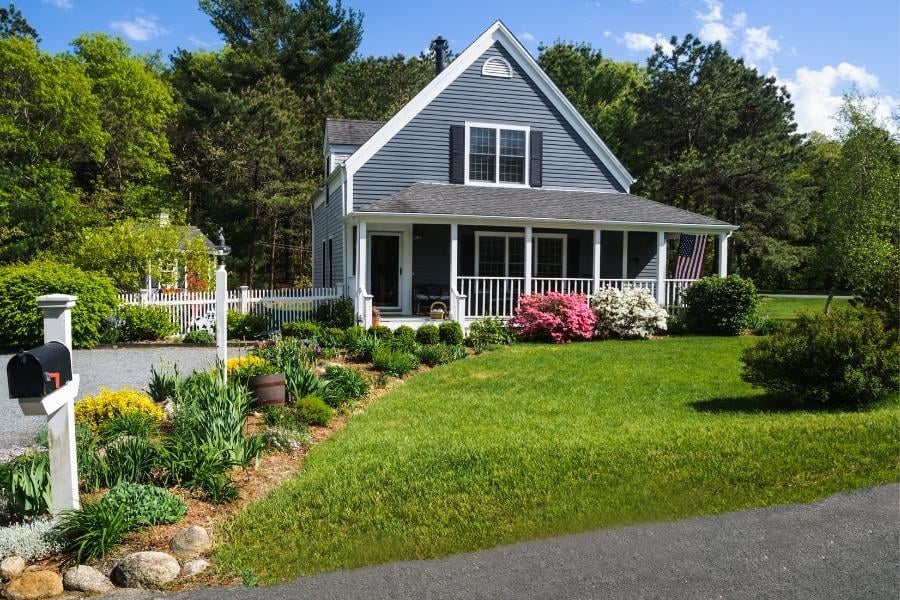 Photo from Canva
Property Curb Appeal
You might live in an area that requires next-level (but still affordable) exterior home improvements to fetch top dollar. Understanding your buyer's wants and needs before spending thousands of dollars on these exterior updates is essential.
Most of these improvements require professional installation, but you can start with this easy DIY project to get the exterior makeover going.
Mailbox and Address Numbers
You might not think such small details can make an impression, but they do. Homebuyers want to know you've paid attention to your home's upkeep, even the small things. They're looking for value. You can make a big impact for about $100, depending on the style mailbox you choose.
Mailboxes and address numbers are available everywhere, from home improvement stores to online custom storefronts. Look for finishes and materials that coordinate with your existing exterior colors and textures. Keep the size and scale of the mailbox and numbers in mind. You don't want them to be too big and overwhelm your porch space or appear too small to see clearly.
Garage Door
Remodeling's 2022 Cost vs. Value Report says a new garage door is the #1 update you can choose to recoup the most money during your home sale. On average, a replacement costs $4,041, and you'll earn $3,769 back—a 93.3% ROI. There's no need to buy an extra fancy garage door. A classic yet updated, fully functional, and quiet garage door is all buyers are looking for.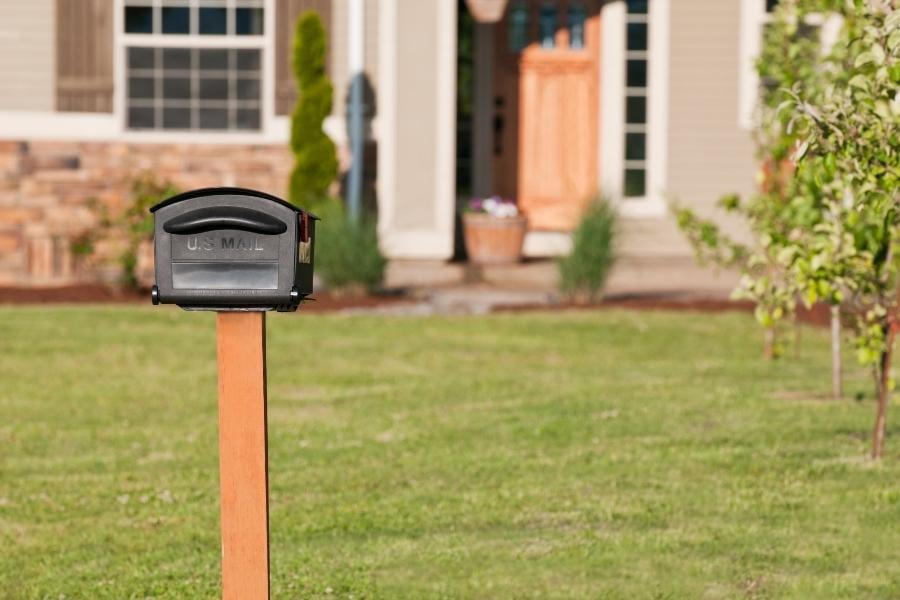 Photo from Canva
Steel Front Door
Updating a non-functional or ugly front door is one of the best uses for your home improvement money. After you've updated your mailbox and address numbers, don't stop at your front door. A sturdy, steel front door is the third part of the front porch curb-appeal trifecta. You can expect to pay about $2,200 for a well-made steel front door, but buyers love the energy efficiency savings and the inviting statement a visually appealing front door makes. Plus, you'll get back about $1,400 on your investment on closing day.
Manufactured Stone Veneer
Stone veneer perennially ranks in the top five of home improvements that recover the most money after your home sale. In 2022, installation cost about $11,000, and owners recouped about $10,100, almost 92% of the purchase price.
Adding a stone veneer is a big project. The veneer usually covers the bottom third of the house, so the perfect color and texture are key. Depending on your location, the stone statement might not pay off in your local market. Don't tackle this project without advice from a real estate agent.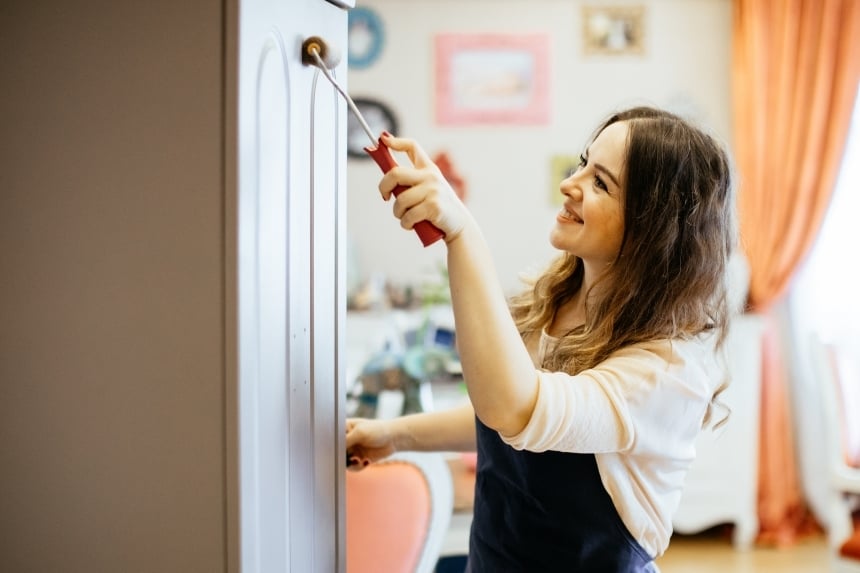 Photo from Canva
Interior Updates for Your Home Sale
Interior Paint
Your inner artist might hate to hear the advice to use neutral paint, but hopefully, your real estate agent or financial planner can help you see past the blah colors to enjoy the Dollar Bill Green coming your way. Yes, beige, gray, and greige still rule (also white in the kitchen) when it's time to sell. If you just can't let a color story go, take it to the bathroom. Buyers love a blue bathroom.
The psychology behind the neutral colors says your buyers see neutral colors as fresh, clean, and airy. Plus, it's almost a sure bet that their furniture doesn't clash with the paint. So they believe they're saving money on new furniture. You also can't underestimate the influence smooth, unblemished walls painted in cohesive colors have on buyers' perceptions. The home could feel newer or larger, all thanks to fresh paint.
Kitchen and Bathroom Remodels
Consider minor kitchen or bathroom remodels if your real estate agent has given you the go-ahead and you have cash and time to spare. They're both the most requested updates in a house, and home buyers go gaga for new countertops and tile.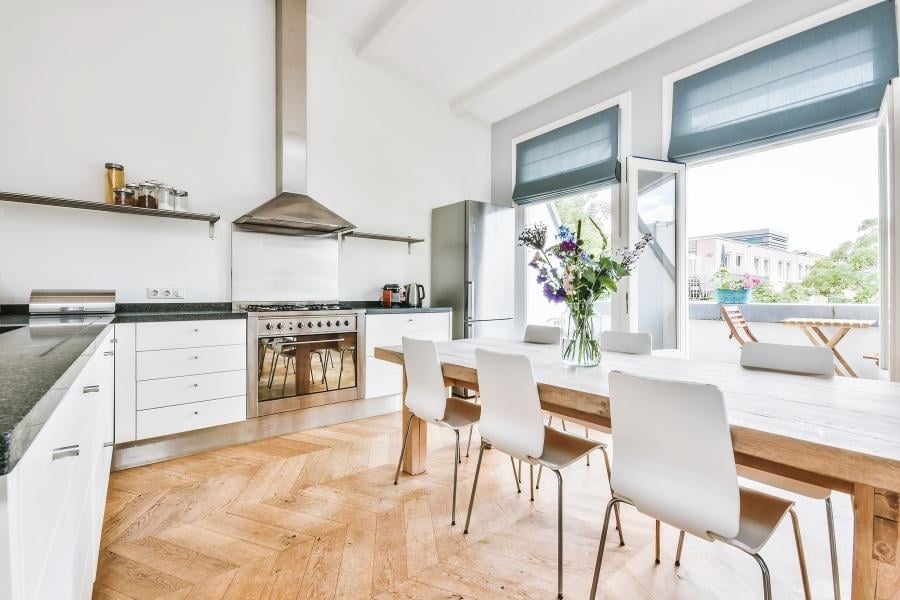 Kitchen
According to the Cost vs. Value Report discussed above, a minor kitchen remodel costs about $26,200 and nets about $18,900 when it's time to sell. That's nearly a 71% ROI. The go-to updates include:
Refaced cabinets and drawers
New hardware
Upgraded sink and faucet
Granite countertops
Energy-efficient and smart appliances
Fresh paint and flooring
Bathroom
An existing 5 x 7' bathroom has the potential to pull in about a 59% recoupment on your $27,000 remodel. For this return, buyers will want to see, at a minimum:
New fixtures
Ceramic tile surround
Porcelain on steel tub
Upgrade shower features
High-end countertops
Tile floors
As you plan for your pending home sale, it's helpful to calculate your selling budget and dial into the updates and upgrades that will bring extra money on closing day. Compare your house to recently sold homes in your neighborhood to see what buyers are looking for, but don't dive into big, expensive projects until a real estate professional helps you determine if it's the best way to spend your money.
Selling your home? Grab our free guide below!
Like this post? Use the image below to share it on Pinterest!