When You Can't Find a Home at Your New Duty Station
It's PCS season, and guess what? You have orders!
And while the circumstances have shifted a bit since your military friends moved last year during the pandemic, you have your own challenges to face. Among the biggest? Finding a home to buy.
You probably already know there's currently a housing shortage. The 2021 market is a hot seller's market. Not only are properties not staying on the market long, but they're going for high prices, too. Great news for when you sell but not when you're trying to buy. If you're gearing up for a PCS move and are struggling to find a new property to call home, you're not the only one.
Here's what we're seeing:
Low interest rates: Those favorable mortgage rates we all saw pop up mid-2020? They're still here.


High prices: Low inventory and lots of interested buyers set the stage for higher home sales—yay for home sellers!


Low inventory: Homes are selling faster than new ones can pop up.
If you're due to PCS soon and aren't finding many options for your next home, here are some ideas.

1) Consider different types of rentals than you normally would.
Renting a home is the most viable solution when you can't find a home to buy. But it isn't one-dimensional. There are multiple ways to embrace renting that might better suit your needs than committing to a long lease if you're eager to buy a home. Consider some options.
Month-to-Month:
A month-to-month rental property is a perfect solution if you need a place to call home right now but are actively looking to buy a property. It requires far less commitment, allowing you to jump ship if you do find a home to purchase or make a quick move. Plus it allows you space and privacy for a family that a room for rent (see below) can't offer.
Take a look at some examples of current month-to-month rental listings on MilitaryByOwner:
MilitaryByOwner Listing MBO1463377
MilitaryByOwner Listing MBO1463392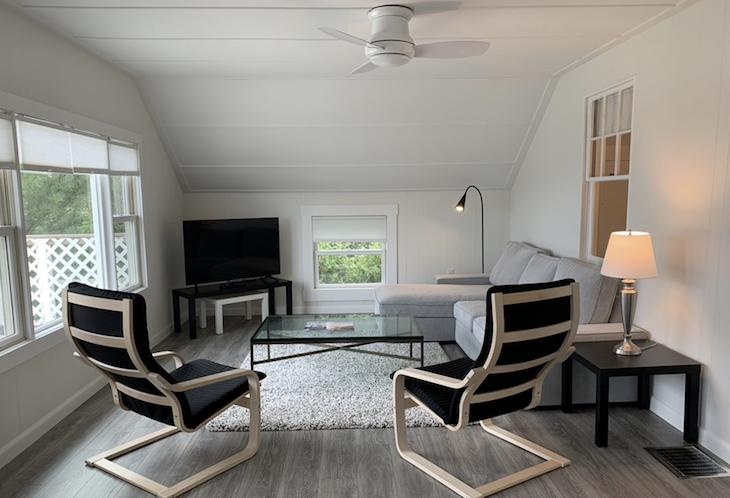 Room for Rent:
While a "room for rent" may spark thoughts of a college kid or a recent grad just starting in life, renting out a room is a viable option for many, specifically those looking for a short-term rental. Plus, it's a great way to save a little money while you focus on working toward a down payment. Lastly, as with any short-term rental, it makes for an easy transition.
Check out these rooms for rent:
MilitaryByOwner Listing MBO421544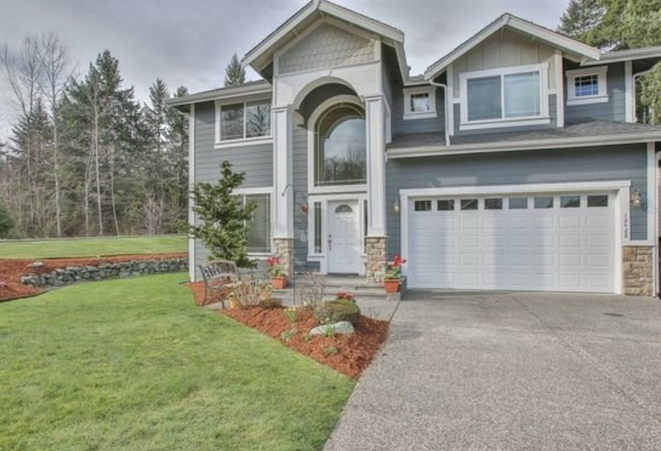 MilitaryByOwner Listing MBO1466596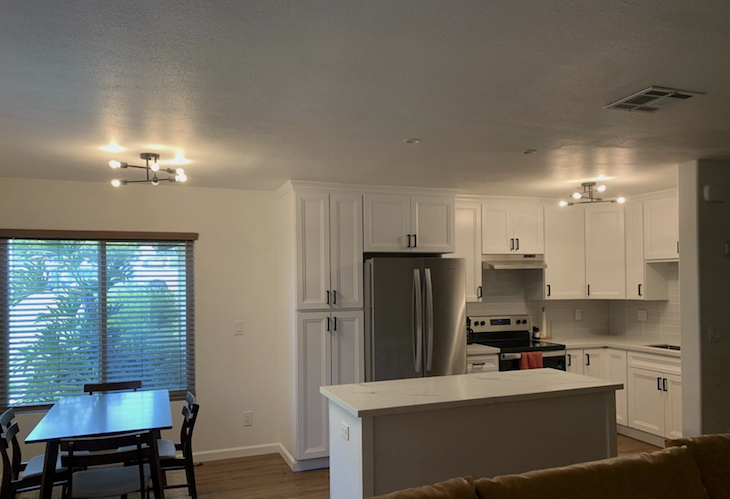 Things to keep in mind as shift your search toward a short-term rental like a month-to-month or room for rent:
Furnishings: If you're moving with a full load of household goods (i.e., you have a family joining you from a previously established home), then you already know that you're not going to be able to fit all your belongings in a room for rent.

And while a month-to-month lease on a single-family home might allow you the space to stretch out and unpack, if the ultimate goal is to buy a house and move in, how settled do you want to be? Remember, the military will only pay to move you once. Consider leaving your belongings in a storage facility until you have a more permanent address to provide to the movers. Searching for a fully or possibly even a partially furnished rental is likely the best option for you in either scenario.

Amenities: While amenities are always a plus when looking at temporary housing solutions, a pool, golf course, and luxury finishes probably don't belong at the top of your priority list. However, when it comes to a room for rent where you have less control over the space, it's important to ensure that there's internet included.

Storage:

If the rental doesn't offer adequate storage, is there a safe facility nearby to house your extras?


Read more in What to Know When Searching for a Room to Rent
2) Send the active duty spouse first.
Some military families choose to have the active duty spouse move ahead of the rest of the family. We all like to think it's best to stay together as a family, but if the kids are set up at school, the military spouse has a fantastic job, or you're working with a seemingly impenetrable housing market, then it may be easiest for the service member to head out alone.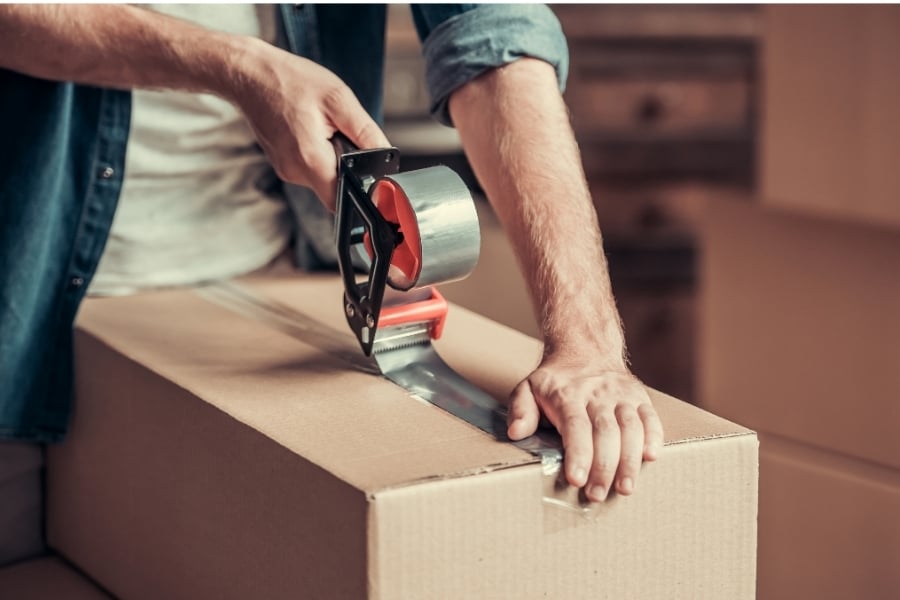 While the rest of the family may enjoy a visit with grandma and grandpa or finish out the school year at the current duty station, the active duty spouse can report for duty and look for the next place to land. While there's a housing shortage, the larger issue is timing. Properties leave the market almost as quickly as they pop up. This means that finding a home before your PCS is likely harder than it is once you're in the area.
Sending the active-duty family member ahead to a short-term rental so they can establish themselves at work and find a suitable living situation for the rest of the family might be the perfect solution for navigating a PCS move during the 2021 housing market.
3) Live on base.
While you might run into an unusually long waitlist for on-base housing, it might be the best decision for military families navigating the 2021 market.

While the cons of living on base go without saying, the perks are becoming more attractive the longer the housing market remains favorable to sellers. For instance:

Rent is covered:

No need to budget for a house hunt, as many military housing communities simply take your BAH. While it doesn't allow for you to pocket much, if any, of your housing allowance, it alleviates the stress of finding a home within your military budget.



The tight-knit military community:

This might be on your con list, but we'll keep on the pros for now. This last year, especially, community is hard to come by. Living on a military installation can help ease some of the loneliness that comes with a move.



Proximity to base amenities:

You can't get much closer to the service member's work, commissary, exchange, and more than by living on base. While you might not typically seek such convenience, you may find that you appreciate it. Plus, housing communities like Lincoln Military Housing try to make it as fun as possible for families living on installation. With playgrounds, pools, splash pads, community centers, and frequent events, living on base can be a special time for you and your family.


Unsure if living on base is the right move for your family? Read Military Housing vs. Living Off Base: Making the Decision.
4) Expand your search criteria.
So finding a home to buy within your typical parameters seems impossible? Expand them. While you can't compromise on everything, you can look further out from the base. Extend the radius setting in your home search and see what properties pop up just a few miles further out of town (or into the next one).
Or maybe, instead of limiting your search to a single-family home, look into a condo or a townhome. While it might not be what you initially had in mind, it might be a good option for your family.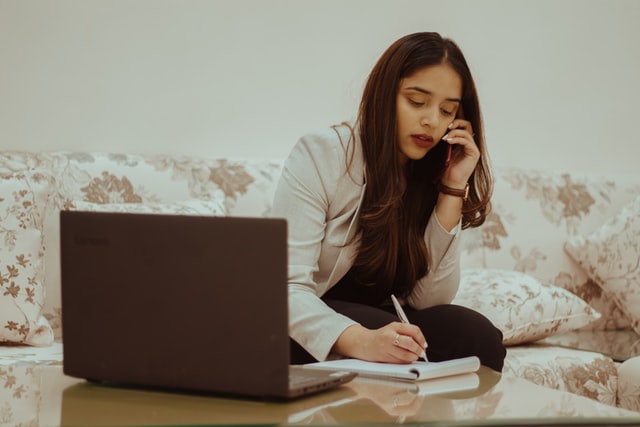 Photo by Dollar Gill on Unsplash
5) Search within the military community.
Of course, MilitaryByOwner is a fantastic resource for military families, but with the current market, properties are going quickly. Add your community Facebook pages to your watch list and talk to friends to make sure that you're not missing a miracle moment!
We understand that this market is tough for home buyers, but we'll do everything in our power to help make this next transition as easy as possible for you. Whether you're looking for a home to buy, a short-term rental to lease, some guidance, or maybe just encouragement reminding you that you're not alone, we're here!