7 Common Mistakes Home Buyers Make (and How to Avoid Them!)
Buying a home is one of the biggest financial decisions that you'll ever make. And when it comes to large sums of money, it's best to handle the transaction with care.
But just like with anything we do, there's a lot of room for error when buying a home. And maybe you've already made a couple of your own mistakes with previous homes or you're doing research to avoid any hiccups. We've put together some tips so that you can make as few mistakes as possible, whether you're shopping for your third home or your first.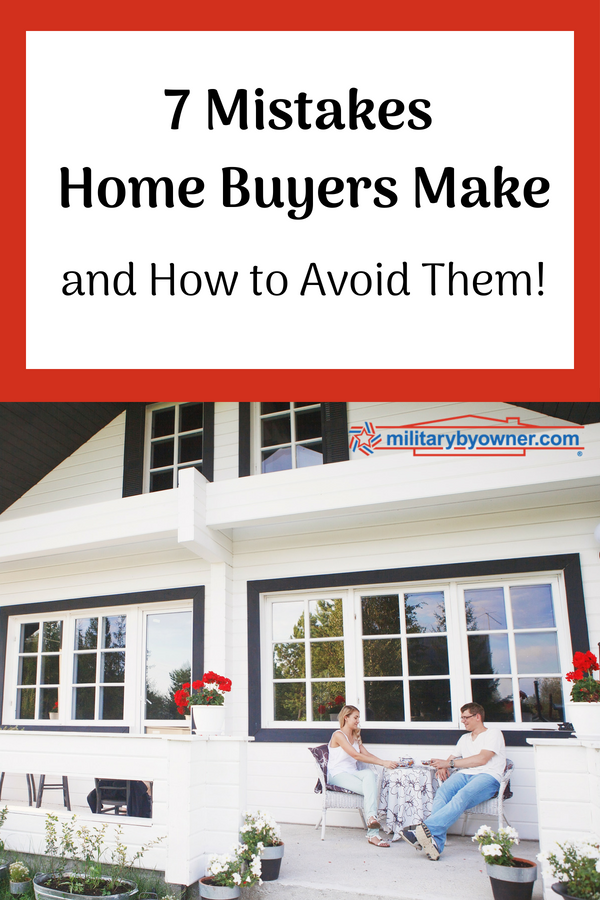 1. Not doing enough research.
It doesn't take a ton of time to figure out the good and bad areas of a city. But if you're not consulting with a local professional who knows the ins and outs of the area, you're missing some crucial information.
You need to know about upcoming developments. Find out which areas are growing. Which houses in your search are located near construction? Are they widening the road or putting in a major highway? Or are they building a Starbucks around the corner? Having an intimate understanding of the neighborhood and its future will help you predict the value of the property in the coming years, leading you to make a better investment today.
2. Falling in love.
How could falling in love be a bad thing? Just like in relationships, when you fall in love with a house, you tend to view things through rose-colored glasses which leaves you vulnerable to making mistakes. Suddenly, it's much easier to overlook red flags around the property like a subtle crack in the wall, an old roof, or rotted fencing. You make excuses defending the home's imperfections and fail to realize the magnitude of the situation which can result in a hefty financial consequence.
Falling in love with a property during your house hunt can also cause you to blow your budget. If you're approaching your house hunt emotionally, you're more likely to spend beyond your predetermined budget to get the home you fell in love with. And spending beyond our means never does us any favors.
3. Ignoring your predetermined budget.
Your predetermined budget should be set up during the research stage of your house hunt. It encompasses your BAH, living expenses, investments, extracurriculars, and spending money to ensure that when you buy a house, you're not jeopardizing your financial security.
So if you ignore what you can realistically afford, you'll likely strain your money and add a great deal of unnecessary stress.
4. Rushing the process.
After a PCS move, it's easy to feel pressured to find a home and settle quickly. Service members don't always have ample time to take leave, and if the right house doesn't emerge immediately, we start to feel a little panicked.
There's nothing wrong with feeling stressed; in fact, it's quite normal. But it's important that you don't let the stress of the situation turn into desperation, cloud your judgment, and rush you into settling for a less than ideal home.
5. Overlooking home buying expenses.
Beyond the actual price of the home, there are a handful of other costs home buyers can expect to encounter and should be prepared for: closing costs, a home inspection, commission, home insurance, repairs, and utilities are just a few.
6. Failing to negotiate.
Most things you buy aren't open for negotiation. Can you imagine going to the grocery store and bartering the price of Cheerios?
But buying a home is different. You can negotiate the asking price—the most common type of negotiation. But you can also negotiate repairs and appliances in the contract. For example, if the roof is old, you can ask that the owners pay to repair it and include it in the contract. And if the house already has the stainless steel appliances you want, you can ask the owners to include them in the sale and leave them with the house.
7. Overestimating your handyman abilities.
Unless you're an experienced handyman, don't assume that you have the ability to make the repairs yourself. In Avoid These Emotional Mistakes When Buying a Home, Jen McDonald shares that we should "let reality remind us that most likely, we'll only be in a home a handful of years and are already dealing with the challenges of a military lifestyle, which may not leave much time for repairs or renovations." If there's a ton of work needing to be done, you'll likely have to pay professionals to do the work. And given their rates, you may or may not be able to afford a fixer-upper with your set budget.
Now that we know the most common home buying mistakes, let's talk about how to avoid them.
1. Establish a long-term goal.
I think the most important thing you can do before you commit to a home is decide what you plan to do with it when you're due for another PCS move.
Do you plan to keep the property to rent to other military families? Do you hope to return one day? Or do you plan to avoid added risk and sell it when you move?
Answering these questions will help you determine what kind of home you want to buy. For example, if you know that you plan to sell when you move, it might not be worth holding out for a property that meets both your must-have and your wish list. Approach it as though it's a temporary home, but be sure keep in mind its ability to sell later.
If you plan to rent the property, you'll want to direct your house hunt toward homes that meet most military families' budgets. Knowing BAH in the area can help you find a home that you can make money from and help avoid paying the mortgage out of pocket when you move.
And if you plan to return to the house, then being picky might pay off. Find the features you want to have and, if it's over the average cost for military renters, decide if you're willing to pay out of pocket should there be a tenant vacancy while you're away.
2. Like, don't love.
MilitaryByOwner writer Dawn Smith says, "Like a house just enough to be able to walk away if a surprise problem sidetracks the proceedings! No transaction is perfect, and each house will have a downside that needs to be viewed realistically. Renters and buyers make bad decisions after they become attached to a house, which also leads to desperation."
To avoid falling in love, practice Mary's tips on How to Deal with Love at First Sight When Home Shopping and you'll be set.
Make comparisons: Even if you feel an attraction to a certain cottage, take the time to compare that favorite with other homes on the market. MilitaryByOwner's property search feature makes it effortless to look at multiple houses at once. While browsing a handful of homesteads, make an easy click on the "Compare this Listing" box to see how each address stacks up.
Define need vs. want: Instead of focusing on your wish list features like stainless steel appliances, granite countertops, and a farmhouse sink, weigh location, affordability, and space. These characteristics are permanent, whereas the aesthetics are not.
Find a second opinion: If you find yourself swooning over a certain house, invite another person to look at it with you. Preferably, choose a person who can offer an objective opinion. Having the perspective of another can help you list the pros and cons of your idyllic chambers and help your comparison of this home to other houses on the market. After all, buying a house is a major purchase. Your goal is to make an informed decision rather than an impulse buy.
Arrange for inspection: A professional home inspector will bring attention to the necessary repairs, can cut through your visions of grandeur, and bring you a dose of reality.
Have a Plan B: By having a "Plan B," you'll seem less eager and more chill when real estate negotiations begin. Knowing you have the option to find another captivating casa, you can be confident when you place a competitive offer.
3. Set a proper budget.
If you're active duty military, review your BAH and decide how much of that you're willing to put toward a mortgage.
If your long-term goal is to use the home as a rental property when you PCS, then you need to think about a rent price that's appropriate for your area.
Be sure to factor in other expenses that we talked about earlier like utilities, repairs, closing costs, and insurance to make sure that you can afford all homeowner expenses to include the mortgage.
Download our free ebook What to Know About Your Finances Before Buying a Home for help establishing a budget.
4. Know your home financing options.
Before you look at specific home financing options, you need to know how to choose a loan that's right for you.
Make sure your credit is in order. As you start thinking about buying a home, make sure that your credit is in order so you can open the door to better financing options. However, there are financing options available if your credit score isn't shining its brightest— but we'll get to that in a minute.
Know how much you're willing to put in a down payment. If you're looking for homes within a specific financial bracket, ask yourself how long you want to make payments on the house. Do you want a fixed-rate mortgage or an ARM? If you're not sure, read Pros & Cons of an Adjustable-Rate Mortgage.
Once you have an idea of the terms you'd like in your mortgage, you can start looking at home loan options like the VA Home Loan, FHA loan, USDA loan, and conventional loans to find the one that best suits your financial needs right now.
5. Be patient.
Easier said than done, right? But being patient is incredibly important. The more desperate you become, the more likely you are to buy a home that's not a good fit for your family.
If you feel the clock is running out, coordinate another living situation and re-evaluate your budget and long-term goals. It's far better to rent temporarily than be committed to a bad investment.
Buying a home is a big deal! And if you and your family have decided it's time to invest, we're here to help you. In addition to helping you avoid these common mistakes, we've got lots of home listings for you to start your house hunt. Who knows? Maybe one of them will even be your dream home!
For more home buying tips and tricks, check out our home buying resource page put together by our MilitaryByOwner home buying experts.