6 Home Upgrades You Can Skip When Selling Your Home
I think it's fair to say that military families go through the home buying/selling process more often than the average family.
We can blame our PCS moves every 2, 3, 4, or more years. But a PCS isn't the only reason we choose to sell our homes. (And if you're about to put your home on the market, take a look at our helpful article "Get Ready to Sell Your House") Maybe you're ready to part ways with a rental property or the market is simply too good to pass up.
Even if you've sold a home before and you're familiar with the process, each experience is different. The house is different, the location is different, and the market is likely, you guessed it, different.
So take some time to brush up on the process. Before you start getting your home ready to sell, let's take a look at a few things you can save your time and energy not doing.
6 Upgrades You Can Skip When Selling Your Home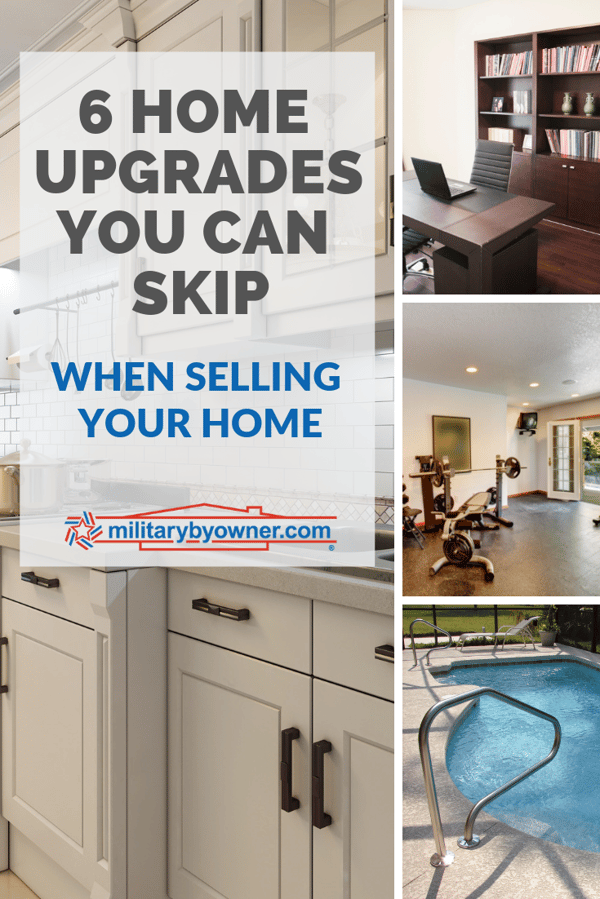 When it comes to, well anything, you want to turn the largest profit you can. So when it comes to home selling, this means the more attractive updates, modifications, and renovations the better, right? Wrong.
While there are plenty of updates you can make to increase the value of your home, others won't. If you're not careful, you can find yourself over-renovating your home beyond its value and wind up burning money that you won't see again.
The Risk of Over-Improvement
"It may come as a surprise, but over-improving a home can actually make it harder to sell, especially if it's the most expensive one on the block. A house that is priced too far above what other homes are selling for is going to be met with one question: "Why?" What is it about this home that has it priced above comparable homes?
If renovations out-price what the market will actually bear, the house will be difficult to sell at a price point to recoup money sunk into it. If a buyer is paying top dollar in comparison to other homes, where is their future appreciation going to come from? If no buyer can answer that question, a house is overpriced for its market and will not sell.
If you are evaluating renovations, choose areas that historically provide a solid return, such as kitchen and bathroom updates. Aim for clean, simple design elements using construction methods and materials that can easily be replaced or duplicated if damaged.
One of the best things you can do before undertaking any renovation is to determine a home's existing price point. What is the home currently worth on the market? You can get a ballpark estimate through real estate search engines, but a local real estate agent will be a more accurate in-the-know information source.
It costs nothing to ask what a home, either yours or one on the market, is worth. A little strategic thought can determine which renovations your family can both enjoy and recoup." - Kristi Adams, 6 Over-Improvement Risks to Avoid When Renovating Your Home.
But how do you know where the line is? Which updates will pay for themselves and which ones will leave a hole in your pocket?
Understanding the Market
Become familiar with comparable homes in your area to avoid over-improving your property. When you're looking at properties nearby, look at features like square footage, the number of bedrooms/bathrooms and more:
Age and condition. When you're comparing your home to others on the market or recently sold, you'll want to refine your search to those built within just a few years of your own.
And condition refers to more than how fresh the paint is. You need to know how new the air conditioning unit and roof are. Cracks in the foundation, water damage, and history of pests are all things that lead to comparing the condition of your home to others.
Listing price vs. sale price. Don't get swept away in unrealistic price tags. A comparable home might be listed for a $200,000, but it's your job to find out how much it sold for. Just because the asking price is attractive doesn't mean that the property appraised and sold for that amount.
Accommodations. Aside from the bones of the house, what do other homes have that yours doesn't or yours has that theirs doesn't? Things like a swimming pool, gourmet kitchen, hot tub, storage shed, finished basement, additions, high-efficiency windows, and new roof are all accommodations worth noting.
You're not looking to necessarily match all the accommodations of other properties in the area. You're out to estimate the value of your home and how long yours will be on the market as is. From there, you can take a look at how to increase value and get more out of your home sale.
Location. Location is about more than the area of town or specific neighborhood your home is located. It's also about its position within the neighborhood. For example, homes located on the golf course or with a view are going to be worth more than those backed up to a cement wall. This is true even if your home is in better condition than theirs. Why? Because condition and accommodations can always be adjusted--the location can't.
Note: As you look at properties listed on the market or others recently sold, be careful not to look too far back. The market fluctuates and while you might think that the more properties you have to compare the better, that's not always true. One small, consistent pool of homes to compare is much better than a large one full of contradicting prices, time on the market, and accommodations.
You'll also want to consider the real estate market as a whole. A seller's market might mean that you can get away with fewer updates and home improvement projects, while a buyer's market will likely demand more renovation projects to prepare your home to sell.
Types of updates you can skip.
1) Kitchen remodel.
While a move-in ready home will be worth more than a fixer-upper, kitchen renovations aren't something home buyers necessarily shy away from. "The reason" as Sasha Brown-Worsham shares in Selling Your Home? 5 Things to Not Bother Fixing First is that "many buyers these days look forward to remodeling these "fun" areas—plus, trying to second-guess what they want and have it there waiting for them is just plain unrealistic, given all the home decor styles there are to choose from today."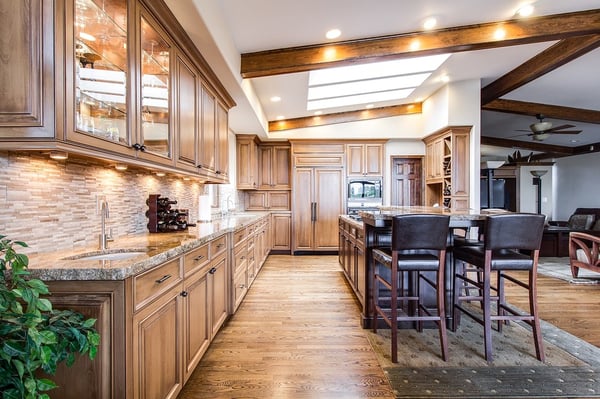 Many home buyers won't mind doing some work to make the heart of the home just right, not to mention that they may welcome the ability to make their own customizations and use their home loan to cover the added expenses.
However, there are a number of experts who urge home sellers to upgrade an outdated kitchen at all costs. Consider a kitchen remodel if comparable homes in your area are all updated and your home value is estimated significantly less than a remodel would cost.
2) Partial updates.
If you are going to take on a kitchen or other room remodel, don't choose just one thing to update. You have to go big or go home, as they say. Installing granite counter tops will only highlight the outdated cabinets and linoleum flooring that you decided to leave.
Even a coherent outdated space will likely look more appealing than a disjointed, slightly newer one.
3) Finishing the basement.
While the extra living space can add value to your home, finishing a basement is a great way to add a personalized touch to the property.
Home buyers may welcome the opportunity to tailor a space to their needs/hobbies. If you decide to finish the basement before listing the property, do it simply. Allow the home buyers to walk in and image the space customized to their own interests. This means forgoing the in-law suite, bar, and home theater.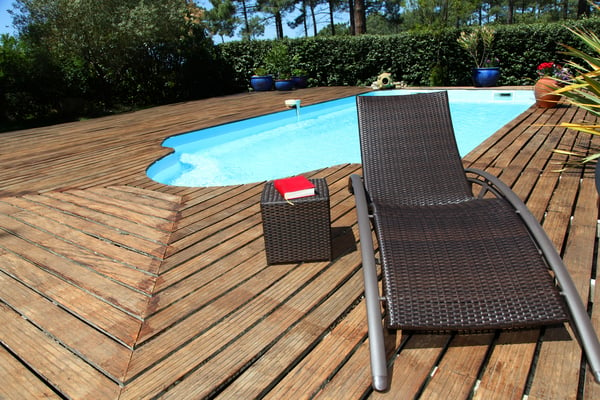 4) Swimming pool.
Adding a swimming pool and hot tub might help you match other listings in the area, but the return on investment is likely low. They're expensive to install and many home buyers aren't interested in the added responsibility. For more on this topic, see our post, Should I Buy a Home With a Pool? The Cost of Happiness.
5) Space conversions.
In 20 Renovations That Will Hurt Your Home's Value, Autumn Rose shares that "for a fitness lover, a garage-to-gym conversion might seem like a wonderful idea. To parents of a millennial who just moved back home, a garage-to-apartment conversion probably seems like a genius idea. But keep in mind, your future home buyers might not agree.
Many people search for houses with a garage, and what they're looking for isn't a gym or an extra living space — they're looking for a garage to serve its primary purpose of housing cars and storage items. In fact, in a recent survey of 7,500 people, 74 percent of recent buyers said that having a garage is extremely or very important, according to MarketWatch."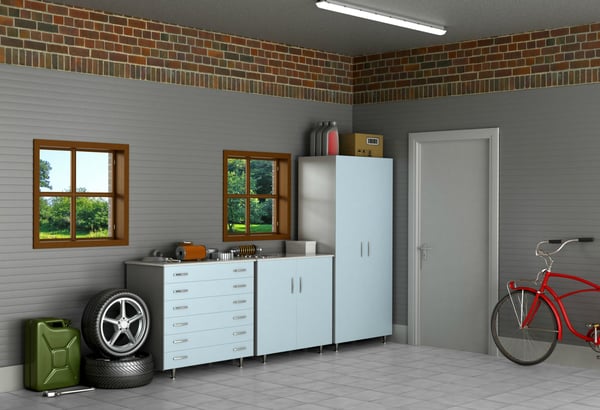 6) Replacing a bedroom.
The same goes for a home office. If your "home office" space is really a bedroom, don't advertise it as such. Bedrooms often equal value. So list the largest number of bedrooms you can and let potential buyers imagine what they can do with the extra room.
In 5 Home Upgrades That Aren't Worth the Money, we learn that "in the hunt for space, many homeowners start knocking down walls to expand a walk-in closet or increase the size of the master bathroom. While you might think that a oversized closet or massive bathroom will help sell the place, you should never do this at the expense of limiting the number of bedrooms. A three-bedroom house is going to sell better than a two-bedroom home, no matter how large the closets are."
Before renovating your property to sell, take a minute to think strategically. Study the market and ignore expensive updates with a low return on investment.