Interesting and Unique Things to Do in Arlington, Virginia
Arlington, Virginia, has plenty to offer any military member considering the county for their next PCS, especially if you're looking for a quick commute to the Pentagon, Joint Base Meyer Henderson Hall, and even Fort Belvoir. But the commute isn't the only thing people love about living in Arlington. Take a look at some of the area's most recent accolades:
#1 Best Cities to Live in America by niche.com, 2020
#1 Fittest U.S. City for fourth straight year, USA Today, 2021
#1 Best Cities for Women in Tech by Smartasset.com, 2021
#1 Best School Districts in Virginia in niche.com's 2020 Best School Districts in Virginia
If you think Arlington must have plenty to offer to win all of these rankings, you'd be right. There is so much to see and do! Newcomers are usually overwhelmed by the choices, not just in Arlington but in nearby Washington, D.C., and throughout Northern Virginia.
So, to help you narrow down the choices, we've picked a few traditional and not quite as traditional things to do in Arlington. Start at the top of the list and work your way down, checklist-style, or bounce around and see what outing fits your weekend plans; there's no right way to get to know Arlington.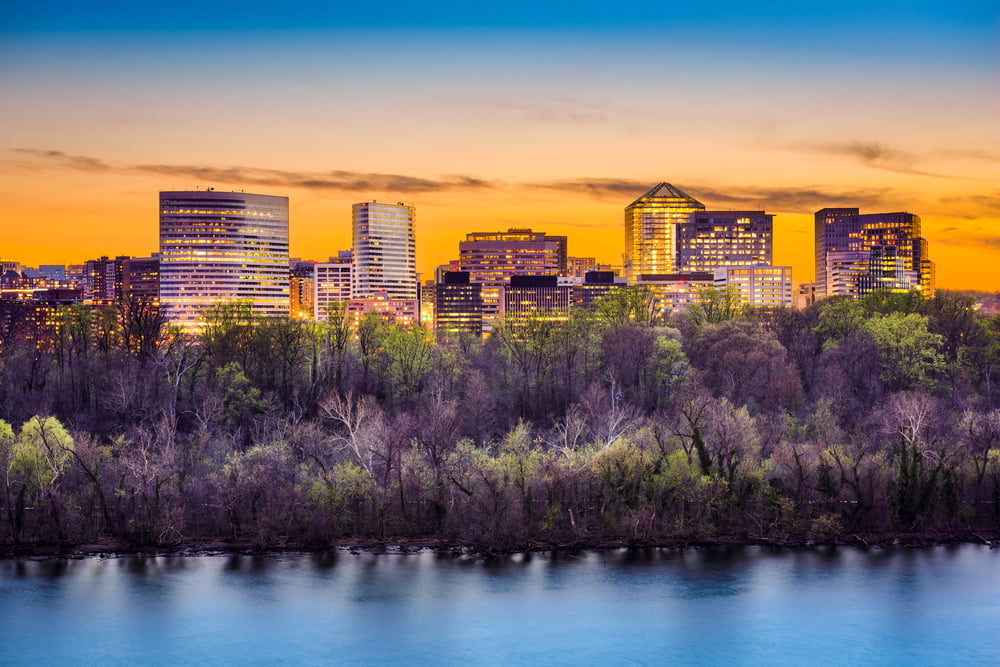 Rosslyn, Arlington, Virginia, city skyline on the Potomac River. Image from Canva.

Traditional Things to Do in Arlington
Arlington National Cemetery
When most people think of Arlington, Virginia, they likely think of Arlington National Cemetery. It's the most visited site in the county, with more than three million visitors each year. The site is the final resting place for over 400,000 active duty service members, veterans, and their families, some dating back to the Civil War. More than 3,000 ceremonies and memorial services are performed here each year.
While there, most visitors make a point to visit the Tomb of the Unknown Soldier, a memorial that commemorates unknown servicemembers who lost their lives serving their country but are not recognized by name. Soldiers from the 3d U.S. Infantry Regiment (The Old Guard) keep diligent watch over the tomb 24 hours a day, 365 days a year, and perform a changing of the guard ceremony every hour (or half-hour from April 1 through September 30).
Photo Via Unsplash, The Silverdalex
Netherlands Carillon
Adjacent to Arlington National Cemetery (easily walkable between both sites), the Netherlands Carillon stands as a thank you from the people of the Netherlands, thanking the United States for their World War II efforts. Fields of gorgeous tulips surround the bells each spring. There are also walking paths and two lion sculptures.
Pentagon Tour and the 9/11 Memorial
A walking tour like no other, the Pentagon is home to the United States Department of Defense. Tours are filled with glimpses of offices conducting military operations, historical memorabilia, and the chance to view the exact location where American Airlines Flight 77 on 9/11 entered the Pentagon on 9/11. The 9/11 memorial outside is remarkable during the day and evening hours, with184 illuminated benches carrying the names of each victim.
Is your PCS taking you to the Pentagon? Take a look at our Pentagon base page as well as What You Need to Know for Your PCS to the Pentagon to start your planning. Then, check out PCS Move to Washington, D.C.? Here's What to Expect for more helpful details.
Twilight Tattoo
May through August, Joint Base Myer-Henderson Hall is home to Twilight Tattoos performed by the 3rd U.S. Regiment and the U.S. Army Band on Summerall Field. The performance incorporates music and live-action replicas of historic moments of American history.
The Army says, "For the U.S. Army Military District of Washington, the call serves as a tribute dedicated to the vitality of our nation and to the sacrifices of those who forged America into the land of the free and the home of the brave."
Wondering Where to Live in Arlington?
For a quick point of clarification and a little help when you're housing hunting, Arlington is not a city like many believe. Yes, you'll often hear, "I live in Arlington." but it references the county. Arlington is home to highly desired neighborhoods (also known as urban villages) that include: Ballston, Clarendon, Columbia Pike, Courthouse, Crystal City, East Falls Church, Pentagon City, Rosslyn, Shirlington, and Virginia Square.
---
Moving to Arlington? Take a look at a move-in ready townhouse for rent in Arlington, Virginia.
3 Bed, 3.5 Bath (Townhouse)

$2,900 per month

MBO Listing #MBO1474108
One of the best things about living in Arlington is the convenient location to so many of the area's biggest employers, including the Department of Defense and Amazon. Easy access to 395 also helps commuters get to surrounding cities and amenities in minutes.
Hardwood floors throughout the house and an upgraded kitchen are just two features that make this end-unit townhouse one to check out sooner rather than later. In addition, all of the main living spaces have plenty of windows to take advantage of the natural light. Finally, en suite bathrooms let everyone have a little bit of convenience and privacy.
For your peace of mind, the townhouse is professionally managed through an online platform and has a 24-hour emergency service.
---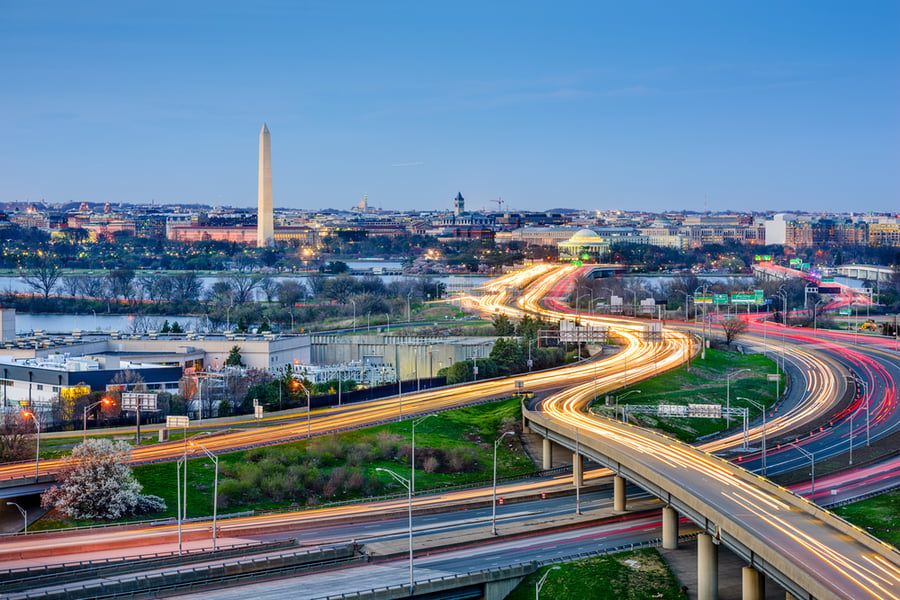 DC skyline view- image from Canva
Not So Traditional Things to Do in Arlington
Take in the View of D.C.
Located in CEB Tower, the Observation Deck soars nearly 400-feet high and offers 360-degree views of Washington, D.C., and surrounding areas. This is an event space that can accommodate hundreds of people, but visitors are allowed to take in the bird's eye view of once-in-a-lifetime sights, including the Washington Monument and many sites along the Potomac River.
Gravelly Point Park
Aviation fans flock to Gravelly Point Park to watch in awe the flight paths of planes arriving and departing Reagan National Airport, directly above the park's grounds. Nestled on the bank of the Potomac River, the park is perfect for an afternoon filled with picnics, walking trails, and the chance to sit back, relax and enjoy the day with plenty of other aviation loving families.
Signature Theatre Performances
To make date night or a family outing even better, head to the Shirlington Village, part of Arlington, for a night of entertainment. Since 1990, the theater has hosted modern day and classic productions, including musicals. Theater goers will recognize show titles like Rent, The Color Purple, and Billy Elliott. Try one of the many surrounding Shirlington restaurants to start or end the evening on a perfect note.
Skate at the MedStar Capitals Iceplex
The Washington Capitals have a practice facility in Arlington, and it's quite the place to see. Although the pro hockey team practices here, there are plenty of chances to get on the ice for a one-time outing or skating and hockey lessons. But for some, the best use of the Iceplex is the chance to watch the team practice for free! There's even a team store to buy any merchandise you need to support "The Caps."
These events and places are just the beginning of what you can check out while stationed in Arlington! If you're new to the area, know that all of the sites in Washington, D.C., are just minutes away. Arlington also has easy access to popular points in Virginia and Maryland, making its central location an excellent spot for you to live, work, and play.