Make Summer Home Maintenance Simple with These Tips
Everyone knows military families rarely lounge over the summer. PCS prep and recovery easily take up weeks or months at a time. And, for those who do stay put, summer home maintenance requires a solid chunk of time, even if broken down into smaller tasks.
All summer, military homeowners and renters find themselves working on chores that aren't glamorous but need to be accomplished, whether it's a one-and-done job, such as painting the front door, or a continuous service, like garden upkeep.
The summer days are rapidly approaching, and there's much to do to keep your home looking and operating at its best. Depending on your daily schedule, breaking down summer maintenance items into hour, day, or weekend blocks of time eases the strain of working a month's worth of chores into a week.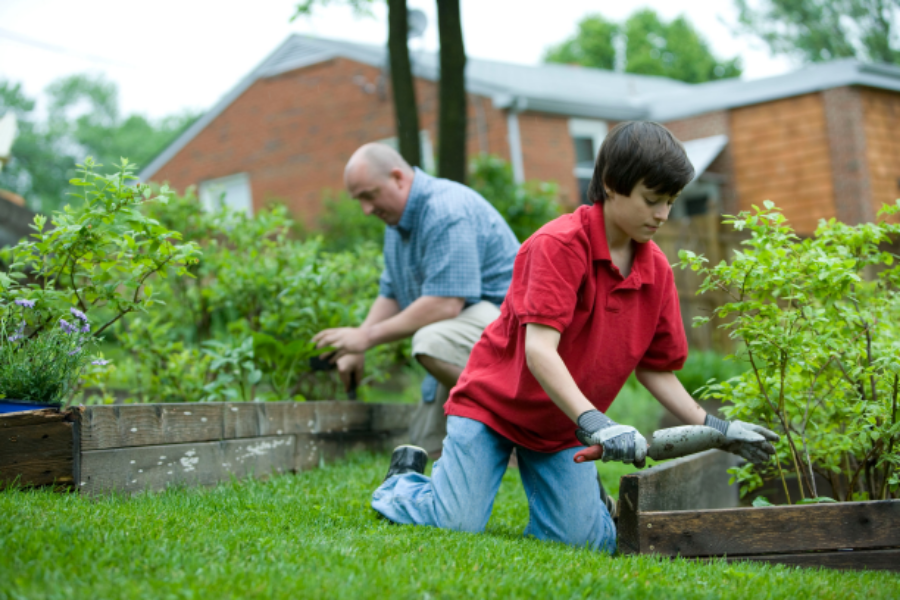 Photo from Canva
Summer Home Maintenance Made Simple
Before you begin, here are four tips to help you work efficiently.
1) Prioritize the chores that affect your life the most. Immediate solutions for remedying broken ceiling fans or a sluggish AC system are a must in the summer. Pulling weeds from the garden beds can wait until you have a free hour here and there.
2) For incoming and outgoing military renters. Renters, many of these to-do items are probably listed in your lease or your move-in and move-out checklists provided by property managers and homeowners. Carefully review the expectations so you can leave the property with your entire deposit. Or, if moving in, note the deficiencies left by the previous tenants.
The same advice goes for you, homeowners. If a home sale is in the works over the late summer or early fall, your real estate agent will likely point out the importance of improving curb appeal and maintaining interior upkeep.
3) Some maintenance, such as major tree trimming, requires expert help. Begin asking for referrals and compare estimates from multiple insured and experienced companies, even if it's just for pressure washing the siding. Significant damage to siding and resulting mold can occur from inexperienced workers.
4) Think outside the summer months' box. Off-season repairs and cleaning are often discounted by companies whose major work seasons are fall and winter. For example, your chimney may need sweeping and inspection. And, could your heating system be more efficient?
What other home maintenance should you know about? 15 Home Maintenance Tasks and Repairs Everyone Should Know How to Do gives you the heads up.
Summer Maintenance Tasks Broken Down into Time Blocks
If you have an hour to work.
Sometimes, an hour is all the time you have to contribute, but you'd like to feel you're moving in the right direction of crossing off items on your home maintenance list.
Garden. Weed flowerbeds and sidewalk cracks, pot blooming flowers, and tend to overgrown areas. Collectively, these chores spruce up the overall exterior appearance.
Clean your front entry. Wash the front doors and windows, sweep the porch, clean the light fixtures, and add a new doormat. Instant refresh!
Photo from Canva
Deep clean your outdoor grills. A clean cooking surface helps to avoid accidental fires. A build-up of food debris attracts bugs and rodents.
Improve your cooling systems. Tighten ceiling fan blades and remove dust build-up. Load a fresh filter to help the air conditioning run smoothly.
If you have a few hours or a day to make improvements.
Wash the windows AND screens. They're a two-part system; the other part suffers if one section isn't clean. Invest in helpful tools such as a window squeegee and a vacuum that has an attachment that addresses all of the groves in a window. Soap, water, and a brush for the screens works wonders, while a 50/50 solution of hot water and vinegar is perfect for glass.
Photo from Canva
Clean your gutters and downspouts. Summertime storms are heavy and unpredictable. This scenario leads to an overflow and possible flood situation if not managed multiple times a year.
Prep your deck. Sweep and inspect for damage and repair needs. Arrange outdoor furniture for optimal functionality. If you've stained or painted the year before, this is the year to take it easy and enjoy your outdoor space.
Vacuum bathroom vents and registers throughout the house. If any of the vents are noisy, they could be clogged with dust and build-up. Clean vents also allow cool air to flow more efficiently.
What are the tasks needed for routine upkeep of your home? Find out, along with the average cost of home maintenance, state by state.
If you have a weekend to dedicate to maintenance.
Summer maintenance projects often require more man-hours than one day can accommodate. Note that more extensive projects, such as painting the house, need a few more days to find the best products and to make preparatory repairs.
Repair, repaint, or restain your deck. Weather is harsh on a treated surface, no matter the season. Add in regular wear and tear, and the chore list gets long. Analyze your local weather forecast and set the plan in motion, allowing for ample drying time. It's likely a good idea to get your deck in working order early to take full advantage of your hard labor and extend the outdoor living season on your deck and patio.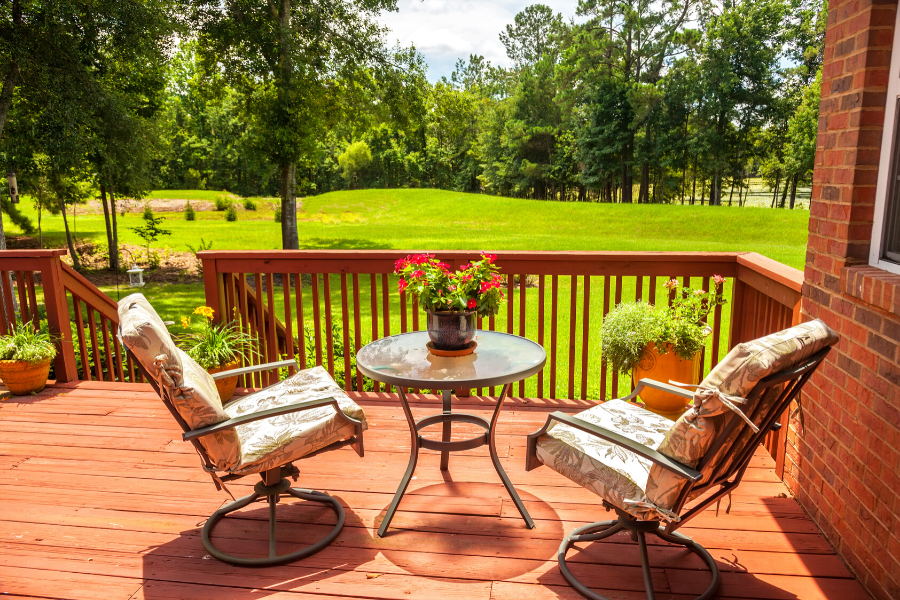 Photo from Canva
Pressure wash or paint your house if needed. High heat and humidity are the perfect mix for green and black mildew to grow and spread on siding. Painting a home is a huge project, likely one for the professionals. Give yourself plenty of time to find the best vendor and choose paint colors wisely, especially if you intend to sell the house soon. If the house has been recently painted, this summer might only require touch-up work.
Reseal the driveway. Similar to the deck wear and tear, rain, salt, and snow degrade a surfaced driveway. Check for holes and cracks in the treatment and either patch small places or hire a company to refinish the entire driveway. Concrete slabs get a substantial makeover with power washing, which is especially beneficial for curb appeal.
If you have more time on your hands, add in the chores that are seasonless. For example, garbage disposals are neglected until there's a problem, and there's always a need to ensure smoke and carbon monoxide detectors are accurately reading the room. How's the condition of your roof? Does it need a professional inspection?
The summer months will fly by, leading right up to the fall and winter maintenance projects. Stay connected with MilitaryByOwner to receive the best tips, advice, and checklists to keep your home at its best all year.
Grab your free summer home maintenance checklist below!