What to Know About the Housing Market Near Maxwell AFB
Located in picturesque Montgomery, Alabama, Maxwell Air Force Base and Gunter Annex is a proud Air Force hub, and home to both historical flight operations and training units, dating back to the Wright Brothers who opened their first school of flight in 1910. As the Air Force's center for Joint Professional Military Education (PME), Maxwell AFB is a major training center for Airmen, and serves as the headquarters of Air University (AU), a major component of Air Education and Training Command (AETC).
Active Duty and Reservists with orders to Maxwell serve in a variety of assignments to include Air University and Air Education Training Command, as instructors (or cadets) for Officer Training School (OTS), the 42nd Air Base Wing, the 908th Airlift Wing, Headquarters Operations and Sustainment Systems Group, and the Air Force Space Command.
While the installation operates a number of permanent duty assignments with a significant training mission, the base also caters to a plethora of temporary school assignments. And it is this frequent rotation of personnel that makes the Montgomery real estate market an interesting and bustling one.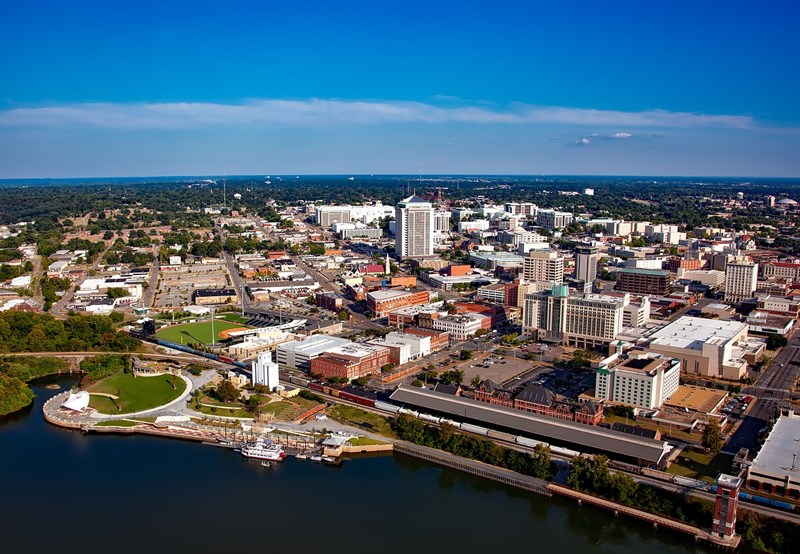 Montgomery, Alabama aerial view. Photo from Canva.
A Look At Housing in Maxwell, Montgomery, and Surrounding Neighborhoods
Maxwell AFB is home to over 500 homes, some of which are beautifully historic with wide-sweeping porches and stately brick façades. The wait for on-base housing, however, tends to be a lengthy one, and many servicemembers seek off-base rentals for shorter training tours or look to capitalize on a favorable cost of living and purchase a home.
The good news is that there are many housing options to choose from in Montgomery and the surrounding areas. Those looking for downtown living and more urban amenities will find several housing options in Montgomery, while the nearby cities of Prattville and Millbrook provide a more suburban feel, yet still offer an easy commute within 10 to 15 miles of Maxwell. Those seeking more privacy or larger acreage often seek homes in Wetumpka, roughly 20 to 25 miles away.
With a favorable cost of living, low property taxes, and median rents falling between $751 and $1,085 (42% of rent rates near Maxwell AFB are in the $1,000 to $1,500 range), relocating to the Montgomery metro area will likely be a welcomed reprieve on the budget. Particularly for those that may also be looking to purchase a home (median list price is $169,000) or need to stretch the budget to accommodate a geobachelor tour, new arrivals to Montgomery will find that BAH rates are competitive in respect to the local market.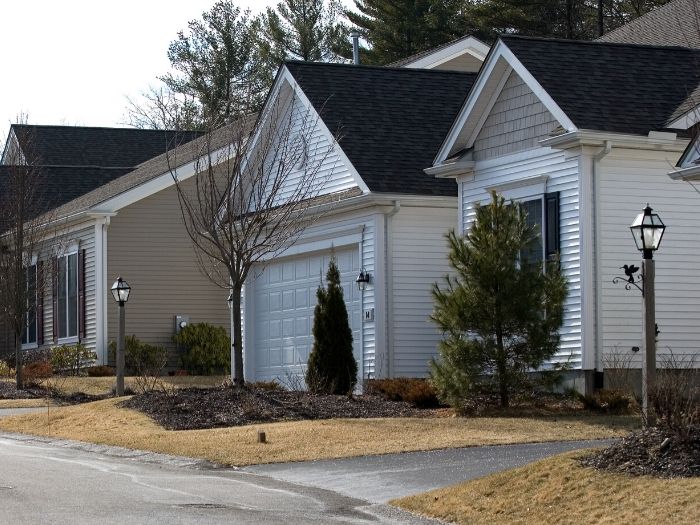 Photo from Canva
Fondly referred to as "MGM" by locals, Montgomery has experienced a downtown economic boom over the past decade to include a host of new development projects including the addition of a beloved MILB AA Baseball Team, The Montgomery Biscuits; numerous hotels, restaurants, shops, and entertainment venues; and over a dozen multi-family, mixed-use developments. With a population of just over 365,000 (and growing), those seeking housing options in Montgomery-proper will find no shortage of affordable options and amenities, and lots to see and do in the city.
With a small-town feel and a military-friendly community, both Prattville and Millbrook are well-loved favorite suburbs within easy commuting distance to Maxwell AFB. Millbrook offers a more rural feel, but is still within minutes to restaurants and shopping. Families love the serene surroundings and quality of education, as noted by being one of the most requested school districts in the region.
There are a number of local favorites to explore, but the 350-acre Wildlife Federation and Education Center is a particularly well-loved regional gem, offering plenty of exploration for families interested in local history and animals, along with regular programming events and activities for children.
Here are a few local favorites to check out:
Wilderness Park
Daniel Pratt Historic District & Creekwalk
Heritage Center
Prattaugan Museum
RTJ Golf Course
Millcreek Park
Robinson Spring Park
Legacy Park
Jackson Lake
Easy access to both Maxwell AFB and Montgomery, good schools and a variety of shops, restaurants, and excursions make Prattville and Millbrook popular living destinations.
At 20 to 25 miles away, Wetumpka is the furthest commute from Maxwell AFB, but that's exactly what families who seek a quieter lifestyle are looking for. Wetumpka residents enjoy additional affordability in addition to tree-lined peaceful and quiet streets where children can play outside until sundown. Wetumpka offers a nice collection of golf courses, tennis courts, forested walking trails, and community parks.
Those seeking the slower pace Wetumpka offers will enjoy the abundance of cultural and outdoor activities, such as exploring:
Kelly Fitzpatrick Gallery
Asteroid Crater
Jasmine Hill Gardens
Gold Star Park
Swayback Bridge Trail
A kayak, canoe, or paddleboard trip on the Coosa River
Learn more about living near Maxwell: Moving to Maxwell Air Force Base? Explore These Area Communities.

Photo from Canva
Should You Rent or Buy While You're Stationed at Maxwell AFB?
The million-dollar question for military families is should you rent or buy at your next duty station? While a number of factors can weigh in, such as length of the duty tour, desirability of the location, overall affordability and cost of living, or consideration as a retirement location, economic demand and growth indicators can be a key component in the decision-making process.
It's worth noting that Alabama has risen as one of the nation's top growth states, based on the most recent U-Haul Migration Report. Produced annually, the U-Haul Migration Report tracks the demand for moving equipment and is a very useful and interesting look into moving trends across the nation. Of the 50 states, Virginia and Alabama are the biggest risers of 2022, climbing 26 spots from their respective 2021 rankings, with Virginia ranking as #5 in Inbound Moves (up from #31 in 2021) and Alabama ranking at #20 (up from #46 in 2021).
Real estate can be a great investment, both in terms of future appreciation and cash flow from rents, particularly in a growing market signaling increasing and sustainable growth. If a Maxwell PCS is a consideration for retirement or you're thinking about building wealth through rental real estate and you're mentally prepared for what it takes to maintain a rental unit, either as a landlord or through professional property management, it may be a prime opportunity to buy.
Thinking of retiring near Maxwell AFB? Learn 4 Reasons Military Families Love to Retire Near Maxwell AFB.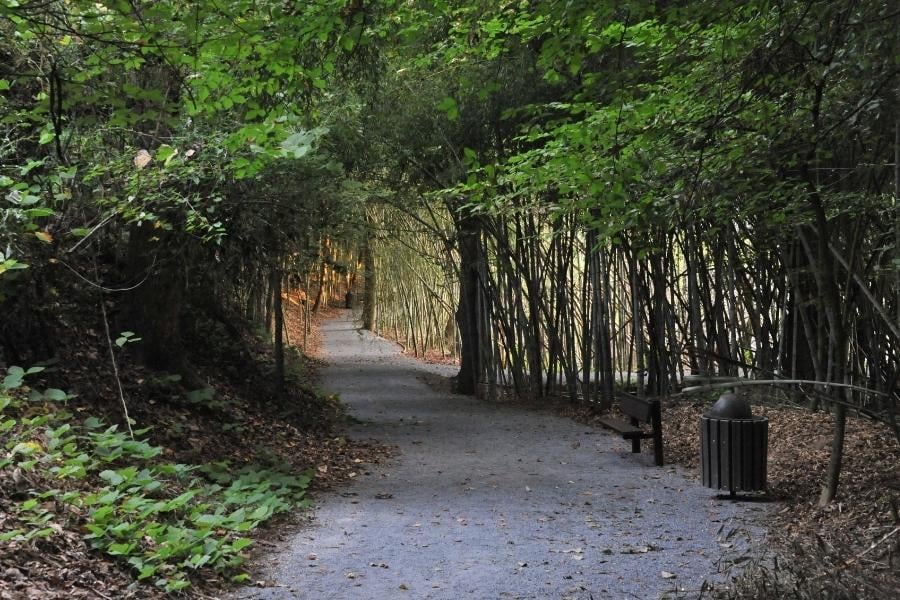 Wilderness Park in Prattville. Air Force photo by Airman 1st Class William Blankenship
Opportunities to Network and Plug Into the Community
The greater Maxwell-Gunter community is a vibrant one and supportive and welcoming of military families, with a strong sense of community engagement throughout the year. And you won't have to look hard to make meaningful connections to plug into your new community. Active Facebook Groups include Maxwell-Gunter Spouses and Maxwell-Gunter Enlisted Spouses' Club, the Montgomery Women in Business Network, Prattville Running and Triathlon Club, and the River Region MOPS. Don't miss Life at the Max, hosted by the 42nd Force Support Squadron to find community news, event schedules, and directories, to include education, career information, and lodging.
Whether your family is considering a geobachelor tour and an apartment, a temporary living situation to finish a training assignment, or looking to lay down roots, there are a number of military families who decide to call Maxwell AFB home.
Picture yourself as a local and take a look at all homes for rent or sale near Maxwell AFB below. With instant MilitaryByOwner inventory updates, it won't take long to find the perfect home!