What to Know for a Military Move to Annapolis, Maryland
Annapolis, Maryland, is one of those cherished cities/duty stations with a pleasant dual personality. Certainly, the military installations have a significant impact on the city, and the citizens appreciate their presence, but Annapolis holds its own as a charming coastal city with a small-town feel to include historic buildings and brick walkways.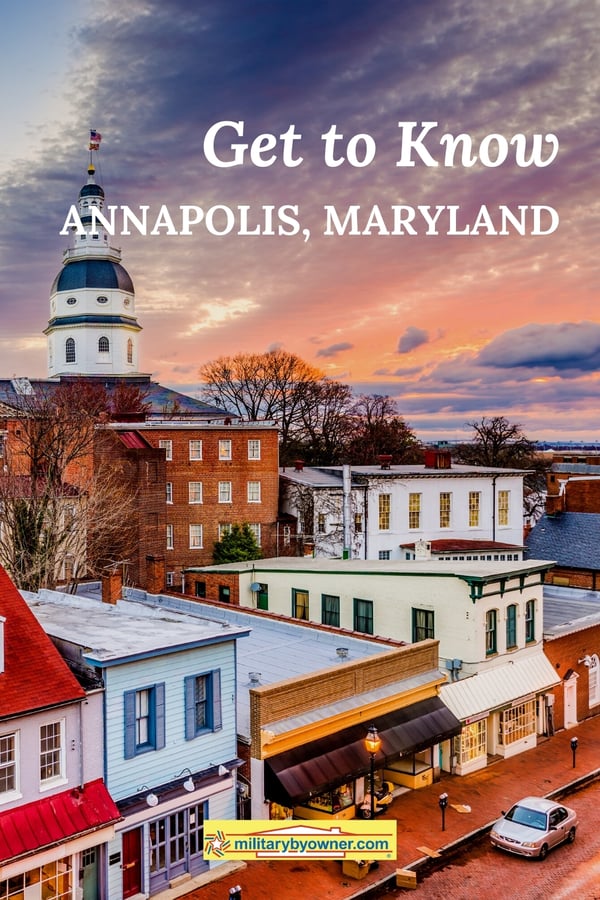 Established in 1649, Annapolis is the seat of Maryland's government. It's a prime destination for tourist dollars all year round, mainly because, for some audiences in the sailing world, it is the Sailing Capital of the U.S., despite arguments from locals in Newport, Rhode Island.
Multiple bodies of water surround Annapolis, including the Severn River and the shores of the Chesapeake Bay. Nautical influences affect most occurrences from high tides and flood warnings to regattas and sailing lessons, and right down to everyday dining and shopping.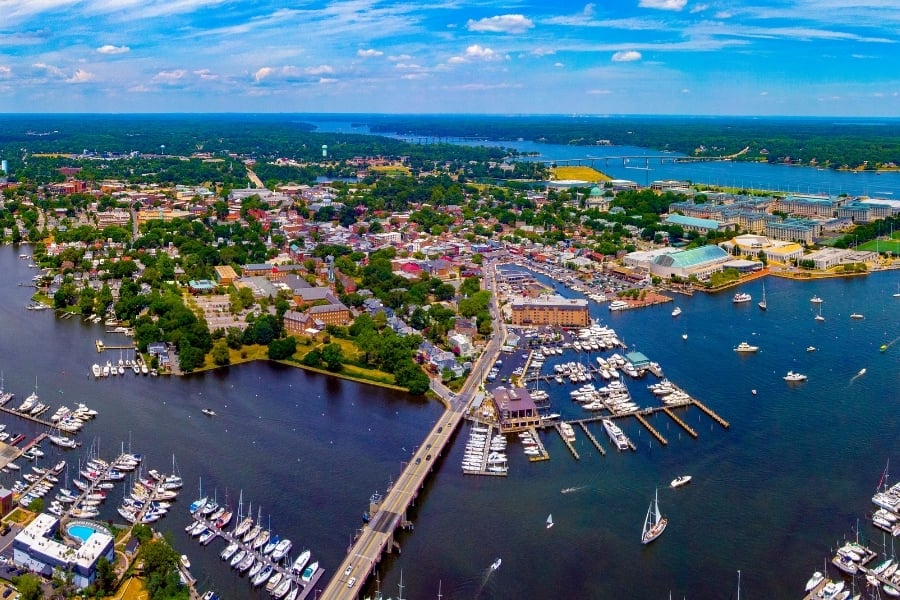 Annapolis, MD skyline. Image via Canva.
Downtown Annapolis is a picturesque community with a strong colonial architecture presence in both the homes and public buildings. Those who choose to live downtown near the water couldn't ask for a better location or amenities but will deal with the downfalls of older building maintenance, power outages, and water-associated problems such as flood damage from high tides and coastal storms including hurricanes and Nor'easters.
About 5 miles from downtown Annapolis lies the commercial center—the more recently developed portion of Annapolis. Shopping centers, food outlets, and plenty of entertainment destinations are available if you prefer to live in an area with younger homes than those found in downtown Annapolis.
Military Installations Around Annapolis
Not quite part of what is traditionally considered the National Capital Region (NCR), Annapolis is positioned about 35 miles east of Washington, D.C., and 30 miles south of Baltimore. Dual servicemember couples who find themselves hoping to serve near their spouse stationed in Annapolis often look to nearby military installations such as Fort Meade NSA or further south into the Washington, D.C., area.
The Annapolis Area Naval Complex includes the United States Naval Academy, Naval Support Activity Annapolis and other tenant commands such as North Severn complex, Chesapeake Bay Detachment in Randle Cliff, Maryland, and the Navy Operational Support Center in Baltimore.
Annapolis MD image via Ken Lund
Places to Live Near Annapolis
For those stationed in Annapolis, there are multiple options for housing. Lincoln Military Housing operates privatized on base housing. Off base, many service members choose to live in Annapolis because of the convenient location and commute. Others choose nearby cities such as Severna Park, Pasadena, Crofton, and Arnold. Nearby Fort Meade NSA also has on base housing managed by Corvias.
Severna Park is one of the most popular locations for Annapolis servicemembers to live, especially if school-aged children need public schools. The city is preferred due to the quaint streets, strong community feel, and access to multiple beachfront locations. Crofton, Arnold, and Pasadena share similar qualities to Severna Park, and families often find homes in these towns to suit their needs.
Moving west from Annapolis, military families also find homes in Odenton (near the closest MARC station, which accesses Washington, D.C. Metro and Amtrak railways) and Gambrills. These cities work particularly well for dual-military couples split between Annapolis and Fort Meade NSA and possibly further south into Washington, D.C.
Need help moving to Washington, D.C.? Here's a free guide.
---
To get a peek at what a home in Annapolis looks like, take a tour of this beautiful house in Annapolis, Maryland.
2 Bed, 1.5 Bath (Duplex)
Rent: $2,500/mo.
MilitaryByOwner Listing MBO1466703
This charming home is in the historic President's Hill neighborhood, tucked away in the Arts District. The location is walkable to Maryland Hall, the Navy-Marine Corps Stadium, and downtown restaurants, shopping, and entertainment. Inside, the 2-bedroom home features updated kitchen appliances and designer paint color throughout. The real bonus of the house is the access to outdoor space. The scenic front porch is glassed in, and the back porch is screened.
---
Are you looking for an Annapolis real estate agent? Take a look at our directory!
Things to Do Around Annapolis
Unlike some military towns, you won't be searching for things to do in Annapolis. Because of the city's age, history remains a draw to those interested in tours of various kinds, from walking and biking to history-based sailing and kayaking.
The U.S. Naval Academy, image via Canva
Historic in its own right, the official tours of the U.S. Naval Academy are highly regarded and often full during popular holidays and campus events. The best place to start a gorgeous waterfront walk through the campus is the Visitor Center inside USNA Gate 1.
Take advantage of the on-base opportunities found at USNA and NSA Annapolis through Fleet & Family Support Annapolis and the Navy Guide to Annapolis.
US 50 leads in and out of Annapolis and provides access to nearby beaches. During the warm months, "beach traffic" is a force to be reckoned with, especially heading over the Chesapeake Bay Bridge. It leads to Atlantic Ocean destinations such as popular Ocean City, Maryland, and nearby neighboring beaches in Delaware: Bethany, Rehoboth, and Lewes.
Here are a few more beach destinations near Annapolis: The Best Beaches Near Military Towns.
The Chesapeake Bay Bridge. Image via ezioman.
Hey, baseball fans! The area around Annapolis and Baltimore is a great place to catch minor and major league games. For insider info, check out Take Me Out to the Ball Game Near Fort Meade, Maryland.
Don't forget about Annapolis's ideal Mid-Atlantic location. A quick trip to Baltimore/Washington International Thurgood Marshall Airport provides access to many popular tourist cities on the East Coast including New York City, Boston, and Philadelphia. International tourism is easier than you think too! Cruises and flights are seasonally operational out of BWI.
For a different kind of adventure, take advantage of Amtrak's convenient station at BWI to explore destinations north and south along the I-95 corridor.
The Annapolis neighborhoods and surrounding cities won't disappoint incoming military families. There's so much to offer all year round. Add in the chance to travel regionally, and your time spent in Annapolis will move quickly. As your PCS move approaches, stay connected with MilitaryByOwner to find current homes for sale and rent in Annapolis!