12 Steps to Your Best PCS Move Yet
Even if you move frequently, PCS moves never get any less overwhelming. A great checklist can help organize everything you need to complete.
Those checklists are typically broken down into three main parts: pre-PCS, active PCS, and post-PCS. But the process looks the same for most moves, with the exception of a few additional steps for an overseas PCS. We've compiled a 'one stop shop' all-inclusive checklist to follow for your next PCS!
The Big 12-Step Checklist for Your PCS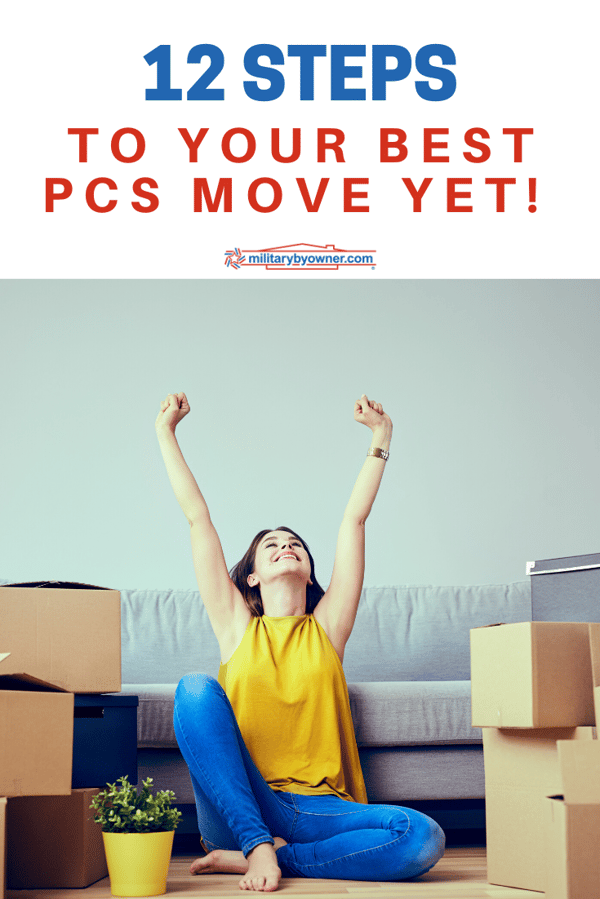 Pre-PCS Tasks
1) Decide if you will rent out or sell your home.
If you own your current home, you need to decide what you'll do with it.
Ask yourself these questions from MilitaryByOwner's free ebook PCS Ahead: Should I Sell or Rent My Home? to help you decide if selling or renting is right for you.
Is the market trending up, neutral, or down?
Are you comfortable being a landlord?
Can you afford to be a landlord?
Is your move permanent?
Do you need the equity?
Are you aware of tax implications?
If you're currently renting, be sure to give your landlord proper notice and get your deposit back if it applies to you.
2) Decide if you want to do a DITY, partial, or full military move.
Making the decision of how you want to make your move is a big one. A Personally Procured Move (PPM) or DITY ("Do It Yourself" move) requires significantly more work, both physically and logistically.
Doing a partial PCS or letting the movers do the work is exponentially less taxing. However, there are a few reasons you may want to handle the move yourself, such as knowing how your things are packed and getting your household goods to your new duty station when you want.
To help you decide which type of move is right for you and your family, take a minute to download Avoid PCS Move Wipeout to read about more pros and cons.
3) Purge unnecessary stuff.
If you have a move coming, you're probably already thinking about ridding yourself of clutter. If you have a PCS move on the horizon, you should make purging a priority. Ask yourself these essential questions and get rid of anything that doesn't need to go with you to your next duty station:
Does it serve a purpose?
Is it being used?
Are there multiples?
Does it draw emotion?
4) Research your new duty station.
Most likely, you're moving to a brand new area. But even though you haven't been there before doesn't mean you can't learn everything you need to know from afar. Take a look at the tips in these posts:
5) Create a budget.
Estimate how much you'll spend on lodging, gas, plane tickets, and food. Yes, you're given a Dislocation Allowance (DLA), Temporary Lodging Allowance (TLA), and per diem, but often only a portion of that reimbursement is provided prior to your PCS, and you won't see the majority until after you arrive at your new duty station.
You'll also need to budget for your new duty station. Your BAH will likely change, and you'll want to determine how much you're willing to spend on a home before you make the move.
6) Organize your paperwork.
Cancel utilities, hold your mail, collect school and vet records, create a PCS binder, and gather military uniforms necessary for check-in and check-out.
If you're making an OCONUS PCS, make sure to include the following in your binder:
Copies of orders
Valid U.S. driver's license
Overseas medical clearance
School and vet records
Passports
Active PCS Tasks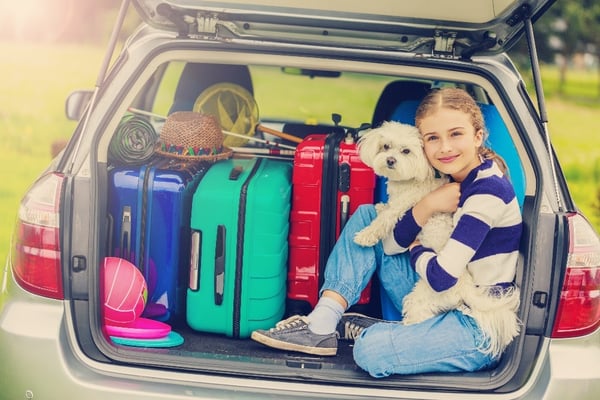 7) Pack up and move.
If you're doing a DITY, load up all the stuff you've packed, obtain weight tickets, and get ready to drive.
If you're having the movers come, then pull things off walls, guide them with how you want things packed, and order them lunch!
Be sure to look over the movers' descriptions of your belongings before signing. If your things turn up broken or missing, the government will refer back to the movers' paperwork before providing any financial compensation.
8) Map out your travel plans.
Whether you're planning to road trip across the country, fly, or travel internationally, keep military-friendly resources in mind.
Organizations like the USO, Armed Forces Vacation Club; Information, Tickets, & Travel (ITT), Morale, Welfare and Recreation (MWR), and Military Lodging and Rec Centers are great resources to take advantage of during your PCS.
9) Find a home.
With your previous research in mind, find a home that suits your needs. Refer to your searches on MilitaryByOwner and visit the homes in person.
Post PCS Tasks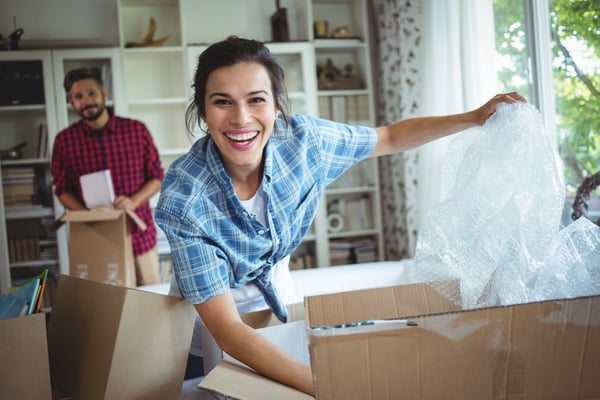 10) Complete logistical chores.
After you arrive at your new duty station, it's time to take care of the details. It's time to set up utilities and enroll your children at their new school, and then Do These 5 Things After Arriving at Your New Duty Station.
Update DEERS
Call TRICARE
Transfer prescriptions
Update your address
Get to know your new duty station
If you did a PPM/DITY, remember to send in your PCS paperwork including receipts, weight tickets, copy of orders, PPM approval, etc. to ensure proper reimbursement.
11) Settle into your new home.
Bloom Where PCS Plants You has an extensive post move-in list to complete, whether you're renting or buying a home. For instance, unpack important areas like kids' rooms first and then expand to the rest of the house.
12) Resume a normal routine.
Most of us thrive on order and consistency. While it's difficult when surrounded by moving boxes or suitcases to keep routines going, even simple things such as the same bedtimes and meal times help with maintaining familiar routines.
While PCS moves may never become less overwhelming, here's hoping we can feel more confident and organized with each new move. Now if you'll excuse me, I need to get packing!