7 Home Decorating Trends to Try for Fall
Over the extended spring and summer, you've likely had time to plan for the upcoming change of season that brings delight for those anticipating the transition into the holiday months ahead. September ushers in the innate drive to enjoy and prepare for the cooler months while embracing the opportunity to add warmth throughout your home.
Fall is the ideal time to try a new decorating trend because almost anything goes, as long as the addition adds an element of comfort and contentment to your home. Try a new decorating trend this fall to capture the happy-to-be at home feeling we're all trying to cultivate.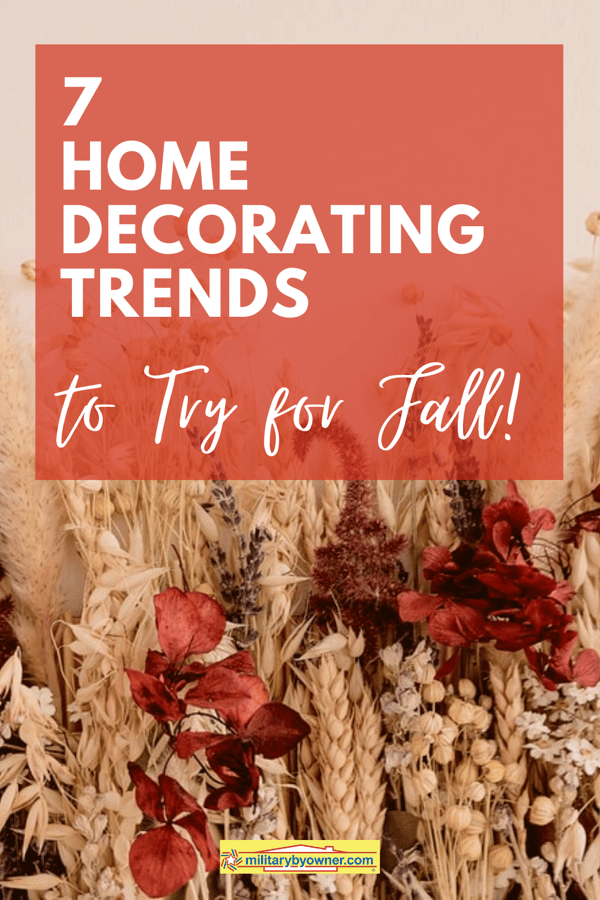 7 Home Decorating Trends to Try for Fall!
1) Add a Floral Touch
Elements of nature soothe the soul. Bring comfort inside with a collection of dried flowers. They're easier to arrange than fresh blooms and linger much longer. Traditional vases are fine, but so is the glassware you have on hand. Iced tea pitchers and cleaned, label-less food jars are completely functional and add texture variation to standard smooth glass.
Eucalyptus, yarrow, sunflowers, and hydrangea are fall-inspired choices. Long stems of dried grasses and stalks of wheat fill out the bunch while giving the arrangement a rustic feel. Carefully stored, dried flowers make a graceful returns year after year, hopefully in a re-imagined display.
If you're not interested in dried flowers, floral fabric patterns add just as much effect. Dark dahlias on sofa pillows or a mum inspired pattern on table linen are simple ways to showcase the floral trend.
2) Go for a Non-Traditional Color Palette
Of course, there's nothing wrong with burgundy red, golden yellow, and bright orange--they're eternal fall classics. But, this year, change is afoot, and experimenting with moody colors such as rich brown-pink, mauve, or deep purple is a welcome change from the fiery touches normally found in fall decorating.
Paired with coordinating neutrals, the saturated colors speak for themselves. Use the above floral ideas in conjunction with this color palette and you'll bring in two fall trends at once for minimal cost.
3) Add Texture and Layers
Texture and layered fabrics are important chilly season components. Start with a simple way to warm up a living space—by layering a new rug on top of a cherished standby. Soft wool over a durable base rug emphasizes the lux factor. Rugs are a simple way to incorporate multiple fall trends such as the non-traditional color palette and floral patterns.
It's easy to add texture while adorning seating and bedding. If a pillow or throw feels "chunky," then you're doing fall decor just right! Look for the description cable knit or cord if you're unsure of which items have a definite texture both visually and by touch. For a smoother, but equally plush feel, choose fabrics that have a sumptuous quality such as velvet. It's perfect for an updated sofa slipcover or bed duvet to provide extra warmth and softness.
4) Try a New Decorating Technique
Why not? You've plenty of time to tweak the changes and rearrange if the first iteration doesn't suit you. Start with these ideas!
Create a tablescape. Create the fall dining table of your dreams. No, you might not sit down at the table each night to eat, but you'll want to after carefully planning a color scheme, floral arrangement, and fall-inspired decorations. Your imagination is the limit, but if you need inspiration, here are 40 ideas to copy. Plaid table linens, pine cone centerpieces, and leaves sourced from the backyard are just the beginning of possibilities. Outdoor dining is perfect for fall. Don't forget to tablescape outside, too!
Cultivate a monochromatic look. Choose a fall color and stick with it! A combination of the original color's many shades and tones adds subtle contrast but keeps the overall look cohesive. In a monochromatic scheme, you can easily add four to five separate colors in a room.
Fans of minimalist decor like to use this technique to show off clean lines. Don't confuse monochromatic with plainness or sterility, however. A navy blue velvet sofa is going to purr when paired with pillows and throw blankets from the same color family. Here's a little help perfecting the technique.
5) Embellish a Nook
A reading nook, sleeping nook, gazing-out-the-window nook...the designation doesn't matter. A nook simply implies a cozy and welcoming space. To maximize comfort, include the touches that create a soft and serene resting place.
A lamp with a warm, but not too bright, wattage light bulb, a small table or rolling cart to set coffee or tea, and a space to store your latest novel are all perfect improvements. Layer on blankets and pillows to soften seating and drive away cool temperatures. A small plant finishes the space, adding fresh air and the natural element every room needs.
6) Add A Basket or Two
By far one of the most versatile home decorating tools, a basket is not only functional, but it also serves as visual interest stemming from the woven design and color.
Take a look at a few ways to use one.
With the addition of comfy fall blankets and pillows, you'll need somewhere to store them when not in use.
Woven baskets serve as decoration on their own. From bowls that hold keys to floor lanterns, there's always room to add a

functional container that adds a homey touch

.
Baskets with flat bottoms are instant wall hangings by inserting a few hooks or nails that tuck into the weave pattern.
Remember the tablescape? Baskets add height, provide a vessel for the floral arrangement, and politely corral napkins and cutlery.
7) Dress Your Mantel with a Collection
Likely the first place you plop a pumpkin or two, or three, the mantel is a perpetual showcase for festive decorating. However, excitement often takes over and the mantel transforms into a dumping ground for every fall related item in the house.
Hold back on the number of items this year and give your mantel the stately statement it deserves by dressing it with a cohesive collection.
A structured display, often using symmetry and repetition as visual techniques, adds dramatic style instantly. Consider showing off antique candlesticks, or rustic pottery that evokes a fall mood. The collection you choose determines if the feel is sophisticated or casual.
Did inspiration strike? Hurry and add your favorite decorating trend, because the fall days move quickly! The early sunsets and eagerly anticipated countdowns to holiday meals shorten the available time to appreciate and revel in the fall colors and falling temperatures.