Simple and Inexpensive Thanksgiving Tablescaping Ideas
Yes, tablescaping is a thing and can be a very competitive thing. Tradition holds that the L.A. county fair started the table decorating competitions in the 1930s. You're probably not looking to enter your dinner table into any sort of competition, but I bet the holiday spirit has you thinking about how to present your version of a perfect Thanksgiving table.
There are plenty of options for Thanksgiving tablescaping, but choosing one of these five themes helps to narrow down the choices. They all are easy DIY and inexpensive picks. Plus, there's a little help to incorporate popular tablescaping techniques.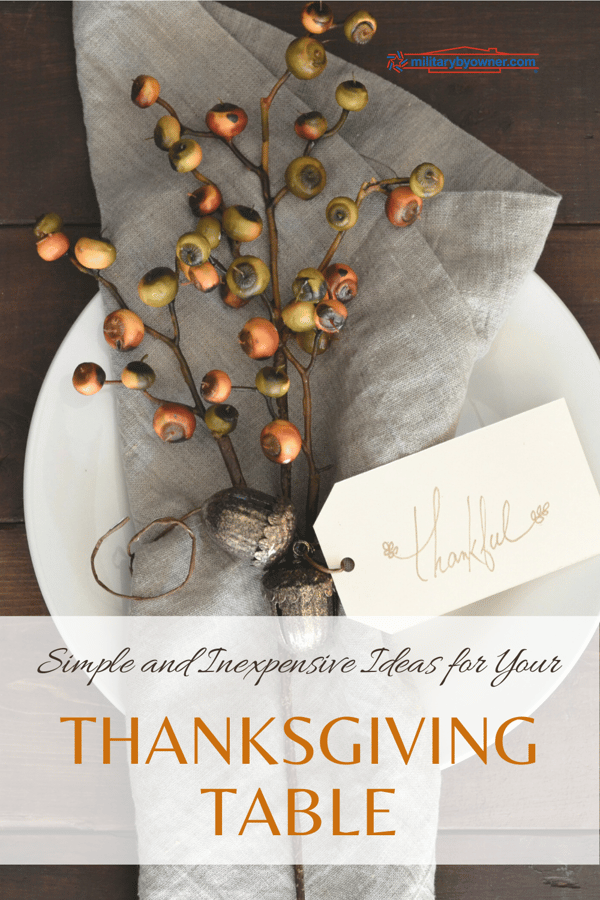 Simple and Inexpensive Thanksgiving Tablescaping Ideas
1) Natural Elements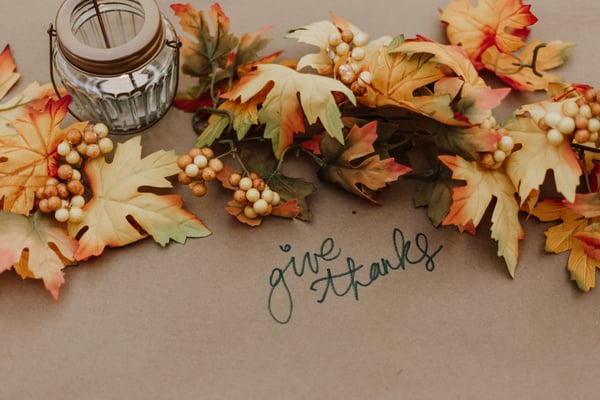 Photo by Priscilla Du Preez on Unsplash
If you're lucky enough to live in a region with pleasant weather, take the dining table outside for a festive arrangement. Your landscaping becomes a part of the ambiance, so boost up the charm with outdoor lighting and comfortable seating. And, maybe a fire pit for the post-dinner cocktail or hot chocolate.
If you prefer the comforts of regulated heating and air inside, these are the easiest centerpieces to pull off (and they fit into the outdoor dining scenery). Anything goes, really! From vegetables to earth tone flowers, arrange them creatively and wow your guests.
Fruits and vegetables like apples and artichokes work as candle holders after they've been cored.
Backyard finds are free and fast table embellishments. Fill glass jars or vases with colorful leaves and acorns, pine cones, or dried hydrangea blooms. The options are only limited to your fence line.
Gather a bunch of long twigs or corn husks, and tie in the middle with a velvet ribbon. Display in a vase or water pitcher and use it as standing centerpieces.
Small, sliced rounds of tree trunk wood become plate chargers, uplifting dinnerware to new heights.
Use a roll of brown craft paper as a table runner or cloth. Encourage guests to jot down what they're thankful for.
Military Families Know Friendsgiving is The Best Part of Thanksgiving!
2) Thrift Store Finds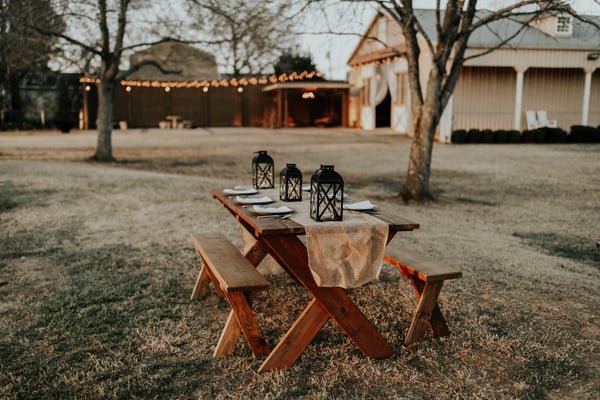 Photo by Hannah Busing on Unsplash
Shop early and peruse a rotation of stores often. Expert thrifters know the good stuff goes fast during the holiday season.
Spray paint is magic in a bottle for holiday decorating. It works on almost any finish and makes old stuff look trendy.
Any ceramic or plastic piece of turkey décor gets instantly upgraded with a coat of silver or white paint. A monochromatic collection of items gives off a sophisticated vibe.
Shallow painted bowls contain flower arrangements simply.
Metal or enameled roasting pans either filled with decorative items or turned upside down to create a base for height differential is a good find.
Buy all the wooden accessories you can find bowls, candlesticks, platters, cutting boards. Replicate a rustic, homey-like-the-Pilgrims feel for your table's theme.
Is it your first time hosting Thanksgiving? Here's 5 Do's and Don'ts for Hosting Holiday Parties.
3) Embrace the Kitschy
If you have the type of family and friends who can take a joke, a tacky Turkey Day table theme (think dogs playing poker) will keep them laughing!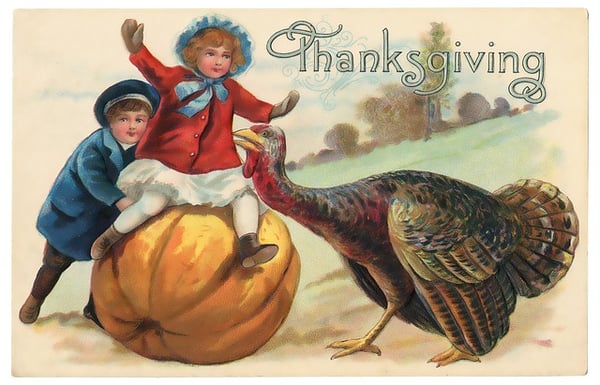 Image by No-longer-here from Pixabay
Speaking of plastic—plastic turkeys and turkey-shaped salt and paper shakers are musts for a kitschy Thanksgiving table.
Leave the jellied cranberry log intact to highlight all its wiggly glory.
Hack into a 5-pound butter shaped turkey for dinner rolls.
For appetizers, artfully arrange food on platters to create turkeys out of cut-up vegetables or meat and cheese slices.
For some dignity at the table and gratitude for Thanksgiving fowl, frame a photo of the latest turkey to be pardoned by the president.
4) Go Mad For Plaid
This holiday season, plaid and all its variations of size and color are a big trend, but holiday plaid never really goes out of style.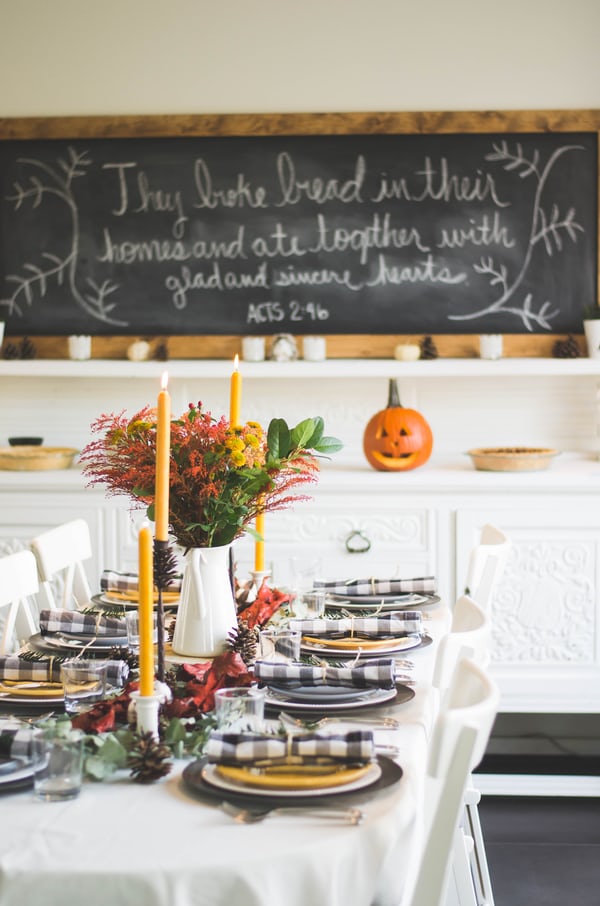 Photo by Libby Penner on Unsplash
For a neutral table with a touch of color, incorporate black and white Buffalo Check linens and ribbons to add appeal.
Use a plaid blanket in fall colors to double as a tablecloth.
A plaid scarf works perfectly as a table topper set on an angle or as a table runner, depending on the size and shape.
If doing dishes after the Thanksgiving meal isn't your idea of a good time, choose a color palette you love and search for quality paper products of matching yet different colors and patterns. Variations in size, color, and patterns add texture and visual interest.
5) Traditional Holiday Table
Traditions hold true for many reasons. Thank you, Norman Rockwell. If Thanksgiving doesn't feel like Thanksgiving without a classic table setting, dig deep and pull out the good china.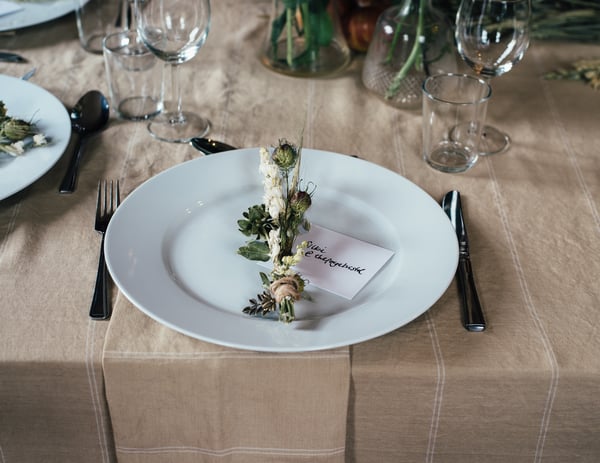 Photo by Annie Spratt on Unsplash
Use heirlooms, either yours or borrowed from family. They'll be delighted to share in a family tradition. If you're too nervous to use the good stuff, display a few pieces on sideboards or in the middle of the table.
Shop around; many home stores sell inexpensive knock-offs of classic turkey outdoor scenes on china.
Scour for vintage postcards or make color copies to use as place cards.
Place a little turkey-shaped chocolate in the middle of each guest's plate for a pre-dinner treat.
At home, dinner by candlelight is rare. Use tall candlesticks with long, slender tapers for classic ambiance.
Time for a Laugh! Ho-Ho-Ho! Holiday Mishaps We Can All Laugh About
Tablescaping 101
To make these themes come together, use basic tablescaping techniques to pull off the best arrangement for your Thanksgiving table décor.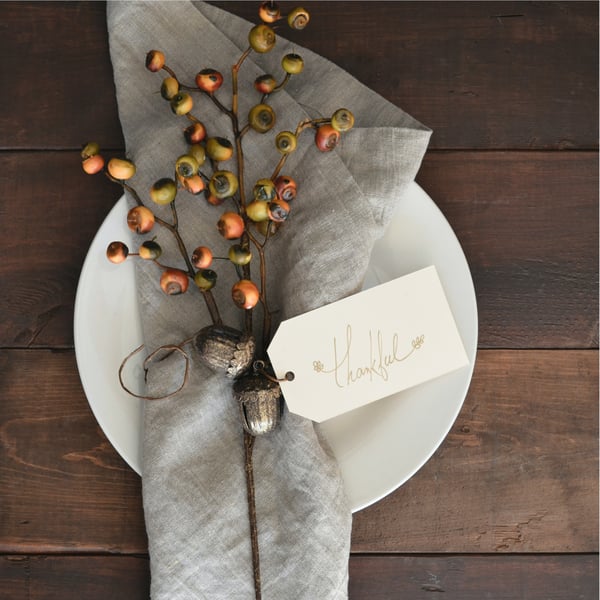 Photo by Debby Hudson on Unsplash
For easy conversation and an attractive table, vary the heights of the display by incorporating elevated items such as cake plates, candlesticks, or upside-down bowls or boxes.
Layers of fabrics such as placemats over tablecloths with linen napkins on top add texture and interest.
Special touches on the table create feelings of warmth and hominess for your guest. Handwritten name cards with a special treat attached are always cherished. For a detailed twist on the seating arrangement, print pictures from the guest's youth to serve as name cards.
Depending on the style of dinner service, your guests should have the necessary utensils laid in the correct position. Even buffets and casual dinners need an intuitive place for silverware.
Unless you're an utter purist, your Thanksgiving table will likely have a bit of multiple design elements, which is really the best option of all. It's easy to combine natural and traditional elements and even easier to mix thrift store finds with kitschy pieces. A customized setting turns the table into a personal gift of gratitude to your guests.
Oh, holiday season! You are upon us again. Don't get behind this year--use the MilitaryByOwner blog for creative inspiration. You'll find holiday decorating and gift-giving suggestions for the hosts who are addressing the party invites as we speak!