Friendsgiving: The Best Part of Thanksgiving!
The popularity of Friendsgiving is both strange and familiar to me.
Military families have been hosting friends for Thanksgiving instead of family for decades, without fanfare or a cool meme-able name because we're often separated from traditional family by distance, money, or choice—perhaps to avoid the drama with relatives back home.
For instance, our family of three has embraced stray military families (and arrived as said strays!) as our own for years. And I, for one, couldn't be happier.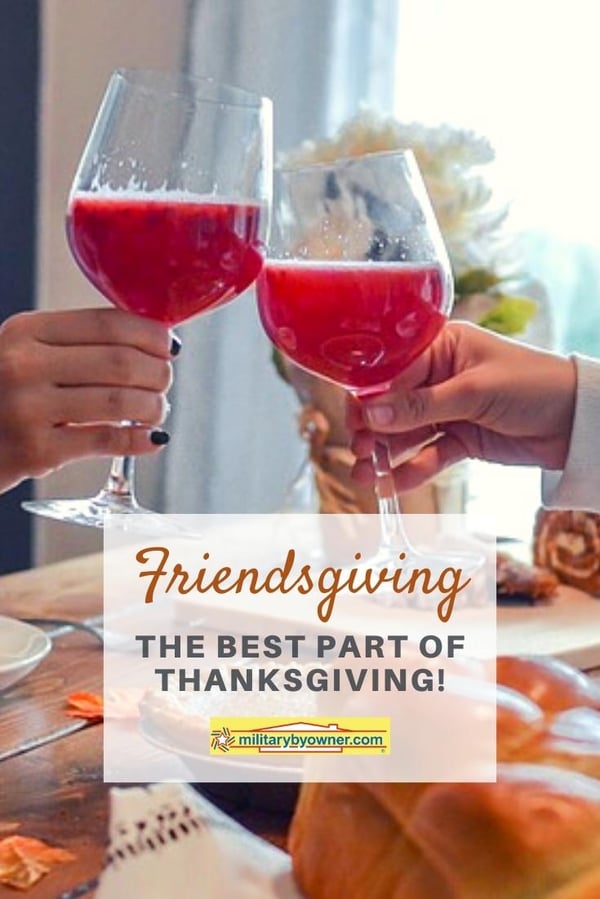 My family and our closest military friends rented a house in the mountains for four days of Friendsgiving revelry, eschewing biological family members this year. Let me tell you, the excitement of planning, prepping, and packing began as soon as we booked the lake house back in August. Everything from pumpkin pie duties to paper towel buying has been lovingly shared among the three families attending.
If you ask a military family about holiday plans, most will say military and civilian friends are far more important to our everyday lives than rarely seen second cousins. Our chosen tribe bails us out from deployment disasters and steps in during times of "out-of-milk-for-cereal" crises. By virtue of human nature, it's entirely reasonable to want to hang out with dear friends and celebrate gratitude instead of debating hot topic politics with drunk Uncle Arthur.
Get ahead of the game. Prep for the Holidays Now: A Month-by-Month Guide
The Rise of Friendsgiving
In the early years, Friendsgiving was an addition to Turkey Day, either gathering before or after Thanksgiving, typically meeting up with friends from back home in the town where your family remained. Later, the party morphed into a casual meal, either with leftovers from yesterday's Thanksgiving meal or pizza and beer for the Friday night after.
Friendsgiving's popularity has increased tremendously in recent years, although the first recorded instance of the mashed-up word was back in 2007. Many of us, however, remember from way back in the day the notion from our beloved sitcom, Friends. Who can forget the raw turkeys on Monica and Joey's heads?! "The One With All The Thanksgivings" episode is one to re-watch during your next Friendsgiving binge TV watching.
Make Friendsgiving Your Own
One of the best parts of Friendsgiving is that it's customizable. Does anyone hate canned cranberries? Leave them on the shelf. Don't want to cook an entire Thanksgiving meal? Call a local grocery store to cater the whole kit and caboodle. The options are as creative or traditional as you want them to be. There's much to cheer for after a paper plate and tossable utensil meal.
As a group, it's been an extra-long and exhausting few years spent in military service. Someone is always missing during friend dates throughout the year, so it's a treat to get away together. We can't wait to sit fireside on the lawn at our mountain rental. We've planned for hot drinks and s'mores each night.
Inside, the house is divided on what to watch on TV: holiday Hallmark movies or football. Our kids are thrilled to have their own space, complete with bunk beds and a pool table. We didn't forget the four-legged family members! We've paid pet deposits, and they'll join us for the festivities, even if they have to stay off the couch.
Of course, mountain getaways are not required. There are plenty of opportunities to make Friendsgiving your favorite holiday.
Find Friendsgiving inspiration in 5 Do's and Don'ts for Hosting Holiday Parties.
Host Your Best Friendsgiving Ever
When planning a Friendsgiving, it's important to consider everyone's feelings about the event. Some families might have strong feelings about traditional aspects of Thanksgiving, while others are cool with out-of-the-box ideas. Usually, a mix of the old and the new is the best way to include everyone.
Here are some ideas to create a memorable Friendsgiving that you'll love remembering for years to come.
Buck tradition and go wild—pick a Friendsgiving restaurant. Eat. Go home with friends. Relax with a course of dessert and coffee.
Consider a day and overnight celebration

.

It's fun, comfortable, more like family, and very responsible. Make it an all-day affair, starting with breakfast or brunch, moving on to plenty of snacks, and finally, drinks, dinner, and dessert.
Offer to make the main courses, such as the turkey and ham, but have guests bring the sides.
Plan and work in big batches of food to freeze ahead: breakfast muffins, desserts, and appetizers save nicely.
Choose one or two cheerful cocktails and make by the gallon to offer all day long from self-serving spout containers.
Buy plenty of to-go containers to have on hand and send home full boxes of leftovers for friends to enjoy the next day.
Have a kid's room or area where kids can be kids. Provide easy access to TV, games, and other activities to keep them occupied.
Most of all, don't forget to wear stretchy pants!
How will you celebrate Thanksgiving? Have I convinced you to try a Friendsgiving this year? If holiday travel is part of your grateful day, skim through MilitaryByOwner's travel blogs and resources and then download our free guide below. You'll find tips for everything from Space-A travel to on-base lodging and healthy eating on the road.