7 Unique & Budget-Friendly Holiday Hostess Gift Ideas
The holiday season won't pass without stacks of party invitations arriving from friends and family. How about the invites from military bosses? They're coming, too.
Added to the quandary of what the dress code "festive cocktail" means exactly (Ugly sweaters? Reindeer ears?) is the dilemma of what gift to have in hand for the host and more likely, multiple hosts. Of course, wine is fine, but there is plenty of time left in December to bring something a little more thoughtful, especially if the host is a lifelong friend.
With more than one party to attend, the costs of hostess gifts can add up quickly, but these ideas have a budget-conscious theme in mind.
Here's a tip!
When you find a great deal, always buy in bulk and customize for your party's host. Post-holiday sales are the perfect time of year to stock up. Many items like candles or candy work well year-round if they don't sport a holiday motif.
7 Easy Holiday Hostess Gift Ideas that Won't Break Your Budget
1) Mercury Glass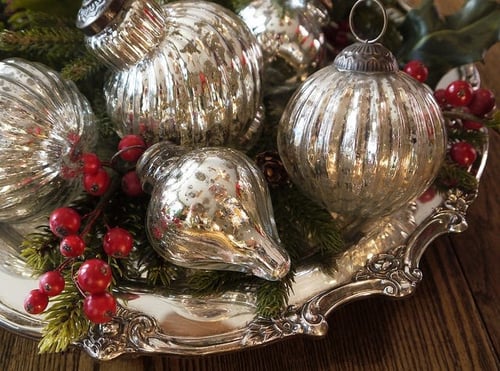 via Flickr kkmarais
It's silver, festive, and works with any home décor, but the cost per piece can be prohibitive. The work around to achieve this expensive look is in a simple can of Krylon Looking Glass spray paint. Gather up the inexpensive florist vases you have at home or run through a dollar store and find sizes and shapes of any clear glass you like. Paint multiple to have on hand for occasions throughout the year.
After the application process, simply drop in any items you wish: flowers, wrapped Christmas chocolates, small tree ornaments, or votive candles. For a finishing touch, tie on festive ribbons.
2) Travel Ornaments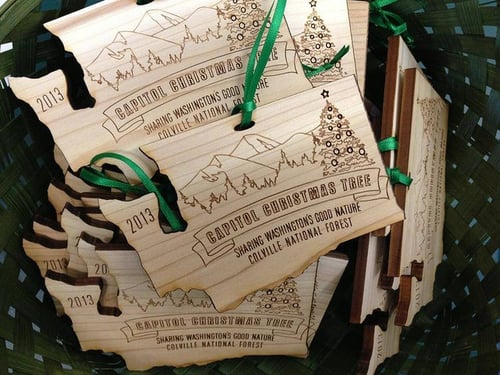 via Flickr USDAgov
We have a Christmas tree at home that is covered with ornaments from our travels, thanks mostly due to the military and our PCS schedule. Every year, we pull the ornaments out and reflect on the memories from each destination: skiing at Squaw Valley, trips to Disneyland, Hawaii, and many more.
If attending a holiday party, bring the host an ornament from their current state or one which depicts a symbol of their area, such as Big Ben from London or a cable car from San Francisco.
3) Baking Kit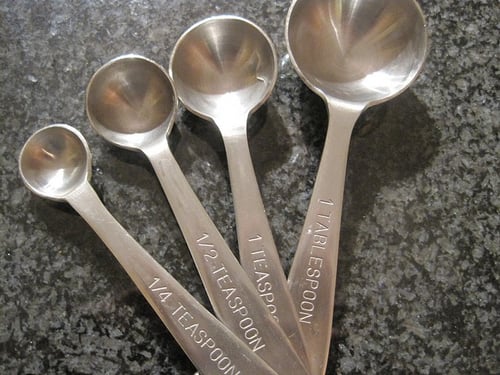 This is one is so easy during the holidays, because the components are everywhere and priced well. Start with a pretty mixing bowl and add a color coordinated spatula and a favorite cake or cookie mix. Other items you might want to add are dishtowels, measuring spoons, or a quality bottle of vanilla. HomeGoods or TJ Maxx are the perfect stores to shop for this type of gift.
4) Pasta Dinner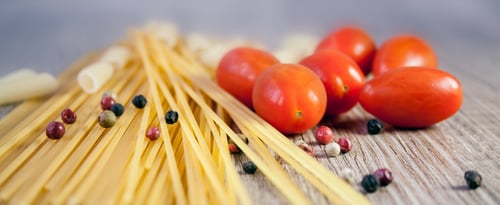 Everyone is pressed for time during December and struggling to put real food on the dinner table instead of feasting on a collection of Christmas cookies. A party host would be thrilled to receive a preassembled spaghetti dinner. Fill a colander with pasta, a good jar of sauce, and a bottle of red wine or loaf of Italian bread, and the meal is complete--easy week night dinner!
5) Shop a Special Store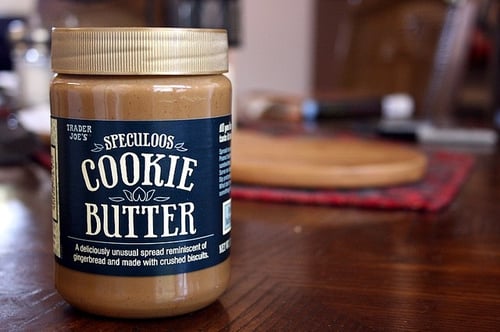 via Flickr user Stars Apart
Who amongst us hasn't lived in a military town that didn't have a favorite store nearby? Be a hero to your hostess and bring a basket of goodies from her most missed market. Trader Joe's is a popular example of a desperately missed shopping experience.
During Christmas, they're filled with holiday goodies. Round up a few of their best items like Peppermint Joe Joes and Cookie Butter, and bundle for a pretty presentation. She'll be so grateful! Starbucks and other regional stores like Wegmans are also sorely missed.
6) Local Flavor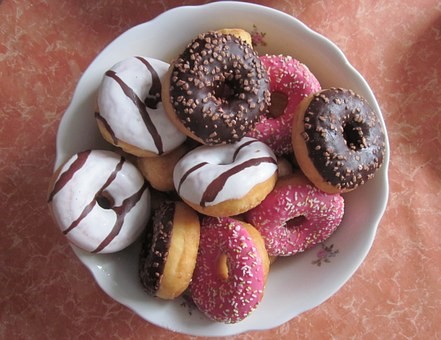 Does the city you live in have the best donuts on the East Coast, or is it the location of the most popular craft beer brewer on the West Coast? Well then, share the love and bring the best of the best to your host.
Ice cream, chocolates, potato chips--they all have to be made somewhere, and your current town just might be the place the items are most loved and produced. For a twist, bring a gift from the location you and the host met. Items from a shared locale will have a lovely sentiment behind their purchase. Riesling from Germany or cheesecake from New York are easy examples.
7) Don't Forget the Kids!

It's a nice extra to remember the kids of the house. They're probably tucked away in the basement with orders to "behave or else," or under the care of a babysitter off site.
No parent ever wants to buy the cheap plastic candy cane filled with kisses or chocolate bites, but kids clamor for them and party guests who have these in hand for the kiddos would never be forgotten! If candy is a no-no, travel-sized games of classics like Connect 4 or Hungry Hungry Hippos will be a fun way to pass the time in the car. Retro card games like Go Fish, Old Maid, and Hearts entertain, too.
As with any gift, it's really the thought that counts when preparing a token of appreciation for the host. It needn't be expensive or large, but a handcrafted touch will convey a level of luxury that a plain candle in a jar just couldn't do.
Feeling festive? MilitaryByOwner is, too. Our blog has decorating inspiration, tips for winter travel, and ideas on how to manage guests who are staying over the holiday vacation. Sign up for our newsletter and daily emails for the most up-to-date information!