Creative Gifts to Welcome New Military Neighbors
Welcome to PCS season!
Whether during the traditional summer months or over an off-cycle move, in military towns, you're likely going to have a new neighbor or two. With each moving truck that appears, there's an all too familiar vibe of anticipation throughout neighborhoods as each numbered and sticker laden box is unloaded and carried into the house.
Neighbors peek from behind closed curtains and wonder who will move in next door or down the street. Will your new neighbors become life-long friends or just acquaintances? One thing is certain, the hand of friendship will be extended, often with a welcoming treat, because that's military life!
The military community is warm and welcoming to new neighbors or members of a unit because we all know the feeling that comes with relocating to a new duty station. Our servicemember has an instant connection the moment they check into their unit and inevitably will run into friends they have come to know along the way, but military spouses and children have to put ourselves out there to meet new people and to adjust to our new surroundings.
Ringing your new neighbors' doorbell with something in hand is always a friendly way to say "hello" and "welcome." Because only another military family relates to the challenges and disappointment of constant relocation, we often put together gifts that not only starts the new relationship out on the right foot, but helps your neighbor regain some of what they may have lost in transition.
Need some examples of creative Welcome to the Neighborhood gifts? Read on!
Don't be afraid to customize any gift selection and think out of the literal box by using an interesting container to present the items. Think galvanized tins, buckets, wooden crates, bowls, vases, and even a colander gift basket of a pasta and wine themed dinner.
Creative Gifts to Welcome New Military Neighbors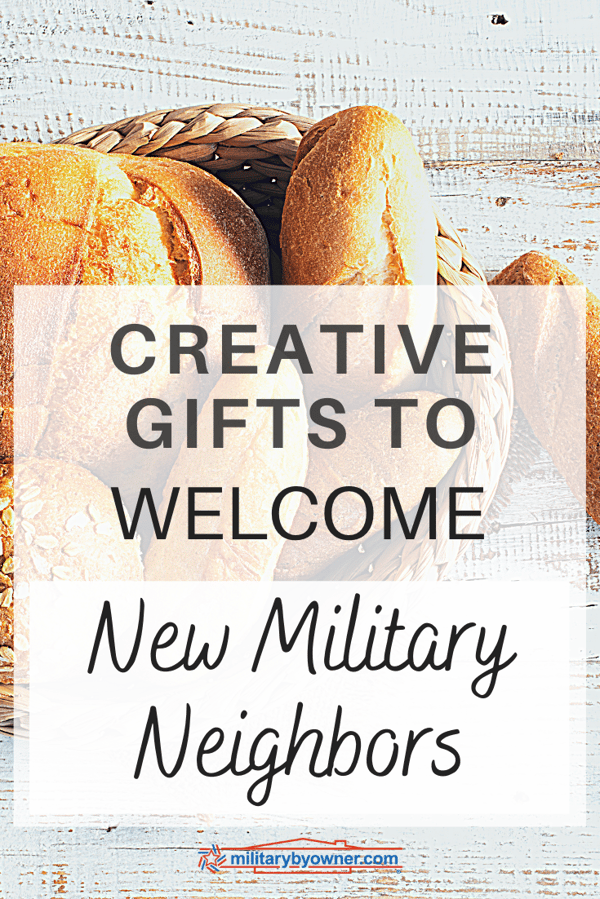 1) Resupply Cleaning Supplies
What does every military family do when they enter their new home? Clean up! Even if the home was professionally cleaned, touch ups in the kitchen and bathrooms are normal and require a few sanitizing items on hand.
Gift your neighbors with a few necessities. Even if they have them on hand, moving in chores use up cleaning supplies quickly. Building your cleaning supplies stash is a chore unto itself, so having a friendly neighbor drop by with several essentials will certainly boost spirits.
2) Baking Essentials
Military families have perfected the art of purchasing, purging, and re-buying, as in the case of collecting baking essentials from scratch. These items are expensive! Welcome your new neighbors with a jump-start on items such as flour, vanilla, baking powder, baking soda, and sugar.
Add homemade cookies, a cute spatula, and your favorite recipe for a complete package. The variations on this theme are endless: banana bread, brownies, loaves of bread, and a simple 9 x 13"cake—use throw-away pans for simple clean up, unless it's part of the overall gift.
3) Condiment Cupboard
In all likelihood, friendly vultures, a.k.a previous neighbors, surrounded your home as soon as the packers left, knowing there would be a plethora of condiments, salad dressings, and oils to acquire.
While it is always nice to be on the receiving end of treasures such as these, their replacements are budget busters. One walk down the condiment aisle of the grocery store, and you'll have the perfect housewarming gift for any military family. Drop in a family favorite seasoning to personalize the collection.
Include cute paper plates, napkins and cutlery. All will come in handy until their kitchen is unpacked. Go a step further and invite them to a neighborhood barbecue that will surely make them feel right at home.
4) Local Flavors
Gather specialty items from around town that introduces your neighbors to the flavors of their new home. Include a note with your favorite restaurants, attractions, and any other tips you want to share. A basket of local items is also a great farewell gift for a dear neighbor or friend that is leaving. Weeks and years later, this gift brings back great memories of the home they left behind. For examples, include locally made baked goods, wine or craft brews, candy, nuts and candles.
5) Ice Cream Social
This idea will take a bit more planning and coordination to ensure the solid state of any ice cream or frozen treat, but it's well worth the enthusiastic reception your neighbors will offer. Start with the basics such as festive bowls or waffle cones/bowels and local ice cream everyone raves about. Add in an ice cream scoop, toppings, sprinkles, and even a few candies or cookies to crumble on top. Guaranteed smiles!
6) School Spirit
For families with kids in school, we know the hesitation about starting in a brand new classroom. Support your local PTA or school spirit shop and outfit the incoming family with items donning the school logo. T-shirts, pencils, notebooks, stuffed animals, and keychains are an inviting introduction to their new school home.
(Starting a new school is universally tough. Help Your Military Kids Through the PCS Transition.)
7) Get Creative with Everyday, but Coveted Items
There are so many items that military families have to leave behind, only to repurchase upon arrival. Supplying your new neighbor with batteries, light bulbs, paper products, or houseplants are welcomed gifts. Another great idea is to buy wickless candles, providing them with one less cherished item they have to give away the next time they PCS.
You're probably going to have more than one new neighbor, so pick up multiples of these gift sets to have on hand. In a pinch, they work as hostess gifts and housewarming presents. Here's a few more ideas to get you started.
Tailgate Day Food
Cook Out Favorites
A Curated List: include recommended doctors, hair stylists, sports leagues, grocery stores, on and on. Include any vendor you'd like to know about moving into an unfamiliar neighborhood.
The most important part of these gifts is the intention behind their creation. A welcoming face and a basket of cookies goes a long way with neighborhood relationships. Even if the family isn't your next set of best friends, its nice to know the families you'll interact with on a regular basis. Plus, if you ask nicely, they might just bring in your trash cans while you're out of town.
With input from Monica Schaefer.