Face Your Off-Season PCS Move with Confidence!
I do hope you weren't one of the military families that had a horrendous PCS this summer.
For some, the entire process went so horribly that a military spouse (leave it to us!) took it upon herself to start a petition for an overhaul of PCS policies which spread like wildfire and eventually made it to the desks of some pretty important generals in Washington, D.C. who took notice. Time magazine even caught wind of the summer debacle and featured how exhausting, expensive, and plain unfair the whole summer moving season was for military families.
From what I've read, many are still flying solo and using intensive Facebook investigative techniques to retrieve lost crates. They're not trying to collect one lost item, but entire crates full of personal belongings. These families maintain daily phone calls, emails, and Tweets to everyone from their Congress person to the staff at the moving company headquarters to keep the pressure on fixing the problems of damages and loss.
If you ask the moving companies what the problem is, they'll commonly blame the economy for being too good, which means they had a hard time finding employable packers, movers, and truck drivers or they'll put the fault on the government for inadequate reimbursements and antiquated technology.
In their defense, the government adds in that traditional military PCS schedules over the summer coincide with civilian summer job changes. In tandem, this amount of people moving at once makes it very difficult to find and hire enough professional moving companies with reputable business practices.
Which is to say, all of the above is probably partially true, and hopefully the issue has begun to be resolved from the most local levels to the highest Department of Defense officials.
I mention all of this to you because:
1) The off-season PCS cycle is about to begin.
Revel in the fact that if you have one coming, moving companies are under a very large magnifying glass right now and should be doing back flips to make sure their contracts with the U.S government are solidified for future business.
It will be up to military families to hold their assigned movers to the high standards I am sure they advertised and promoted to attract Uncle Sam. It's advisable to keep detailed records of every interaction and report problems as they occur directly to the liaison or representative that is the go-between for the moving company and the military/government.
2) You should embrace an off-cycle move!
There are so many reasons to be grateful for packing and unpacking over the colder months. Well, colder for most PCS destinations. Hawaii, Puerto Rico, and Guam folks, carry on with your warm off-cycle move.
Face Your Off-Season PCS Move with Confidence!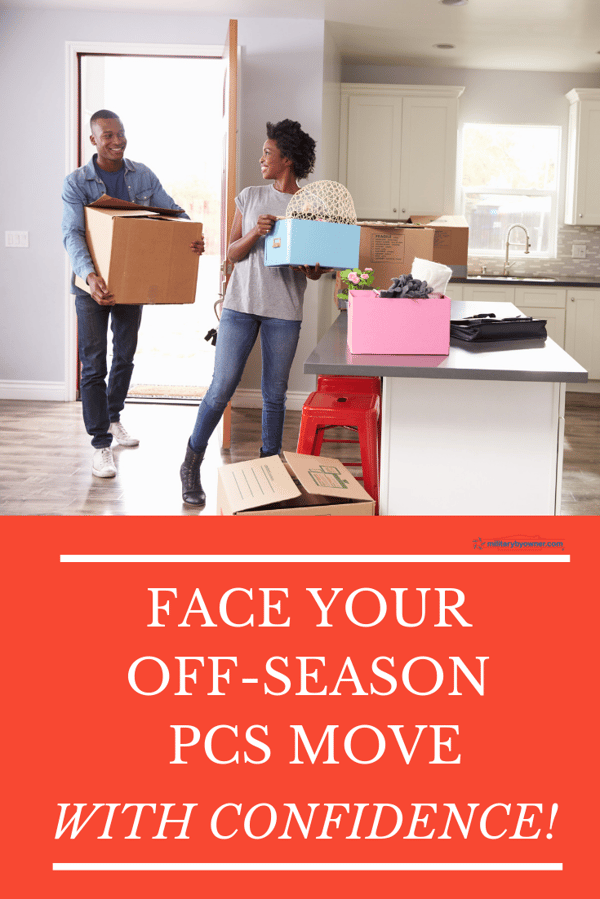 Renters, Buyers, and Sellers, Here's What You Need to Know About an Off-Season PCS
The planning process isn't complete unless your first stop is MilitaryByOwner. That's where you'll find the answers to so many of the questions that are standard for a PCS. Your curiosity will get the best of you, so embrace your interest and take a few minutes and see what the current inventory is offering for homes available to rent or buy.
Within the options, you'll get an understanding as to how far your BAH will go. Also inside, commute times, education opportunities, and square footage are three major planning features that factor into your next home search, and they'll be detailed in the listing. Sellers, there are multiple resources on how to get your house into the best shape for a sale.
Renters
Keep watch over any rental listed with MilitaryByOwner and move in quick if a property meets major criteria. Although you won't have as much competition as during the traditional moving season, fewer military families are moving, so taking your sweet time to make contact isn't an option.
First-time renters, an off-season PCS is a great time to start learning the best ways to become a savvy renter and one that landlords will fight over. Competing renters aren't as prevalent, so there might be room to negotiate monthly rental payments or fees such as a pet deposit. Start here:
Pet Owners
Pet owners who rent, get excited because the majority of rentals listed will at least consider your pet. Many homeowners are pet friendly and willing for their renters to bring in their extended animal family. But, to convince them that your pet is as clean and as quiet as you say, you'll have to walk the pet walk and give the owners the proof they need. Shot records, receipts for flea and tick prevention, and even certificates of completion for dog school could be helpful.
Military families living on base have another set of rules to live by. It's common for the base housing companies to place restrictions on the type of animal or breeds you can have in military housing. They also have limitations regarding the size and number of pets brought into base housing.
Traveling with your best animal friends is no easy feat. The extra layer of planning includes everything from a bottle of water in the car just for them to securing hotel rooms that accept pets. Check out:
Home Buyers
There's a lot to prepare for if buying a house is a goal of your next duty station. Seasoned buyers and first timers alike have a lot of work to do before the pack-out date. Preliminary online research, contacting the best real estate agent in your area, and finding financing are big tasks that are going to require time and patience. MilitaryByOwner has broken down the pertinent information into easy to read, yet packed with information ebooks for home buyers. Take a look at:
Homeowners Who are Landlords
If you've never been a landlord before, especially long distance, there is much to learn. It's a huge lifestyle change to be in charge of not just the house you live in, but also administer the rental property you've left behind. How do you know if landlord life is right for you?
And, if you've a perpetual landlord, are you attracting the best tenants? Pro military landlords know that the quality of tenants either makes or breaks the experience of a landlord, especially if you do the property management yourself. Here's some help:
Home Sellers
Home sellers, there are unique challenges to selling in the winter months, but bonuses, too. For example, knowing the correct way to stage a home and hold an open house during foul weather is a skill not easily learned. You know who already knows how to overcome seasonal obstacles? An experienced real estate agent.
An off-season PCS is an ideal time to invest into researching the real estate professionals that will serve your needs best. As they are also likely working through the quieter months of the real estate cycle, they'll have more time to invest in your marketing and ultimately, the sale.
More Helpful Information
During a PCS, not everything is related to the physical property. Moving also means looking for new friends, childcare, schools, and all of the other amenities that make a new town feel like home. Military Town Advisor is a MilitaryByOwner partner and has combined direct advice and reviews from military families across the country detailing the neighborhoods and businesses that are near your next duty station.
Here's an example of a review of one of the top researched business any time a military family moves: a hair salon! A reviewer from Fort Bragg, NC, says about the local The Fringe Salon:
"GREAT salon with all around friendly atmosphere. Clean, professional and friendly! My stylist, Kimberlie, is a military spouse who took my botched head of hair and made it beautiful again! Free parking on road along business. Prices are competitive and reasonable for area. Location is a bit hidden from main road, but easy to find. Spacey area so you're not on top of other clients."
Dozens of bases are reviewed, so it's likely your next destination has a tip or two to help the family settle in.
Life is always better when both spouses are content with their new location. Spouse employment and education opportunities are topics that are also available for research at MilitaryByOwner. Continuing education or career changes are challenges that many families encounter. For a head start on the newest path of military life, check out:
Looking back at all of these resources, it seems as though MilitaryByOwner couldn't have anything left to offer a family moving during an off-season PCS cycle. But we've got many more articles, blogs, and ebooks about all things real estate related.
Stop by MilitaryByOwner and dig in. We hope your off-season PCS proceeds with much better results than our friends and neighbors had this summer. Taking time to get familiar with all of the carefully researched and written content MilitaryByOwner has to offer will only help!