Top Destinations: Favorite Bases for Military Retirement
It's a rite of passage for active duty military members to daydream and plan for retirement "one day." For some, the plan is to retire completely, enjoy a no-schedule day, and simply wake up each morning and do as they please. For others, retirement is a second career, a chance to reinvent themselves and take on the world in a new way.
The common thread all veterans have is the option to take advantage of the benefits and amenities military bases have for retirees, whether that's medical care, housing, or a fun Retiree Appreciation Day event.
We asked MilitaryByOwner readers their picks for their favorite bases for retirement, and while there were a few votes for bases like Fort Moore (formerly Fort Benning) and bases in Germany, many of the responses were the tried and true picks you're probably familiar with.
Since you're already pretty savvy about these popular locations, we've dug into the interesting facts about how they're ranked, the specific details about their amenities, and some affordability measures.

1) Major Military Bases Near Colorado Springs, Colorado
#1 The 25 Most Desirable Places to Live in the U.S. in 2022-2023
#9 in Best Places to Live
#97 in Best Places to Retire
It seems as though every real estate article or travel blog's main topic is the magic that surrounds Colorado Springs, Colorado. The weather! The outdoor activities! The majestic vistas! The raves go on and on. The cat is definitely out of the bag—Colorado Springs tops list after list as one of the best places to move in the U.S. But military members already knew this, right? Fort Carson is regularly featured as one of the Army's most in-demand duty stations, Schriever is all over the media thanks to Space Force, and well, the Air Force Academy speaks for itself.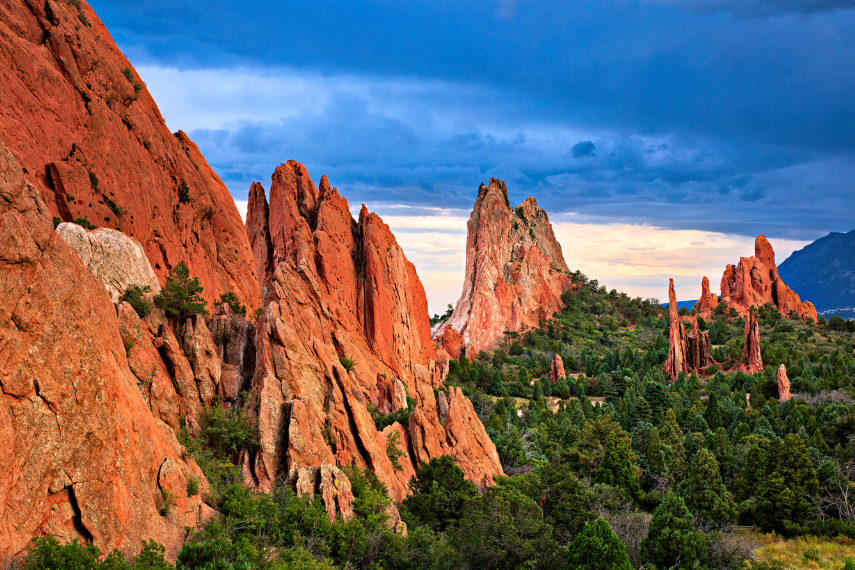 Garden of the Gods. Photo from Canva.
Colorado Springs is at the height of its popularity despite the higher cost of living, more expensive housing, and a migration influx that's off the charts. However, depending on your retirement dates, your dream of living in Colorado Springs might need adjustments to make it affordable and feasible. The median home price is $555,072 compared to an average annual salary of $57,530. Thankfully, you have your military retirement to help offset costs!
As a retiree, you'll have easy access to nearby bases for health care and shopping, but outside the gates, there are plenty of options in the city too. Coffee shops, breweries, indie stores, restaurants, walkable neighborhoods, and nearly a year's worth of sunshine-filled days let you max out your newfound slower pace or enjoy the fresh lifestyle and career you've found in "The Springs."
Explore a few Colorado Springs adventures in the short video below.
2) Major Military Bases in Hampton Roads, Virginia
#8 Virginia Beach, The Best Places to Live by the Beach in the U.S. in 2023-2024
Williamsburg "A" Rating
#2 Norfolk Best Places for Military Retirees to Start a Second Career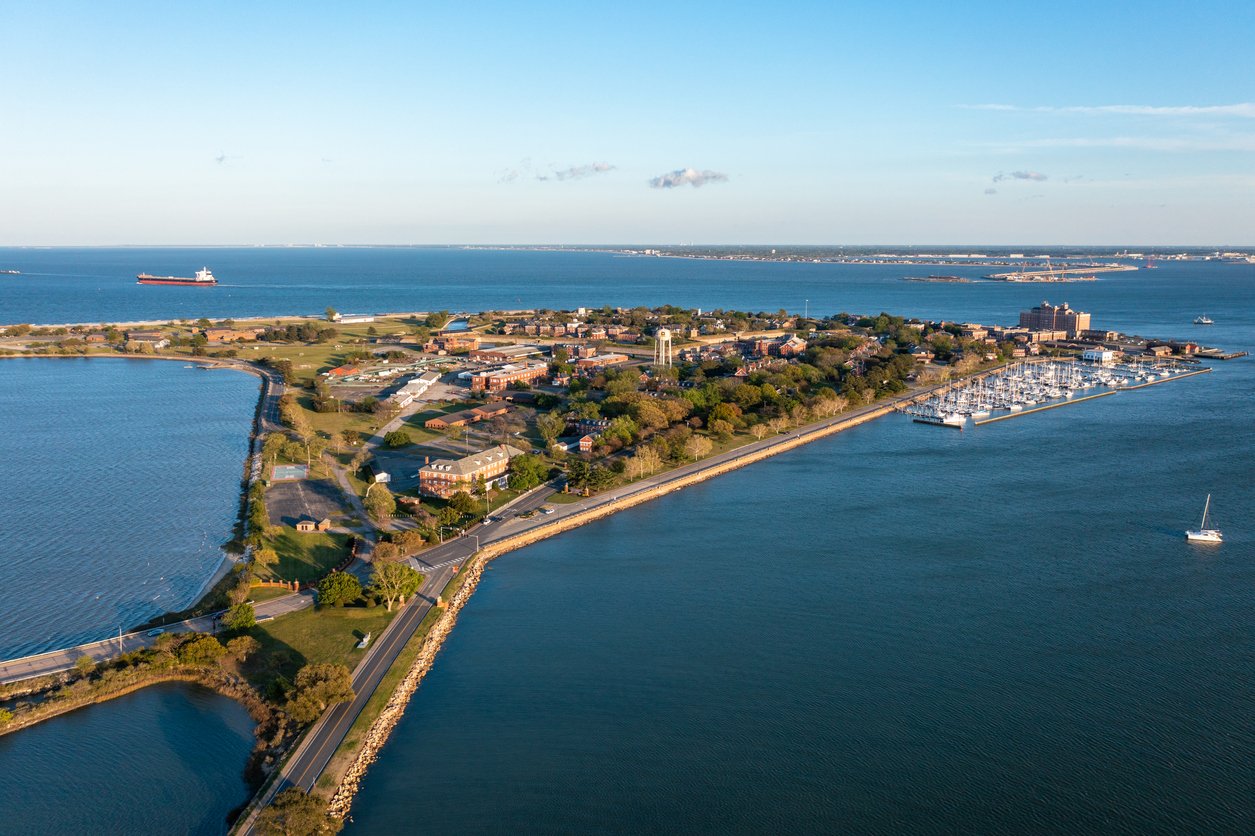 Aerial View of the Fort Monroe National Historic Site looking towards Norfolk and the Chesapeake Bay. Photo from iStock.com/Kyle Little.
The best thing about Hampton Roads is the variety of locations to choose from. Officially nine cities comprise Hampton Roads, but nearby cities boost the total higher. Whether you prefer beachfront property or a city-center view apartment, Hampton Roads has numerous lifestyle choices. The area is heavily influenced by all things water, including the Atlantic Ocean, Chesapeake Bay, and the James River. So you'll find plenty of things to do and foods to eat with a coastal flair.
Employment opportunities in Hampton Roads are plentiful thanks to the government's presence. For example, if a contracting job is your preferred post-retirement gig, a quick search on LinkedIn brings up more than 65,000 job announcements.
Even the though this coastal Virginia area is spread out, there's one common thread—the U.S. military's influence. Retired servicemembers can access many military medical facilities, commissaries, and on-base amenities. You may even be eligible for some of the on-base housing designated for retirees.
But if you're in the real estate market, expect median home values to range depending on the location in Hampton Roads. For example, Williamsburg's is $328,700, while Virginia Beach's is $295,900, and Norfolk's is $223,300.
Don't miss these Must-See Historical Sites and Landmarks in Hampton Roads!
3) Major Military Bases in San Antonio, Texas
Joint Base San Antonio
#14 Cities with the Highest Number of Move-Ins
#108 in Best Places to Retire
Cost of living is 10.2% lower than the U.S. average
It's no surprise that the San Antonio, Texas, metro area is a perennial favorite for military retirees. The city has much going for it, not just for military members. San Antonio (and Texas in general) has been a hot spot in national migration trends.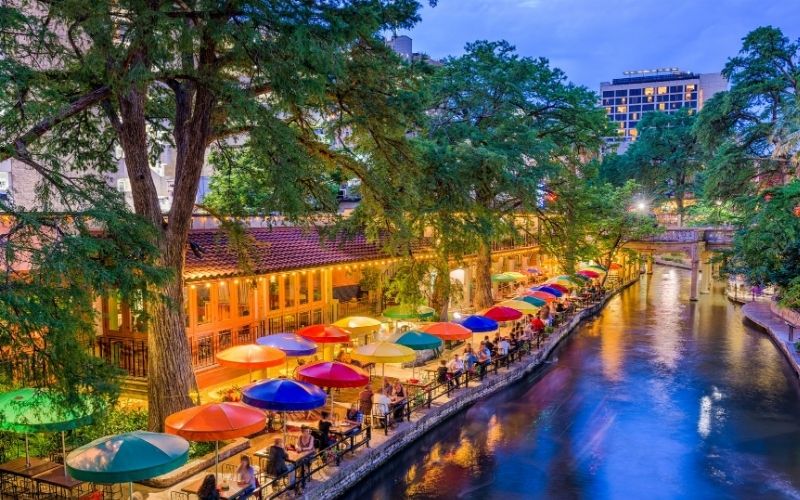 River Walk in San Antonio. Photo from Canva.
Newcomers are relocating there from across the country to take advantage of the lower cost of living rates, plenty of cultural activities and entertainment, an enviable food scene, and of course, Texas doesn't have an income tax. Plus, San Antonio has a built-in military community that "gets where you're coming from."
You'll learn quickly from veteran neighbors that have been there and done that the tips and tricks to navigate retiree life, including maximizing your health benefits. You'll have plenty of options thanks to the ample medical facilities on and near Joint Base San Antonio.
If you're hoping to buy a home in San Antonio, know that the market remains heated, like the rest of the country, but the median home sale price in 2021 was $327,260, just under the national average of $365,616.
San Antonio residents love their favorite attraction: Explore San Antonio's River Walk.
Looking for ideas to enjoy the Texas weather? See 11 Ways to Get Outdoors in San Antonio.
4) Major Military Bases Near Tampa, Florida
#1 Most Popular Large City to Move to in 2022
# 4 Best Places to Retire
"A" Overall Niche Grade
It's nearly impossible for military retirees to resist Tampa's bay breezes, palm tree sways, and the all-important "no income tax" status. Tampa's lifestyle is legendary for the weather and abundant things to do. If you've been stationed in the area, you know all too well the city's draw and probably put it on your shortlist to investigate after your service commitment.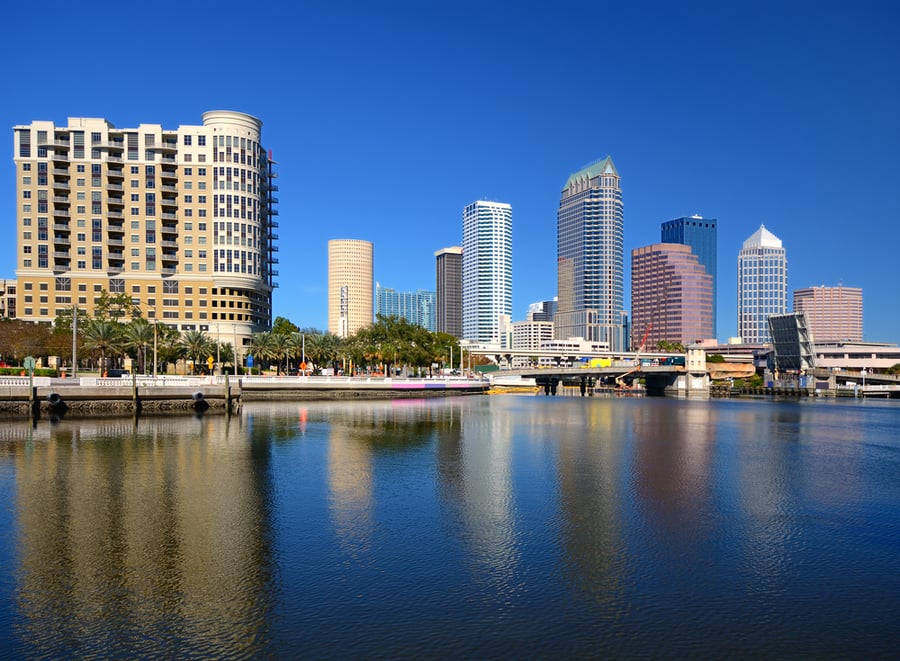 Skyline of Tampa, Florida. Photo from Shutterstock.
What should you expect now if Tampa still has your heart?
A SmartAsset study reports Florida was the number one state retirees flocked to starting in 2021.
"Florida sees a massive influx of seniors. Florida netted more than 78,000 senior residents from other states in 2021 – three times as many as the second-ranked state. Miami, Jacksonville, St. Petersburg and Tampa all placed among the top 20 cities gaining the most seniors."
You'll have plenty of competition for housing and medical care if you head to the Tampa metro area, but don't sweat it! If there's one thing Tampa has for retirees, it's plenty of services and amenities created especially for navigating life after the military, starting with the Retiree Activities Office at MacDill Air Force Base. There, knowledgeable volunteers will show you the ropes for Tricare, on-base activities, Space-A options, retirement pay issues, and much more, including Retiree Appreciation Day events.
Tampa's cost of living is close to the national average, but you'll need those savings to funnel into your housing budget. Housing prices have surged in Tampa, now selling for a median price of $420,000. That's 5% more than last year.
Use this guide to get to know MacDill AFB: What to Expect When You PCS to MacDill AFB, Florida
Colorado, Texas, Florida, Virginia: do any of these states sound like home? If you're considering relocating near these popular bases, start researching your new home on MilitaryByOwner!
Download our free home buying guide below.