Try These Easy and Affordable Fall Decorating Trends
After scrolling through your favorite home brand's fall look books and catalogs, it's easy to get swept up in the change of seasons. You're not alone if you want to overhaul your entire home's decor to reflect the festive feelings you want to capture over the cold months.
But, it's hard to know where to start if you'd like to copy your favorite designer's looks without their budget.
Photo by Randi Wilson via Unsplash
To get started, choose one or two features (so overwhelm doesn't set in) that you like best. Then, when you're thinking about how to add fall trends to your home, keep these tips in mind. They'll help you craft a cohesive plan and save money.
1) Choose a focal point. If you don't have a large budget or prefer minimal fall infusion, choose one area of your home that feels like a natural focal point and start your design plan there. For example, your front porch is the perfect setting for an autumn scene. Or, take advantage of a one-of-a-kind piece of furniture, like a dining room table, and show off its unique design with fall-inspired linens and dishes.
2) Invest in one or two new items. If you've fallen in love with a seasonal décor item, like a unique collection of framed artwork, use it as the base of your decorating plans. Think of it as the featured item and surround it with things you already have at home, like antique candlesticks or heirloom serving pieces.
3) Re-imagine your go-to decorating items. If you're ready to move on from your indoor faux orange pumpkin patch, spray paint them neutral colors like cream, beige, and fawn. Or, repurpose a grapevine wreath for your front door. Remove the old ribbons and dried flowers and add a new collection of fall objects that you can easily find near your home, like dried leaves and berries.
Read on for inspiration if you're ready to try a popular fall decorating trend. Adding one or all three to your home is easy because they work well together. Don't forget to light your favorite scented candle to perfect the ambiance.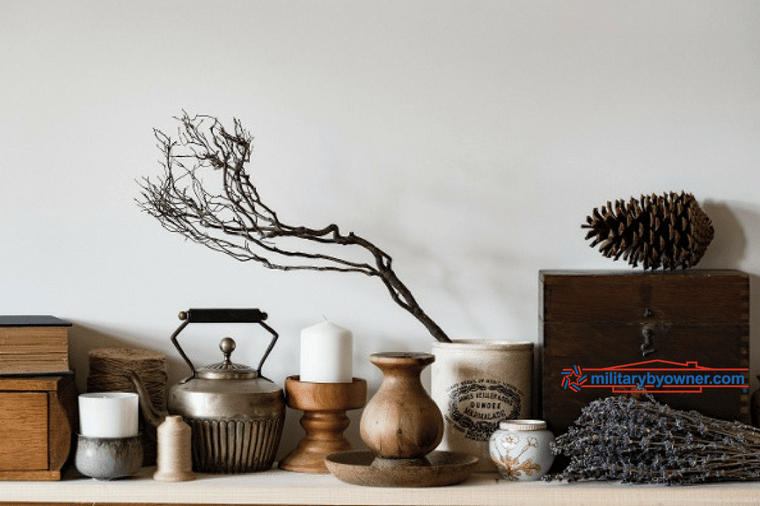 1) Natural Wood Elements
Nothing says fall decorating like bringing the outdoors in, especially wood elements. Wood features immediately warm a room and add a hefty dose of cozy. Luckily, you likely already have some wooden aspects in your home, like a fireplace mantel or flights of stairs, to take advantage of.
If you don't have a permanent wood component in your house, consider adding semi-permanent furniture like wooden counter stools or a new coffee table. Once you've picked your favorite location or feature, boost its appearance by creating a focal point with trendy fall accents. Remember that decorating accents look best in groups of odd numbers, especially threes.
Display a collection of wood cutting boards and bowls in the kitchen to match the new stools.
On your mantel, arrange wood-like objects like pinecones, acorns, and bare branches in glass vases or jars.
Decorate your wooden staircase and banister (especially if visible from the front door) with giant-sized pinecones and a variety of pumpkins or hang a woody magnolia leaf garland on the railing.
Have you just moved in and want to personalize your space? This article will help you learn How to Decorate Your Home, room by room.
Photo by Annie Spratt via Unsplash
2) Woven Features
The perfect companion to a wooden element is a woven feature, especially baskets and fiber rugs. They each root in the same earthy vibe and, when paired together, add instant visual interest and the quintessential fall charm you've been craving. If you need a touch of softness in the room, layer woven blankets and pillows for a lush look.
Add table-top-sized fruit baskets (or seagrass), similar to what you'd find at U-Pick orchards and farms, for an instant fall update. Handleless baskets are the perfect fall disguise for plain lamp bases.
Woven pendant lights are on trend and look to stay that way. Hang one in your kitchen to create an eye-catching focal point. Use bulbs with a warm golden glow instead of cool color-casting light bulbs.
Highlight your

staircase or

wood flooring with woven natural fiber rugs and runners. A jute runner looks great in a long hallway or tacked on a flight of stairs. Natural fiber rugs are inexpensive and easily found in most home stores.
It's Time to Freshen Up Your Fall Decorating. Here's how:
Photo by Annie Spratt via Unsplash
3) Earth Tones and Monochromatic Palette
Earth tones and warm neutral colors are big trends this year and will fit perfectly into your home's autumn makeover. Neutral and earth tone color combinations are endless, so pick the wall colors, furniture fabric, or accessories you love and create the sanctuary you've been hoping for. If you need help choosing, look for inspiration in everyday colors like oatmeal, linen, burlap, brown sugar, rattan, sand, and stone. You can also add warm, muted versions of greens and reds found in nature, like lichen, moss, rust, and copper.
You've probably seen many monochromatic looks over the last year, and you will likely see the trend carry into the coming year. This decorating technique combines colors in a similar color range, for example, variations of warm neutral colors like latte or greige. Add punches of color to monochromatic rooms for easy fall decorating and bring a bit of festiveness to the season change.
Warm oranges and a red-yellows are easy to incorporate into tonal decor, so add your favorite pumpkins, gourds, and foliage to make a temporary color statement. You can also bring in fall colors with woven blankets and pillows.
If you want to stick to the neutral color palette, gather cream and white pumpkins, white dried flowers, and berry wreaths and garlands. You can spruce up a buffet or sideboard or add an unexpected seasonal touch to an interior door.
Invest in new sets of garland for your mantle and archways. Look for strings of neutral-colored wooden beads and miniature felt and fabric pumpkins. Garland made of acorns, twigs, and brown leaves combine the earth tone and wooden trend elements.
Hopefully, cooler nights and the sounds of crunching leaves underfoot have arrived in your hometown. But, even if you're not quite there yet, you can set the mood inside your home with one of fall's most popular decorating trends. Choose your favorite or dabble in a couple to create a look uniquely yours for months to come.