El Paso, Texas, Homes for Sale or Rent Near Fort Bliss
Have you considered what you'd do if the home you've searched for is listed for sale AND for rent? Which option would you choose? It's great to have choices during a home search! This is why the properties featured on MilitaryByOwner's Homes of the Week, El Paso, Texas, edition are listed both For Sale or For Rent.
El Paso is the largest city near Fort Bliss and home to many military families. Deciding which part of the city to call home is often a big consideration. Remove that bit of worry, for now. Take a look at these El Paso homes for rent or sale. Bonus! They're located near desirable amenities such as public schools and popular retail and dining.
El Paso Homes for Sale or Rent Near Fort Bliss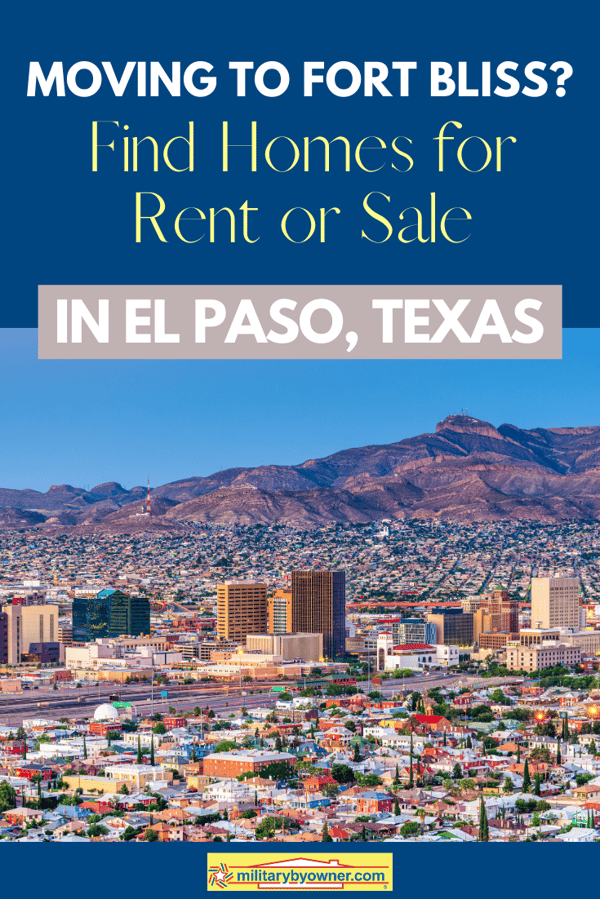 1) Perfect At-Home Lifestyle Near Fort Bliss
MilitaryByOwner Listing MBO1444337
For Sale: $205,000
For Rent: $1,800/mo.
During this time of staying close to home, finding a property that is packed with comfortable amenities is a top priority. If outdoor living is high on your list, this is a property suited for you. A pool, with the option to be heated during the cooler months, is available, as is an attached hot tub. A large covered patio rounds out the ideal space for plenty of time spent outside.
Inside, the downstairs floors are tiled, making for quick clean up, and the entire house is kept completely comfortable because of the refrigerated air conditioning system. A fireplace provides a festive atmosphere and cozy entertainment when the temperatures dip.
Upstairs, the three bedrooms are complemented by large closets that are perfect for extra storage. The master bedroom features a Jacuzzi tub and views of the mountain range from the upper deck.
The home sits at the base of the mountains on the west side of El Paso, convenient to walking trails, shopping, and dog parks.
2) El Paso Home in Prime Location
MilitaryByOwner Listing MBO1460209
For Sale: $137,500
For Rent: $1,400/mo.
Part of choosing a home is finding a location that fits your chosen lifestyle. At less than 10 miles' drive to Fort Bliss, and within 1 mile of both an elementary and high school, daily life couldn't be more convenient living at this property on Tierra Tigre Avenue. The addition of nearby amenities such as a local bakery, Starbucks, and a quick trip to major retail stores, and the home site package is complete.
"Move-in-ready" is music to the ears of those who are looking for an easy transition to Texas. This home is painted in neutral colors to accommodate a variety of personal tastes in home decorating. Low maintenance hard surface flooring is placed in the living and kitchen space, while new carpeting adds warmth to the rest of the home. Refrigerated air adds to the overall comfort factor found throughout the 4-bedroom and 2.5-bath house.
For further ease of living, the house's exterior maintenance is low, as the landscaping is designed to accommodate the Texas climate.
These properties will find new owners or tenants quickly. To find more homes near Fort Bliss, check out the often updated for sale and for rent options that are advertised daily on MiltiaryByOwner.