Get to Know Portsmouth, Virginia
Portsmouth, Virginia, is one of several cities included in the collection of towns known as Hampton Roads. If you or your servicemember is in the Navy, there's a good chance you'll PCS into the Tidewater region, as there are several heavily trafficked Navy installations in the area. There are 13 military installations in this region, including Naval Station Norfolk, Joint Base Langley-Eustis, and NAS Oceana.
Located on the western side of the Elizabeth River, Portsmouth's history is steeped in the industry that surrounds shipbuilding and railroad activity due to its portside location. And because the city was founded by the English over 250 years ago, the city has many historic churches to tour.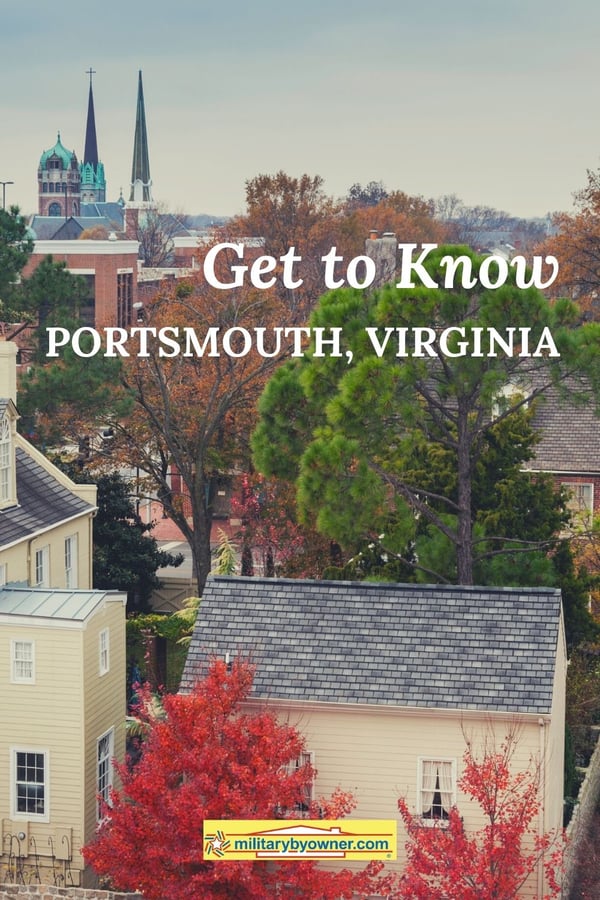 Welcome to the Hampton Roads Area
If this is your first assignment to Portsmouth, the area can be confusing because there are so many military bases within proximity to each other, and all very near or on the coastal waters. To help understand the big picture, Portsmouth is one of nine cities that make up Hampton Roads.
The other cities are Chesapeake, Norfolk, Suffolk, and Virginia Beach. These are considered The Southside of Hampton Roads. Hampton, Newport News, Poquoson, and Williamsburg are located on the Peninsula.

Be aware that bridges and tunnels will be lifelines to daily activities and obstacles to manage regularly, so it's wise to choose a property closest to your assignment. Military members will be stationed on The Southside or The Peninsula, and it's typically easiest to reside in the coordinating location.
Portsmouth Neighborhoods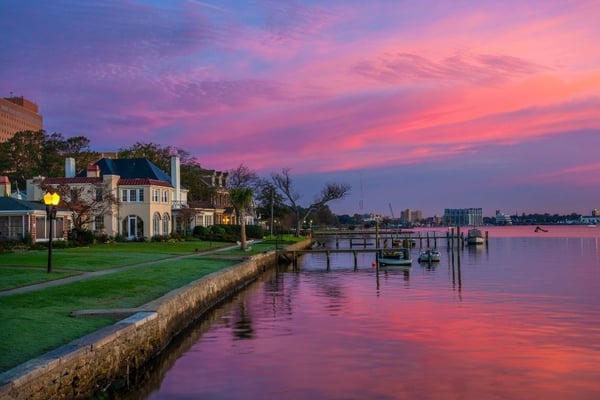 Families assigned to U.S. Coast Guard Portsmouth usually end up in the residential communities located in The Southside, but are eligible for military housing on other installations. Navy families assigned to Naval Medical Center Portsmouth benefit from the same living options as their Coastie neighbors.
Downtown Portsmouth
Like so many downtowns, Portsmouth's city center is a diverse location with multiple sections. Historic and charming features are found in Olde Towne Portsmouth, but so are modern destinations such as the Children's Museum and Sports Museum. Portsmouth Naval Hospital is also downtown and a draw for those stationed at the hospital, thanks to the proximity. Other portions of the downtown area are considered industrial and less desirable.
Commodore Theatre entrance
Long Point and Churchland
One of Portsmouth's desired neighborhoods includes Long Point because this part of town is a quick commute to the Coast Guard base, Naval Medical Center Portsmouth, and Norfolk Naval Shipyard Portsmouth. Although the drive is short, you'll still have access to the daily needs found throughout Hampton Roads. Families like Long Point because there's opportunity to rent or own a well-kept home with yard space.
Other families choose the Churchland area of Portsmouth because of the community feel and access to the schools in this part of the Portsmouth Public Schools System. Churchland Academy Elementary, Churchland Primary & Intermediate School, Churchland Middle School, and Churchland High School are options.
Things to Do in Portsmouth
Keep in mind that the Hampton Roads region is spread out, and many of the popular activities are technically in other cities but only 5 to 10 miles away. For example, the Norfolk Zoo is less than 5 miles away.
Here's a quick look at more of the fun destinations near Portsmouth:
Portsmouth City Park
Children's Museum of Virginia, Portsmouth
Rail Road Museum of Virginia, Portsmouth

Mount Trashmore

Park in Virginia Beach, about 10 miles away
Virginia Beach Ocean Front, about 18 miles
Botanical Gardens, Norfolk, about 7 miles
Virginia Air & Space Center, Hampton, about 12 miles
Get more details about things to do in the Hampton Roads area!
Resources for Further Portsmouth Research
Military Town Advisor (MTA) is a thorough resource for learning the ways of Portsmouth and surrounding military towns. Because MTA has its roots in Hampton Roads, it is the leading site to find the in-depth details about things to do in the area, where to live, and what to expect in and near Portsmouth. Servicemembers and their families share written reviews on their experiences about important issues like schools, commute times, and medical locations.
What could be left to ease the transition? Local and national businesses (like real estate agents and lenders) offer their services directly through MilitaryByOwner. And be sure to download our FREE ebook about the Hampton Roads area below. Learning the lay of the land of Portsmouth, Virginia, will be so much easier with these resources right at your fingertips!
Some images via City of Portsmouth