The Accidental Military Landlord
In this post:
Not everyone is cut out to be a landlord. But while many landlords approach property rental with a well-thought-out plan, others become landlords by circumstance, such as military families who choose to rent out their homes due to a PCS move.
Even if you find yourself unexpectedly thrust into the role of a landlord, it doesn't mean you can't navigate it successfully. In this post, we'll explore the concept of an "accidental landlord," provide tips for success, and highlight the potential benefits.
To get started, we recommend utilizing our comprehensive resource: A Guide for the Unexpected Military Landlord.
Next, take a moment to watch the brief video below featuring Karen Hall, Realtor to the Military, and then continue reading for further tips and insights!
What is the definition of an accidental landlord?
Essentially, both a landlord and an accidental landlord have the role of managing real estate properties. However, their journeys to becoming landlords differ.
A traditional landlord is typically a homeowner who acquires a property or primary residence with the intention of eventually renting it out. They anticipate this move and develop a plan accordingly, particularly when they receive Permanent Change of Station (PCS) orders in the case of military landlords.
On the other hand, an accidental landlord is someone who unexpectedly finds themselves in the role of a landlord without prior planning or preparation. But how does one stumble into this role?
There are several scenarios in which military homeowners may find themselves becoming accidental landlords:
Unexpected Short Notice Orders
Sometimes, PCS orders or deployment notice can arrive with less time than anticipated. In a situation like this, a homeowner might not have sufficient time to complete necessary updates and sell their home at a fair market value. As a result, renting out the property becomes a viable option.
Moving Outside Peak PCS Season
The ideal time to sell a home is typically in the spring and early summer, which aligns with the peak PCS season. However, if military homeowners find themselves relocating during a different time of the year, selling the house outside this timeframe can be challenging and may lead to financial losses. Renting the property instead might make more sense.
Slow Selling Process
Even if homeowners have ample time to prepare their house for sale before their move, there can be additional obstacles. For instance, the home might not sell quickly enough to align with the military member's next reporting date. Factors like a failed inspection or appraisal, such as can happen when selling to a VA home loan buyer, can further delay the process, exceeding the homeowner's timeline. In such situations, renting out the property becomes a practical solution.
A Buyer's Market
When selling the house at the present moment would not generate a profit or may lead to financial loss, but there is potential for increased value in the future due to a rising market, homeowners may choose rent the home instead. This allows them to retain ownership of the property and potentially earn more money when real estate market conditions become more favorable.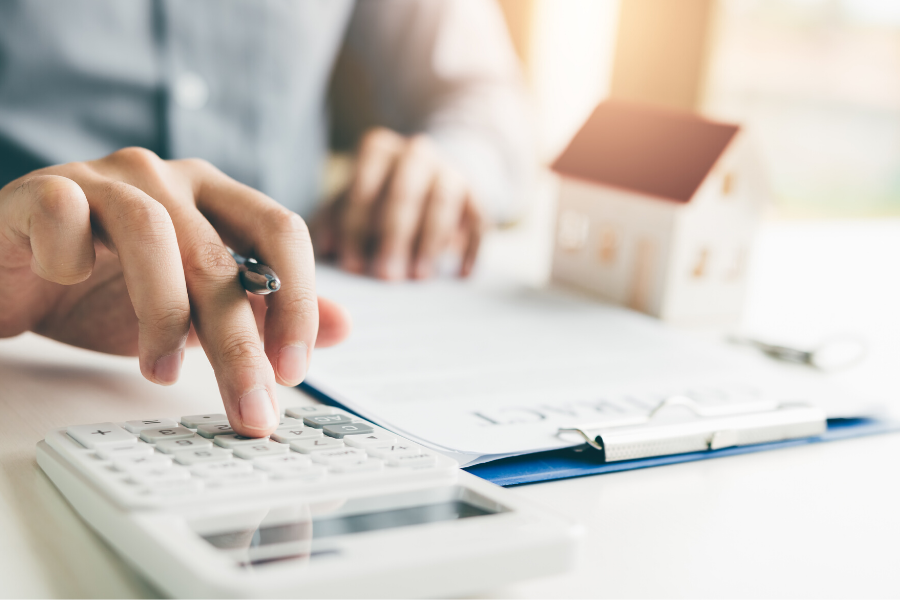 Photo from Canva
Benefits of Becoming an Accidental Military Landlord
While the term "accidental" may suggest otherwise, becoming an accidental landlord as a military homeowner can bring several advantages for your finances and future. Here are some key benefits:
1) Passive income.
Generating a secondary source of income can be challenging for military personnel. By retaining your primary residence and renting it out to fellow military families relocating to the same duty station, you can establish a stream of passive income.
Consider factors such as mortgage payments, insurance, property management, fair market value, and monthly rent to ensure positive cash flow. If you need guidance, connect with Active Duty Passive Income for valuable insights on creating additional income while serving in the military.
2) Growing equity.
Becoming a landlord provides the opportunity to maximize the value of your property. Generally speaking, the longer you hold onto your property, the more equity you build. When combined with favorable market conditions, you have the potential to significantly increase your profit when it comes time to sell your home.
3) Potential return to this location.
It's not uncommon for military members to receive orders to a duty station more than once. If your property is located near a popular military installation that you may revisit in the future or choose to retire near, already owning a home may help facilitate a smooth transition.

Photo from Canva
Tips for Success as an Accidental Landlord
1) Prepare financially.
Running a rental property requires proper financial planning and budgeting. Consider the following expenses:
Property management fees (if applicable)
Landlord insurance
Home warranty
Emergency fund for repairs
Maintenance costs
For more guidance, refer to our resource on: Tips for Managing Your Rental Property's Finances.
2) Get organized.
Set yourself and your tenants up for success by gathering all relevant information about the property. Create a rental home binder containing copies of the lease agreement, your preferred contact information, walk-through documents, warranty details, appliance manuals, and keys (including those for the garage, storage units, and mailbox if applicable).
3) Prepare the property.
Getting the house ready for tenants is similar to prepping it for a home sale. Give attention to the following:
Fill holes and repaint walls
Clean or replace carpeting and flooring
Repair or replace broken appliances
Clean and improve outdoor areas such as the deck or patio
Overall deep cleaning of the property
Ensure that all necessary repairs and replacements are completed before handing over the keys to your new tenants. Refer to our guide on How to Prepare for Tenants for additional details.
5) Search for tenants.
Finding the right tenants is crucial for a successful rental property. Some steps to start:
Seek referrals
Conduct background checks using tenant screening services like TransUnion's SmartMove
Request prospective tenants to complete rental applications
Familiarize yourself with the Fair Housing Act
For expert tips, see Tenant Screening Tips for Landlords.
6) Identify your goals.
Determine your long-term plan for the property. Are you considering renting it until the market turns and you can make a profitable sale? Do you intend to keep the property as a long-term investment for continued passive income? Or are you simply playing it by ear as you watch how the real estate market unfolds over the coming years? All are reasonable approaches, but understanding your goals will guide your decision-making process.
Learn more about landlordship as a military member through our resources like Becoming Your Own Property Manager and Everything Renters and Landlords Should Know About the SCRA and Military Clause.
Remember, you are not alone in this journey! While being an accidental landlord might not have been your initial plan, with the right approach, you can turn this situation into a positive one.
Embrace the landlord life and download our free resource below for additional tips and guidance tailored for military landlords.