Your PCS Move to Camp Pendleton, California
If military life has you headed to Camp Pendleton, California, we're here to help! Come along for a quick overview of this bucket list duty station.
First, take a look at this video, then read on for more details for your PCS move to Camp Pendleton.
Camp Pendleton's Location
Located along the picturesque West Coast, Camp Pendleton is a sprawling Marine Corps base that stretches from the charming town of Oceanside to the coastal beauty of San Clemente. Spanning over 125,000 acres of untouched Southern California terrain, this location offers a unique blend of mountains and natural landscapes.
Situated just 38 miles north of downtown San Diego and 82 miles south of Los Angeles, Camp Pendleton provides easy access to nearby cities like Oceanside, Carlsbad, Fallbrook, Vista, San Marcos, Escondido, and San Clemente.
Camp Pendleton is the largest military installation in Southern California. Other nearby bases include: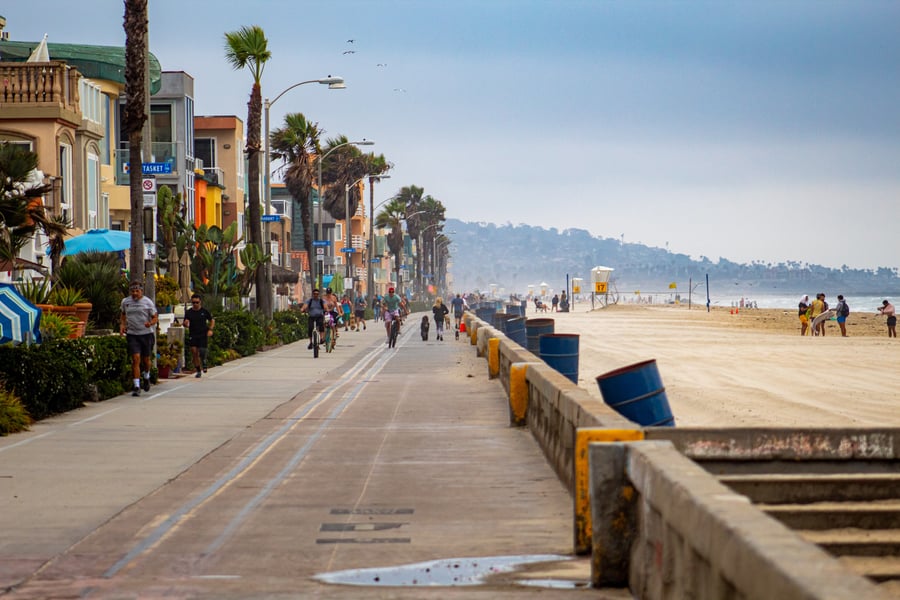 Mission Beach in San Diego. Photo by Sean Mullowney on Unsplash
The San Diego area extends from Mexico to Orange County. This geographically diverse area includes coastline, mountains, and desert, along with downtown areas like San Diego, Chula Vista, Escondido, La Jolla, and Carlsbad. San Diego is about 20 miles north of Tijuana, Mexico, so you'll notice the Mexican influence on food and culture.
Camp Pendleton is quite large in land size, about the size of a large county. See the map below for reference. Before you make a housing decision, determine where you'll be working on the base. (More on this below.).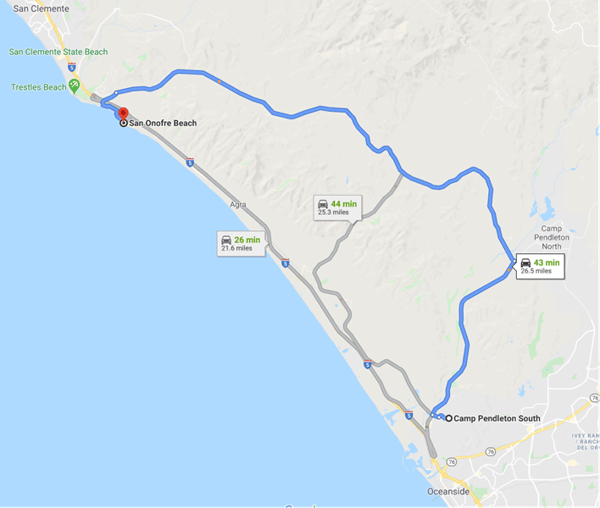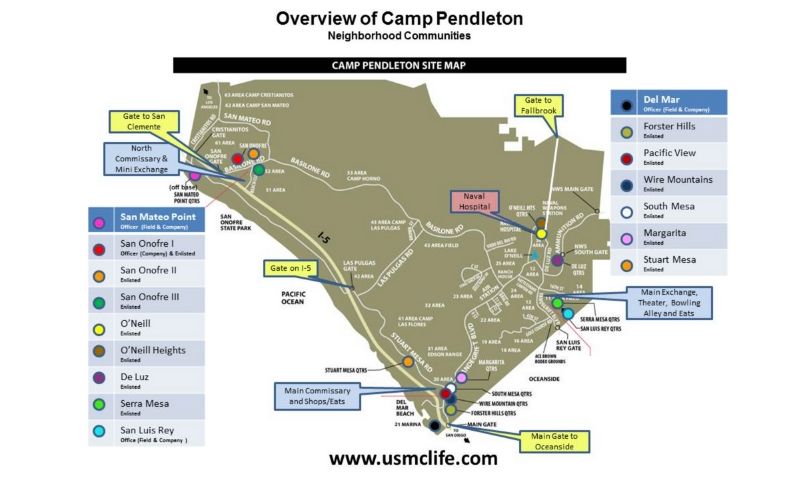 Image from USMC Life
Camp Pendleton Housing
Knowing where the military member will work on base is important before you start your home search, as commutes will vary widely depending on which part of the base you're assigned. See the map above for locations of base gates.
Military housing is privatized and managed by two companies: Liberty Military Housing and Hunt Military Communities. You'll find 23 different neighborhoods across the base.
If you're in search of the perfect place to call home during your time at Camp Pendleton, you'll find many housing options in nearby neighborhoods that are popular with military families. Be prepared for a higher cost of living in Southern California!
Search by city on MilitaryByOwner:

Life at Camp Pendleton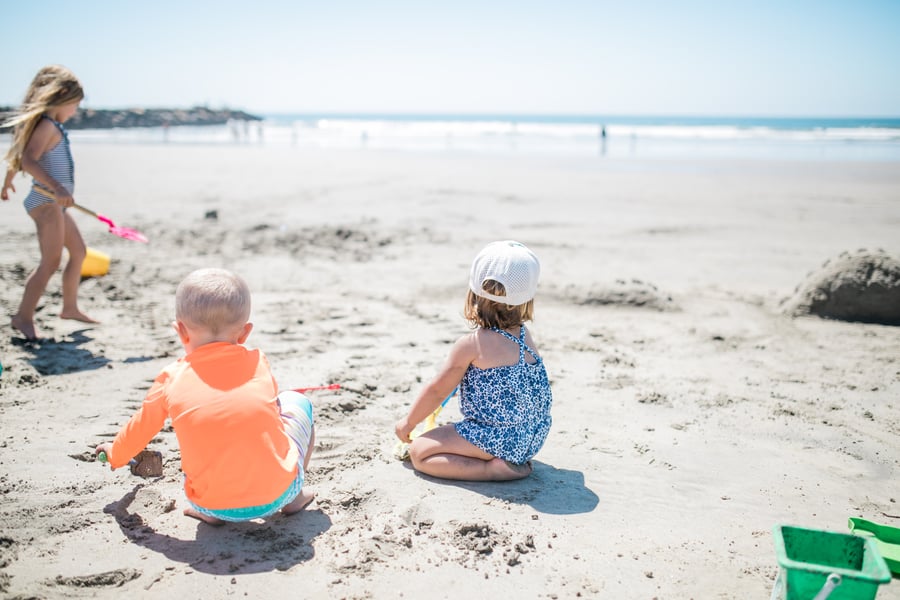 Oceanside, CA. Photo by NeONBRAND on Unsplash
Military Family Life
There are more than 42,000 active duty service members stationed at Camp Pendleton, along with 38,000 family members.
For military spouses living at Camp Pendleton, the Southern California area offers a wealth of employment opportunities. With many companies actively seeking to recruit and employ military spouses, you'll have a good chance of finding a job that suits your skills and interests.
In addition, there are numerous non-profit organizations that offer volunteer opportunities, providing a chance to give back to the community. If you're interested in furthering your education, there are plenty of local options for higher education. And don't forget about the vibrant social scene, with numerous social groups and organizations to join.
Take advantage of these resources to make the most of your time at Camp Pendleton!
Things to Do While You're Stationed at Camp Pendleton
Embrace the incredible Southern California lifestyle with its iconic sun, sand, and water! Explore the stunning beaches and take advantage of easy day trips to popular destinations like Big Bear Lake, Hollywood, or Joshua Tree National Park.
You'll find endless opportunities for outdoor adventure and unforgettable experiences. So, get ready to create lasting memories in this beautiful part of the country!
Here are a few ideas to start:
Grab our free San Diego guide for more information:
Camp Pendleton Schools
Camp Pendleton has five schools located on base: North Terrace, Santa Margarita, and Stuart Mesa Elementary schools located near the main gate, San Onofre located near the San Onofre Gate, and Mary Fay Pendleton Elementary School located in Camp Pendleton North.
These schools are run by local school districts and are not part of the DoDEA system. Those living off base will likely fall under one of the nearby counties, San Diego, Riverside, and Orange, which have multiple school districts.
Connect with the MCB Camp Pendleton School Liaison Office for more information about area schools, including "school of choice" options, homeschooling, charter, and private school options.
There's so much more to know before your PCS move to Camp Pendleton! Visit our extensive Camp Pendleton base information page for more in-depth resources.
Looking for a home at Camp Pendleton? Take a look at our constantly updated inventory of homes below.