3 Getaways for Florida Locals
Florida is a popular vacation spot for visitors from all over the world seeking sun and sandy beaches. But if the military has sent you to live in Florida, where should you go for your getaways?
Try these three ideas for military families stationed in Florida, whether you're at Eglin AFB, Naval Air Station Pensacola, MacDill AFB, U.S. Southern Command, or one of the other many military installations located in the Sunshine State, and then venture out even further!
1) St. Augustine
Founded in 1565 by Spanish explorer Don Pedro Menendez de Aviles, St. Augustine bears the title of our nation's oldest city. It is rich in history and still has distinctive Spanish architecture.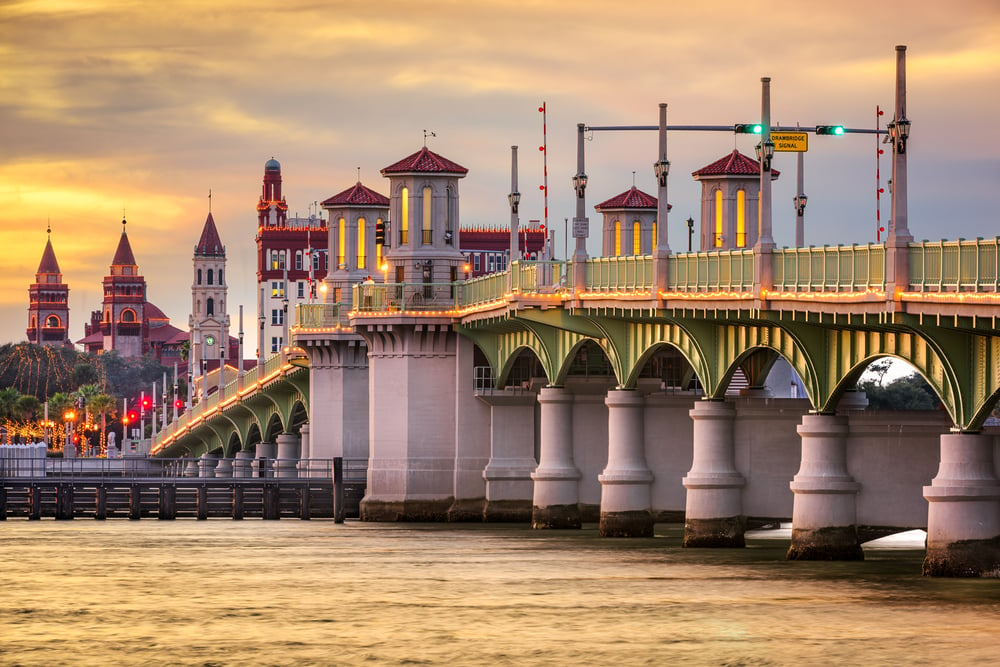 St. Augustine, Florida, city skyline and Bridge of Lions. Photo from Shutterstock.
Top attractions include:
Castillo de San Marcos
This iconic stone fortress was built to defend St. Augustine from attacks by the British and pirates. It changed hands a few times before it was given back to the United States. Now the 21-acre fort is a National Monument that you can visit and tour.
Fountain of Youth Archeological Park
While this park is best known for the fabled "Fountain of Youth" spouting from a natural spring, it has important archaeological significance. Visit the park to see more than a dozen exhibits, including excavations that date back more than 1000 years before the arrival of the Spanish.
Colonial Quarter
Located within St. Augustine's lively historic center, the Colonial Quarter is a two-acre "living museum" designed to introduce visitors to life in St. Augustine during the 16th, 17th and 18th centuries. It's complete with historical reenactments and tour guides wearing traditional colonial dress.
You have many choices for lodging in the area, including hotels in the historic center, beachfront lodges, Bed & Breakfasts, and campgrounds. If you want to visit St. Augustine as a day trip, you can stay in military lodging at NAS Jacksonville (about 45 minutes) or NAS Mayport (about an hour). Both bases have a Navy Lodge, recreational cabins, and nice FamCamps.
2) Everglades National Park
This national park in southern Florida boasts the largest subtropical wilderness in the country. The Park encompasses 1.5 million acres and has four visitor centers in different locations. Plan your visit based on your starting point and what you want to do while you're there.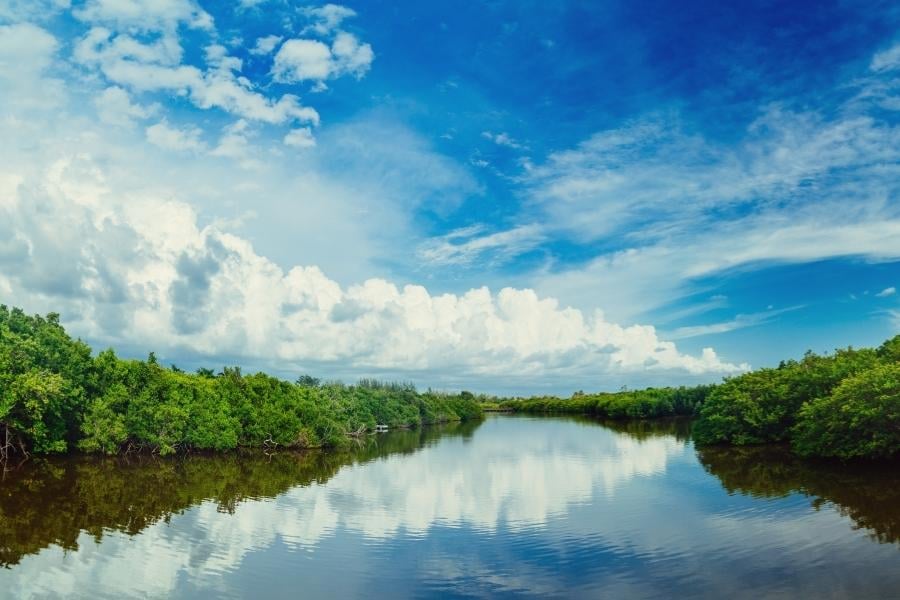 Everglades National Park. Photo from Canva.
The Shark Valley entrance closest to Miami offers a tram tour, plus a 65-foot lookout tower. The Gulf Coast entrance at Everglades City is the place to go if you want a guided boat tour. Royal Palm is the main park entrance near Homestead and has many walking paths, including Anhinga Trail, a boardwalk trail that is among the most famous in the park.
Throughout Everglades National Park, you can do nature walks, bike, paddle, and see tons of interesting wildlife, including turtles, alligators, crocodiles, manatees, and many species of birds.
A fun way to experience this National Park is by staying at one of their campgrounds. Other accommodation options vary depending on which park entrance you plan to use. You can also search Armed Forces Vacation Club so see if they have any vacation rentals convenient to the Park.
3) Disney + Space Coast
While stationed in Florida, a Disney vacation is an obvious choice, especially if you have children. But if you can convince the kids to spend only a day or two at Disney, you can easily incorporate other cool Florida destinations, such as the Space Coast, into your getaway!
Florida's famous Space Coast is only an hour east of Disney World. Of course, this is the place to be to watch a rocket launch, but there's plenty to see and do at any time of year.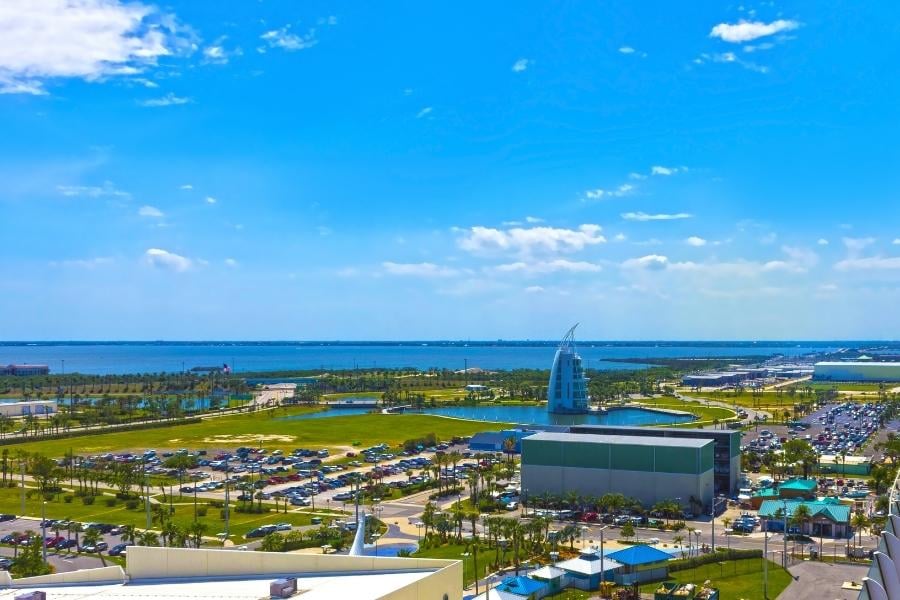 Aerial view of Port Canaveral. Photo from Canva.
At Kennedy Space Center, learn all about the history of space travel, see the Space Shuttle Atlantis, or do the Astronaut Training Experience. This giant complex offers so many exhibits that you will need at least a full day to explore them all.
Another cosmic-related attraction is the American Space Museum in Titusville. It's a smaller museum with galleries focused on various topics, such as Women in Space and Cape Canaveral. Also, don't miss the Space Walk of Fame in Space View Park, which features monuments honoring important contributors to the U.S space program.
Besides attractions related to space exploration, there are plenty of other things to do along this beautiful coast, including many waterfront activities, beautiful beaches, and Merritt Island National Wildlife Refuge.
As for where to stay, one very central location available exclusively to military travelers is lodging on Patrick Space Force Base. Options include the popular Manatee Cove Family Campground, beach cottages, and regular base lodging at the Space Coast Inn.
Another unique spot for military ID card holders is the KARS Park campground on Merritt Island. The facility belongs to NASA but was made available to military personnel and is in a prime location!
Looking for Disney military discounts? Learn more before your trip to Disney World!
When planning your Florida getaway, remember that members of the military community get free access to National Parks and Monuments with the America the Beautiful pass. Also, explore your options for affordable lodging, including campgrounds and recreational facilities on military bases as well as the Armed Forces Vacation Club. All of these money-saving opportunities can help you make the most of your time in the Sunshine State without breaking the bank!
This post is part of a travel series highlighting getaways and travel tips for military families living in different parts of the country. Find the rest of this series here:
Get even more military travel tips, information about Space-A flights, resources, and discounts with our free guide below!