What Dog Owners Should Know About Homeowners Insurance
One of the few joyful outcomes of stay at home and work from home orders is the clearing of animal shelters and the uptick of homeless dog adoptions across the country. With more time on their hands and love to give, families are introducing dogs into their homes and neighborhoods at a record pace.
With the excitement of adding a new member to the family, it's easy to forget that taking on this responsibility could require adjustments to your homeowners insurance. Or, if you've never owned a dog, it's probably never crossed your mind to talk with your provider to find out if coverage is required.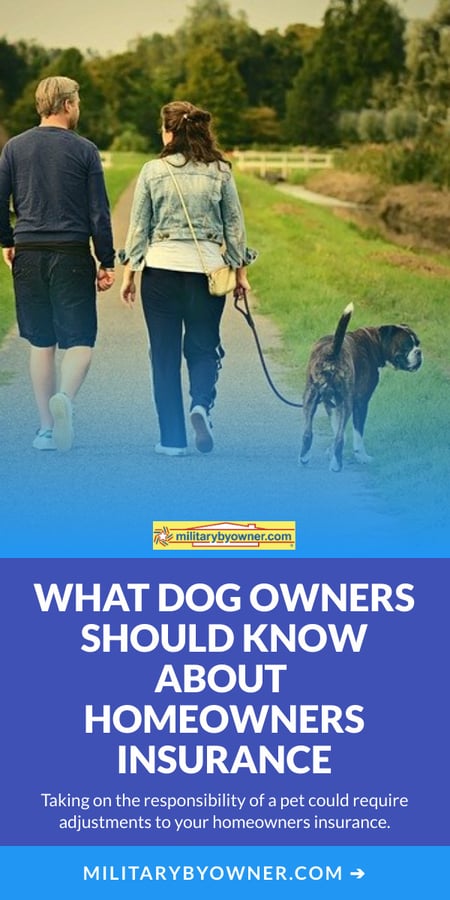 What Dog Owners Should Know About Homeowners Insurance
To be on the safe side, check your current policies and prepare to make adjustments. If an incident occurs, and your homeowners insurance does not include dog liability, the out of pocket costs and potential lawsuits could be devastating. Here's why adequate homeowners insurance is so important.
The American Veterinary Medical Association cites:
"In 2017 there were nearly 350,000 people treated at hospital emergency rooms for non-fatal dog-related injuries.
Of those people, there were nearly 10,600 children two years old or younger who visited emergency rooms as a result of dog bites​."
Although most dogs are thrilled to have their family at home, there are some who are not used to the excitement, especially if their human brothers and sisters are young and typically with out-of-home care or in school during the day. If your dog isn't used to so much quality time and isn't given a chance to escape, unfortunate bites could occur.
While it's widely agreed that most of these bites are preventable with advanced education, (there are even dedicated dates in April each year to promote National Dog Bite Prevention Week) the number of incidents and their payouts paint an expensive picture.
This is what the Insurance Information Institute reports on dog bite liability:
"The average cost paid out for dog bite claims nationwide was $44,760 in 2019, up from $39,017 in 2018. The average cost per claim nationally has risen 134 percent from 2003 to 2019, due to increased medical costs as well as the size of settlements, judgments and jury awards given to plaintiffs, which are trending upwards."
These numbers make the case for adequate liability coverage within your homeowners insurance. Your well-intentioned dog rescue could become very expensive if you're not prepared.
What Pet Damage Is Covered By Homeowners Insurance?
The majority of policies focus on liability coverage, meaning the insurance will help pay if your dog bites someone or damages their property. If an incident does occur, an investigation to prove liability is performed to reveal who is truly liable.
There are documented cases when it's been revealed a dog bite was provoked and the homeowner was not held liable. However, if the dog was at fault, policy coverage typically includes medical expenses, legal fees, and payment for the victim's lost wages due to the injury.
Liability limits usually range from $100,000 to $300,000. If the settlement goes beyond that amount, the homeowner is culpable for the remaining costs. It's worth noting that homeowners policies do not cover the damage a dog might make on your own house: chewed drywall or destroyed personal property, such as a couch.
Banned Breeds and Homeowners Insurance
It's not uncommon for military families to choose to buy a home if they own dogs that are frequently placed on banned breed lists. The options for rental homes on and off base are significantly reduced, so a home purchase, including the necessary homeowners insurance, becomes the best solution.
Learn more details in our post, Dog Breed Restrictions for On-Base Military Housing.
Did you know that, in some states, insurance providers are allowed to deny coverage to homeowners who own dogs on a banned breed list or have a history of biting? While the majority of states legislate against this discrimination, some banned breeds may be considered for coverage on a case-by-case basis. Owners may be asked to have documentation of training sent to the policy provider. Dogs who are not on a traditional banned breed list are normally covered without in-depth documentation.
According to ValuePenguin, a subsidiary of Lending Tree, State Farm, USAA, and Einhorn, insurance companies are dog friendly, considering the personal history of the dog instead of the breed, but they could charge more for the coverage. Conversely, Farmers, GEICO, Nationwide, and Allstate have all made a public point to mention they actively consider the dog's breed before offering a policy.
State laws and policies vary across the country; it's exceptionally important to review your policy before taking on a new dog.
Here's a look at dog breeds that are often denied coverage or held to a higher premium cost.
Akita
Alaskan Malamute
Cane Corso
Chow Chow
Doberman Pinscher
German Shepherd
Great Dane
Mastiffs
Pit Bull Terriers
Presa Canario
Rottweiler
Siberian Husky
Staffordshire Bull Terrier
Wolf Hybrids
If one of these breeds is part of your family, and your existing policy doesn't cover their liability, comparison shop with other companies. Each has its own set of standards. Or, you may find success in purchasing dog-specific liability insurance or umbrella liability coverage.
Renters Insurance Coverage for Dogs
Much of the homeowners insurance information is the same for renters who own dogs, but it's always wise to review a renters policy before purchase. They don't necessarily include liability for dog bites and could require more insurance coverage. In competitive rental markets, an insurance policy on a dog often offers an advantage over other applicants vying for the same home—landlords like to avoid as much risk as possible.
Are other pets covered?
Pet policies related to animals other than dogs are usually needed for animals who fall under the exotic pet category. There's a resource insurance providers use, the Exotic Pet Species Index, to help determine if your exotic animal is covered.
Wanting an exotic pet in military housing? Learn more: Is Your Exotic Pet Allowed in Military Housing?
As you might guess, housing tigers, monkeys, and snakes is probably not covered under a typical policy. You'll probably have to purchase a policy written specifically for exotics. Expect high premiums and the highest liability option amount. Exotic owners should also note that many states ban ownership of these animals altogether and liability insurance will not be available.
Pets are an important part of family life, especially for military families who derive continuity and comfort from their dogs while moving from home to home. Protect yourself and their well-being with homeowners insurance suited for your situation.
Need more information about pet care while in the military? MilitaryByOwner has resources and blogs customized for finding a home with a pet, traveling with animals in tow, and even decorating with pets in mind!