What to Expect When You Close on a Home
You're about to close on your home. And whether you're a home buyer or seller, you're likely facing the closing as being exciting, overwhelming, and exhausting! Trying to understand the jargon and compute the enormous numbers tossed out during settlement can put the average home buyer or seller behind the curve.
Prepping ahead of closing day is the best tactic to push back nerves about the settlement process. The majority of closings do go well, but acknowledging the fact that financial transactions are loaded with opportunities for mistakes is an advantageous state of mind to linger in. Someone's first week on the job, time zone changes, and even a flip flop of numbers are common pitfalls, but they aren't obstacles that can't be overcome—even from afar.
As a service member or military spouse, you've practiced for this uncertainty, likely multiple times. Think of closing day as if it were similar to the weeks before a deployment; prepare for the best, but anticipate the unexpected!
What to Expect When You Close on a Home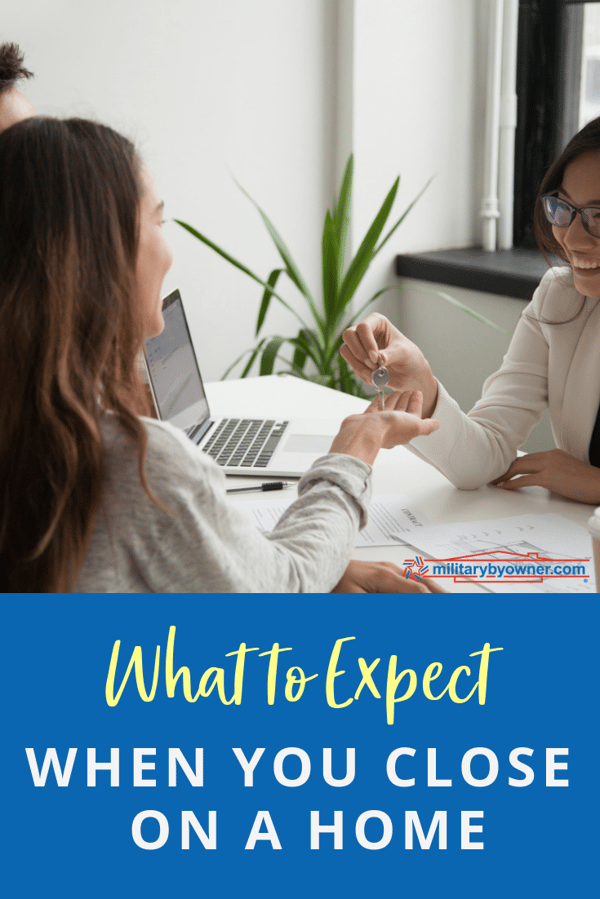 What Does a Perfect Closing Look Like Anyway?
Perfect is relative of course. While you may have the home seller, agents, attorneys, lender representative, or the title company representative present (exactly who depends on your state), these days the buyer and seller often close separately. If a remote closing is optimal, then perfect looks like e-signing documents on the couch at home!
But, for argument's sake, here are the standard tasks to accomplish in one closing day. These tasks are assuming that the closing prep work has been done and nothing unusual was found to hold up the process. Ideally, both parties and their representatives have all of the paperwork and items required on hand.
Home Buyers: Bring documentation of homeowner's insurance, copy of the contract, home inspection reports, and all the evidence the bank required to approve the loan. A photo ID with the exact name that will appear on the property's title and mortgage is necessary. Settlement is also time to come up with the down payment and closing costs, if not already part of the contract. Wire transfers and cashier's check are standard. Personal checks cover small unforeseen payments.
Home Sellers: Bring photo ID, copy of ratified sales contract, and keys: house, garage, gate, and pool. If closing costs are not deducted from the sale's price, then have a cashier's check or proof of wire. Remember, a wire transfer could take days to clear.
Expect lots of signatures and then finally—gratified grins throughout the room!
Related: Making an Offer & Closing on Your New Home
Typical and Atypical Problems During Closing
For Sale By Owner
Although real estate agents are highly recommended for most buyers and sellers, some For Sale By Owners feel equipped to go through the process without a real estate agent's guidance. At closing time, the seller is probably legally bound to hire a closing agent, also known as an escrow or settlement agent. This requirement varies from state to state.
The closing agent doesn't work on behalf of the seller, per se, but on behalf of the transaction to ensure all goes well--from document signing to disbursement of payments. Also note that some states require a real estate attorney to work alongside the closing agent. Like the closing agent, the attorney is hired to represent the transaction to keep it lawful, not to represent the seller as a person.
Less than 20% of real estate transactions forgo real estate agents, so chances are that closing will be facilitated by experienced agents to push the process along.
Potential Complications During Pre-Closing Tasks
Unexpected problems will occur. They might be small, such as misspelling, or they could be more time consuming, such as if a family member lays claim to the property about to be sold. Oddities like cancellations due to health concerns or accidents are not unheard of either.
For reference, EllieMae's Origination Report says that the number of days it took to close in July of 2018 ran about average, although rising slightly, at 43 days.
Walk Throughs
A buyer's contract typically allows for a walk-through period before the settlement, usually 24 hours before the closing date. Disputes form when the buyer inspects the house and sees that the agreed-to fixes to the issues found in the home inspection are not complete or if the general condition of the property isn't in the state the two parties signed off on. OR, if you're really unlucky, the seller and their belongings are still in the house. This is a big deal unless it is part of a preauthorized rent back arrangement.
Title Search
If a title search reveals conflicts in public property records, it will halt closing proceedings. Liens and transfer difficulties stemming from divorce, death, or unpaid taxes can also pop up.
Title insurance is available for lenders and for homeowners. Mortgage lenders mandate home buyers purchase title insurance for protection of the lender against unforeseen claims found during the title search. Title insurance for homeowners is not required, but most real estate pros suggest that buyers take advantage of the protection.
Appraisal and Financing Contingencies
These are two ways the buyer can legally leave the contract. If the appraisal comes back valued at less than the sale price, the buyer's earnest money is not lost if they choose to forgo buying, but the deal might be over.
A basic tenet of real estate is that the mortgage has to come through to afford a house. If it does not, and the buyer has a financing contingency, they may withdraw from the contract.
Underwriter Findings
It's the job of an underwriter to check and double check the facts of the home buying process. Credit scores, financial portfolios, and the home appraisal are investigated. If the buyer gets too excited and decides new furniture for the entire house is a great idea right before closing, this could impact their financial scores by changing their debt-to-income ratio, potentially postponing the initial settlement date.
Closing Disclosure Discrepancies
Buyers receive a closing disclosure or a HUD-1 settlement statement in an effort to oversee the exact figures for mortgage payments, closing costs, and loan terms. If there are discrepancies within the document, it will take time to correct. The loan's interest rate and duration terms are often where mistakes are made. Your lender is in the hot seat to answer questions that you have comparing the initial loan estimate and the closing disclosure.
Odds and Ends
When going through the home buying process, it likely doesn't occur right off the bat to investigate the seller's standing with their current Home Owners' Association. But, fees or fines that aren't paid by the owner could challenge the closing date timeline.
Some companies and individuals just take their sweet time verifying important information like employment or residential histories. The same is true with all parties involved with the closing date. Scheduling multiple people is always a feat, especially if a military schedule is involved.
If the buyer is self-employed, extra documentation is required by the mortgage lender to ensure the health of their finances. The lender may even come back and ask for a larger down payment, practically guaranteeing a pushed-out settlement date. Also, tack on extra time if the homeowner is in foreclosure. It's standard to take up to 10 days to get a payoff from the mortgage company.
Related: Do You Know About These Rebates and Incentives for Military Home Buyers and Sellers?
Service Members Benefit from Remote Closings
Traditionally, sellers had the option to avoid closing appointments by pre-signing necessary paperwork and directing the proceeds straight into their bank accounts. More and more, however, home buyers are taking advantage of technology and avoiding settlement appointments in an office as well.
Unless a real estate professional makes a living serving military buyers and sellers predominantly, they are likely more familiar with remote transactions because their client is buying a second or vacation home or the client is primarily a real estate investor. The geographic separation makes it difficult to attend closings, both in financial and practical terms.
Military buyers are in the same boat, not necessarily for investment purposes, but simply to put a roof over their family's head before a PCS. Not everyone can afford to take several days off to fly into another city to attend closings that may or may not run over schedule. Deployments, TDYs, and myriad military related unknowns can throw a wrench into planned closing day activities.
If a service member is considering a remote closing, it's imperative they seek an experienced real estate agent. The agent will need to be familiar working within non-traditional business hours and know how to handle time zone differences as their clients could be stationed internationally.
During a remote closing, the agent will send all of the pages of the contract to be verified by an e-signature system. Closing attorneys still require physical signatures, so the agent will also work with the attorney to find the best mailing solutions.
Buyers beware, however. The purchase paperwork is plentiful in real estate language that for most, is unfamiliar. Questions are normal, but without direct communication, worry will rule, especially for first time buyers unversed with the process.
Remember, more than most closings run smoothly because true real estate professionals try their best to avoid foreseeable problems. The hard work lies in the preparation. But, buyers and sellers are going to have their very own experience each and every time. This might mean unknowingly using an inexperienced loan officer or miscalculating federal holidays and bank hours across the country.
Part of your research before buying or selling a house should start with the free ebooks MilitaryByOwner has prepared. Each has more than enough information to get readers set up for a successful transaction. Inside, the nuances of military life are addressed by offering advice researched specifically for service members and their families.