Why Isn't My Home Selling?
This is a tough question many homeowners ask. You might find the answer if you have a crystal ball. But in the absence of that, a mirror might come in handy.
You have a personal relationship with your home, and you may not see things as clearly as a potential buyer. Almost like a good long look in the mirror at ourselves, sometimes that unflinching stare can reveal flaws or weaknesses that we don't really want to see. Hold up the mirror to these five areas to consider, and don't blink!
What About My Home Is Keeping Offers Away?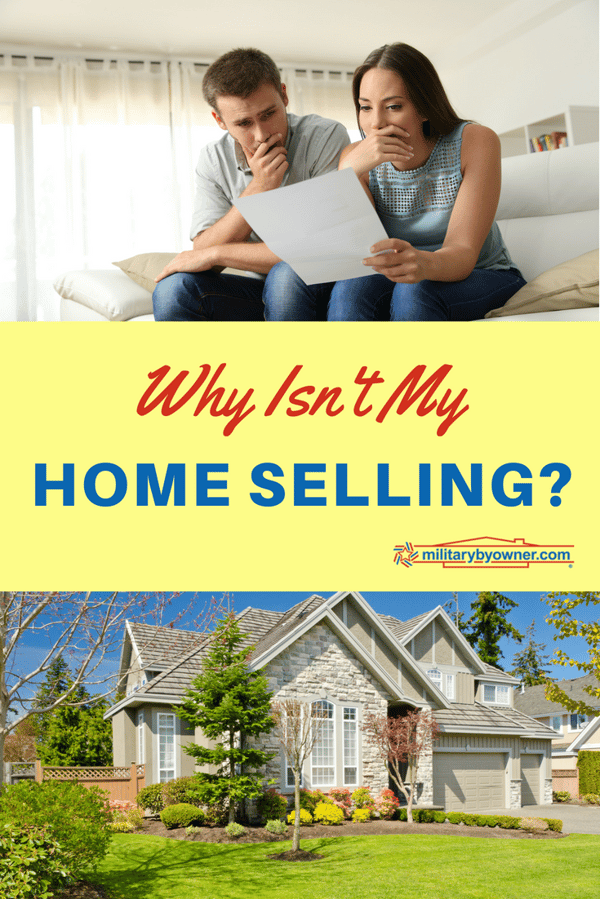 1) Improvements or Repairs Needed
Stand in front of your home and look at it like you've never seen it before. Use that scrutinizing eye to see if it needs updates like a paint job, trim repaired, or perhaps screens or blinds fixed. Walk in the front door. Don't look at the decorating; look at the bones of the house. Are there stained carpets? Broken cupboards? Loose railings?
Often, we live with things every day that become invisible to us. Hold up your mirror and look hard. Most new homeowners want a house that is move-in ready. The prospect of having to do repairs on a home they just purchased may turn many of your buyers off. To help this problem before you put your home on the market, review these lists of repairs or improvements:
2) Not Staged
Now that you've set the foundation by improving or repairing what you can afford, set the stage. Ever been in a model home? That's the competition. Your goal is to
make your rooms feel bigger and
useful.
First rule to note:
Empty rooms feel small. Cluttered rooms feel small.
Small usually translates to "my stuff will never fit"!
Don't photograph or show your home with empty rooms if you can help it. You can even hire "staging" furniture, if you have to relocate before your home sells. If it's still your residence, rent a storage unit and start moving everything into it that you don't need immediately. Take everything out of every closet that you can live without. Leave the garage with just the basics that make it look useful and remove all of the extra furniture that might make a room feel crowded.
Once you've moved out the big stuff, walk around with packing boxes and clear all the horizontal spaces. Remove appliances from the counters that you don't use every day. It may be time to clear tables, bureaus, mantels, and shelves of all but a minimalist decorative touch.

If you have decorating tastes that run far from the neutral category, consider a fresh coat of paint or removing that 1,000 piece ancient Turkish art collection. Buyers need to be able to envision their furniture in that space
Get more ideas:
3) Bad Photographs
Home listings with a good assortment of photographs get noticed!
Take quality photos
or hire a professional photographer.
Here are a few tips:
Unless your bedrooms differ from one another significantly, just shoot the master bedroom or largest bedroom.

Take exterior shots of your house on a ladder or standing on top of your car! Take the front shot when the front door is lit by the sun.

No pictures of hallways or narrow spaces!

The kitchen is very important to buyers. Take photos from different angles to show off improvements.

Don't let the flash be seen in a mirror reflection… or yourself!
Stand back as far as possible to make rooms feel large. Shoot two walls only, with a bit of floor and ceiling. Shooting three walls creates a shoebox effect.
Turn on as many lights as possible and fill in dark areas with work lights.

Consider using props, like a plate of cookies on the counter or folded towels positioned perfectly on the beautiful tub.
Get more photo tips:
4)

Not Enough Marketing

Turn that mirror away from the house and start looking at your business decisions. Start with your marketing. Have you utilized your marketing budget to get your house noticed? MilitaryByOwner is an incredibly effective and an inexpensive way to advertise your home to the military community.

But, like all real estate experts, we recommend that you utilize as many resources as you can within the budget you have to advertise your home.
Create four-color flyers containing several photos to distribute to prospects and those who tour your home.
Create a virtual tour.
5) Not Priced Right for the Market
Now the million dollar question--is your home priced to sell? You may have a threshold set by your remaining loan balance or capital investment in the home that skews your perception of what the home is worth.
Consider the current markets. Your information about what a home sold for just a few years ago may wildly distort your expectations. It's essential that when pricing, you set emotions and perceptions aside and deal only with the facts.
1. Look at every similar home that was or is listed in the same neighborhood over the past six months.
Note neighborhood dividing lines and barriers such as major streets, freeways, or railroads, and only compare inventory in your area. Perceptions and desirability have value.
Compare similar square footage, within 10% up or down from the subject property.
Keep the age of the homes in mind. Find comparisons as close in age as possible.
2. Compare original list price to final sales price to determine price reductions.
Note how long these homes were listed before they got their bite! Be a detective. Were these homes overpriced? Or maybe under marketed? Do you see a pattern to the homes that didn't sell, such as location or who listed it?
3. Research homes that are your competition.
Ask yourself why a buyer would prefer your home over any of these and adjust your price accordingly.
4. Square footage matters.
It's important to consider homes of similar square feet when reviewing your comparisons. Keep in mind that the appraisal that will follow a contract will usually involve a square feet cost comparison.
5. Know the market.
In a weak market, you might need to evaluate whether you can shoot for the last comparable sale price. In a buyer's market, price your home a minimum of 2% less than the last comparable sale. If that price doesn't fit your needs, then don't put your home on the market. You may need to rent it out for a time.
Now that you've peered hard into the mirror, what do you see that you can change? Having the house sit on the market seriously impacts a buyer's sense of urgency and creates a question of something being "wrong" with it. Avoid those high "days on the market" numbers by removing the house from the market, retooling what you can, and entering the marketplace fresh. Let the selling begin!
Originally written by Michelle Allen, updated 2018.
Connect with MilitaryByOwner on
Facebook

and

Twitter!