19 Things to Know for Your PCS to Maxwell Air Force Base and Gunter Annex
We know it's stressful to move to a new duty station with little knowledge of what it's really like to live, work, and play around the base.
That's why we've rounded up the most important things to know about Maxwell Air Force Base and Gunter Annex. This list gives you a heads-up on where to live and how to make the most of your time in Alabama.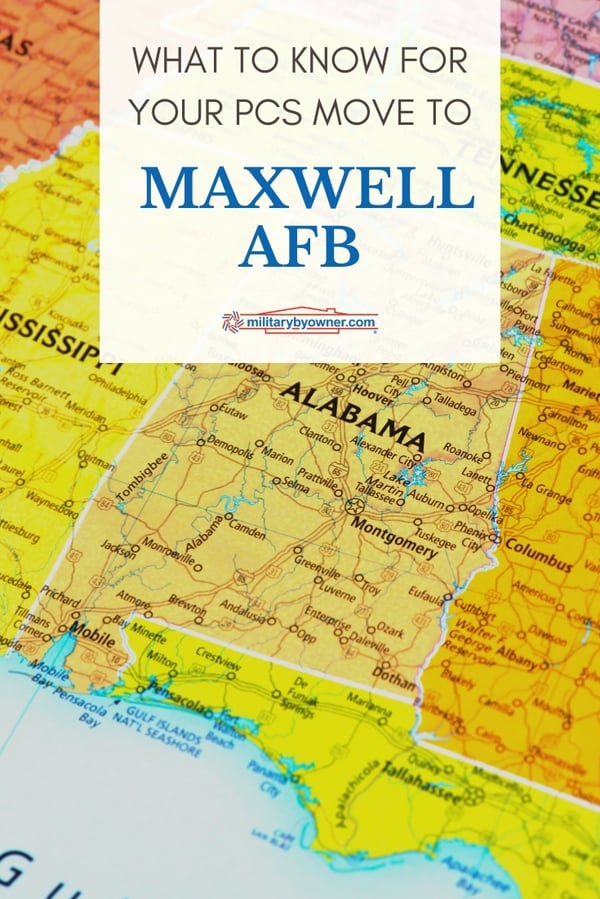 Maxwell AFB Location Information
1. Maxwell Air Force Base and Gunter Annex are located in Central Alabama, near the capital city, Montgomery. The central part of the base is about 5 miles west of Montgomery, and Gunter is approximately 17 miles northeast of the main sites of Maxwell AFB. It's a good idea to find your office before buying or renting a home to ensure the shortest commute.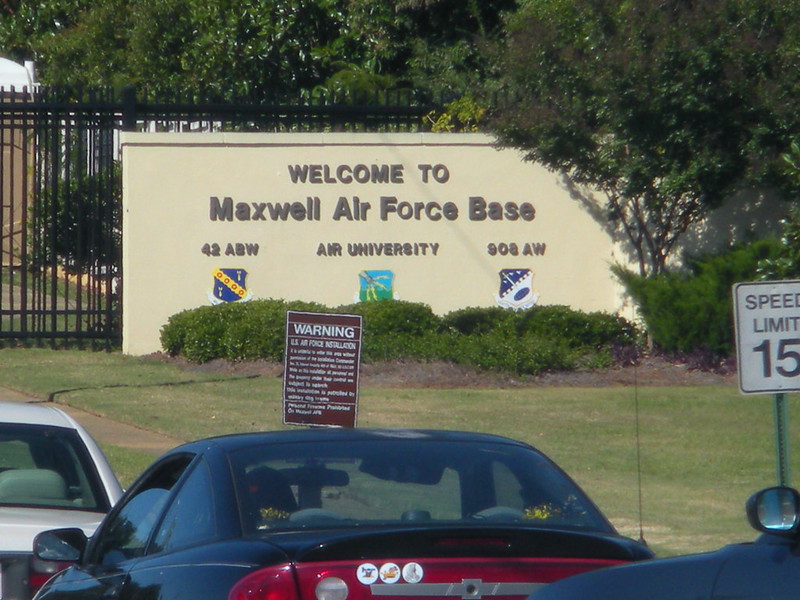 Photo via Dave Stone

2. Because of its central location in Alabama, Maxwell AFB has direct access to multiple major state and federal roadways, starting with Montgomery's intersection of I-85 (East) and I-65 (North and South).

3. Montgomery has big city neighbors like Birmingham and Atlanta, Georgia, for weekend getaways, but Montgomery provides the best of two worlds that military families appreciate: a small-town feel with the cultural, retail, and dining amenities found in larger cities.

4. Montgomery is in Montgomery County. The River Region has about 12,500 active duty members, Reservists, civilians, and contractors.


Read more details about Maxwell AFB and Gunter Annex.
Maxwell AF. Mil

5. Out in the community, you'll probably hear locals use multiple versions of the base's name because of name changes in the past. Some are old, some new, but they all mean the same place! So keep an ear out for Maxwell-Gunter AFB, Maxwell AFB, Gunter Annex, and on occasion, Gunter Field or Gunter Air Force Station; both are nods to origins in Air Force aviation history.

6. Speaking of aviation history, Maxwell AFB is well known for its connections to the birth of modern flight. The Wright Brothers left historical influence because of the opening of the Wright Flying School. Orville started instruction in 1910.

7. An Air Force base wouldn't be complete unless there was an air show to feature! Each April, Maxwell AFB hosts the Air & Space Show. Spectators come to be wowed by aerial displays and historic planes. Watch out for big names like the United States Air Force Thunderbirds and the perennial favorite, Wings of Blue, the USAF's sky diving team.


If you're new to The South, one of the best ways to jump into local culture is to embrace the food! Read 7 Restaurants to Try in Prattville, Alabama, for the best restaurants in the area.
Maxwell AF. Mil
Maxwell AFB Housing
8. Maxwell AFB on-base housing is limited, so most military families live in off base housing. Rental homes are the most in demand, especially for students assigned to Maxwell AFB for shorter lengths of time. But, due to the low cost of living and affordable housing in the area, those permanently assigned to Maxwell AFB seriously consider purchasing a home.
9. Montgomery's downtown has thriving neighborhoods that have unique personalities and residents. The art and music scene, as well as nightlife activities, prevail downtown, but Prattville, Millbrook, Redland, and Wetumpka are nearby cities that military families enjoy calling home.
10. Spouses who leave their families at previous cities or duty stations while they complete their time at Maxwell AFB are common. They usually find apartments, shared homes, and vacancies in military housing on Maxwell AFB.
---
Headed to Maxwell AFB and Gunter Annex and need temporary living? This apartment could be the perfect solution.
79 Commerce Street, Montgomery, AL, 36104
1 Bed, 1 Bath (Apartment)
Rent: $1,450
MilitaryByOwner Listing MBO1467337
Geobachelors know all too well the headaches of moving to a new duty station or school alone. A big part of the challenge is finding a temporary home that meets the unique living situation. Wouldn't it be a relief to find a fully furnished apartment paid on a month-to-month basis in a walkable part of Montgomery?
It's possible and available at a moment's notice. Reserve your home away from home online, and you'll receive an access code for the building and your apartment. Rent includes a washer and dryer, private balcony, modern kitchen, smart tv, Wi-Fi, utilities, and parking pass.
---
Maxwell AFB Military Family Resources
11. DODEA operates Maxwell AFB Elementary and Middle Schools that serve students Pre-K through grade 8. Students who live on Maxwell AFB in grades 9-12 attend Carver Senior High School, and Gunter students attend Lee High School; both are part of the Montgomery County Public School System. Bus service is provided.
12. Pike Road School System, Autauga County Schools, and Elmore County Schools allow military family students to attend their schools even if they live on Maxwell AFB.
13. Military spouses in Alabama recently had a career licensing roadblock lifted. The state signed the Military Family Jobs Opportunity Act into law, which assists spouses with transferring professional licensing. If you're looking for direct employment, the major employers include Maxwell AFB, the State of Alabama, Montgomery Public Schools, Baptist Health, and Hyundai Motor Manufacturing.
14. You won't have to look hard for military spouse connections. Active Facebook Groups include Maxwell-Gunter Spouses and Maxwell-Gunter Enlisted Spouses Club. If you prefer in-person get-togethers, try the Montgomery Women in Business Network, Prattville Running and Triathlon Club, and the River Region MOPS.
Things to Do Around Maxwell AFB
15. Life at the Max is the catch-all publication that serves the Maxwell AFB population. Both online and in print, Life at the Max provides vital base information directly related to servicemembers and their families. Readers find community news, event schedules, and directories. Various force support topics are highlighted, such as education, career information, and lodging.

16. The American Civil Rights Movement has deep roots in Montgomery. The city recognizes its important place in history, and the Civil Rights Memorial Center is one of Montgomery's largest draws. Visitors also head to historical sites such as the Rosa Parks Museum and Library, Dexter Avenue King Memorial Baptist Church, and The National Memorial for Peace and Justice.

Need kid-centric outings? 13 Ideas for Family Fun Near Maxwell AFB, Alabama, will have your kids busy for days!

17. Military families love the long-lasting warm seasons and easy access to plenty of recreational water activities, especially when the heat and humidity crank up. River activities flourish because the Coosa and Tallapoosa rivers form the Alabama River, which runs north of Montgomery. Kayakers, canoers, boaters, and families hoping to wade find plenty of opportunities in the River Region.

18. If your family loves the beach, Maxwell AFB is the perfect location. Its proximity to I-65 provides the shortest distance to popular beach towns like Gulf Shores, Alabama; Pensacola; and Panama City, Florida. Nearby beach towns in Lower Alabama and the Western Florida panhandle have tons of fans, too.

19. For a different vacation vibe, take a day or overnight trip to a tourist favorite such as Skyline Park in Atlanta or shopping in Birmingham. Each destination offers its own amenities, from sporting events to family adventure parks. Don't forget about NASA; their presence is impressive in Huntsville. The NASA Marshall Space Flight Center draws tourists from across the country each year.


By now, you should be feeling a little bit better about your PCS to Maxwell AFB. All it takes is a little familiarity with the base and surrounding area to start picturing yourself as a local. If you're searching for a home near Maxwell AFB, check MilitaryByOwner's inventory for instant updates for available houses to rent and buy.