Curb Appeal: Make a Good First Impression!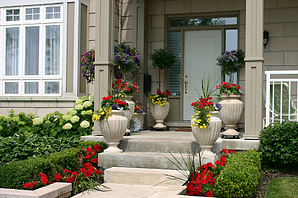 Admit it, you've done it! When a "For Sale" sign is posted in your neighborhood, you take a second look at the property if the seller has spruced up the front entry or added pleasing new landscaping. Even with a drive-by, your eye is automatically drawn to the positive changes. Yay for curb appeal!
Is curb appeal an actual factor of a successful property sale?
Of course! "The curb appeal of a home is critical," one real estate agent stated. "It is the first impression for a potential buyer. As the saying goes, you may never get a second chance to make a first impression."
A property may have spectacular remodeling on the inside, but if the outside of the property is not appealing, it will not be on a buyer's "must-see" list.
With the 2014 Remodeling Cost vs. Value report, real estate professionals rated exterior replacement projects among the most valuable projects for home improvement. Projects such as changing the style of the entry door, replacing the siding, or investing in new windows may be just the ticket to earn the best return. Adding a wood deck, replacing the garage door, and grooming the landscaping are also cost-effective projects, in terms of value recouped.
Additionally, here are simple ways to help a property become a shining star.
Tidy up! Put away yard tools, children's toys, and stray trash cans. Keep the driveway and path to the front door clean and clear.

Get your fix! Repair or replace anything wearing out or falling apart. Look for a cracked or uneven walkway, broken steps, rotting wood on the porch, a rusty gate, or a loose or missing porch or stair railing.

Freshen up! Give the front door a coat of paint and new hardware.

Ring that bell! Make sure the doorbell is in working order.

Shine a light! Replace your porch light fixture or replace outdated lighting. Good lighting will shine the best light on your property!

Go for golf course green! Tend to the lawn, apply fertilizer and weed control, and water and mow regularly. Green thumb or not, trim hedges and shrubs, pull any weeds, and rid dead plants from flowerbeds.

Make an entrance! Add new house numbers and repaint or replace the mailbox. Most of all, focus on the entryway. Get rid of any cobwebs, leaves, or yard debris with a thorough sweep before each showing. Add a splash of color with blooming potted plants. Lay a new welcome mat by the door. Highlighting the front entry is especially important due to a potential buyer lingering there while the realtor opens the lockbox.
When selling your home, the goal is to create a positive atmosphere right off the bat. That way, a potential buyer can simply focus on the appeal of the home itself. It is ideal to have a buyer walk up to the front door feeling good and that this is a pleasing place to come home to. When that occurs, the buyer is less likely to pick apart any minor flaws inside the property.
For ideas on interior appeal, check out this article "Don't Miss Out On The Internet Age's Curb Appeal" for other great tips for selling your home.
Holding an open house? Click below for more tips!