Cardboard Boxes or Plastic Totes? PCS Packing Tips from the Experts!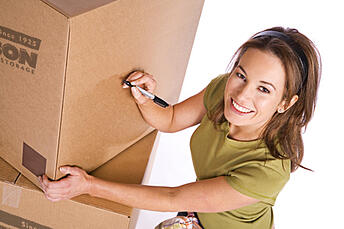 I must admit, I've come to the stage in my life where rolling a shopping cart down the organization aisle of the store brings me as much joy as a child in the candy or toy aisle! As I pass by the varying sizes of plastic containers stacked neatly on the shelves, I daydream of those home organization television shows. You know, those episodes that draw you in, where daily clutter is whisked away with the twinkle of the hostess' eye. Totes, bins, and containers, just the perfect sizes, have transformed the piles created by a hectic household into well-groomed closets and workspaces worth fantasizing over. My imagination soars with possibilities! With a heavenly chorus playing in the background, I say to myself, "I could do that, too!" I nearly consider trading my shopping cart for a wheeled flatbed to stack up those totes of organizational wonder!
Honestly, I already have quite an investment in plastic totes and bins, storing anything and everything from keepsake Christmas ornaments to craft supplies for projects I was "totally going to do." When it's time to move--whether from military housing or a rental, I am always leery of how those plastic totes will be loaded up for travel. Will the contents be re-packed? Will the totes make it through? With these questions in mind, I decided to ask a professional moving company what they prefer. Here's what I learned.
The Top Three Reasons to Choose a Cardboard Box Over a Plastic Tote When Moving:
Plastic totes may not stack as evenly as cardboard moving boxes. Since totes cannot be stacked as tight on the moving truck, they are more vulnerable to break, crack and cave in. Cardboard moving boxes are made to stack edge-to-edge and may hold their shape when other moving boxes are stacked on top.

Plastic totes become heavy easily. Packing heavy items into cardboard moving boxes distributes the weight more evenly, making it easier to carry and load.

Generally, a moving company will only accept responsibility for items they have packed themselves. If you take pride in filling your plastic tote of goods with a blanket of bubble wrap, you are then held responsible for the status of the contents of that tote.
According to the movers, the best way to secure transport of your goods is with cardboard moving boxes!
If you insist on moving with plastic totes, make sure the lid is securely taped to the container and request the tote to be wrapped in brown paper. If the size permits, request that the tote itself be placed into a cardboard moving box.
In previous moves, I've had packers empty my totes and place the contents into cardboard moving boxes. Then, the empty totes were stacked and secured together and the tote lids were stacked and taped together. Feel free to discuss with your Transportation Representative what the best option for moving your goods might be.