Multi-Generational Housing: Prepare or Beware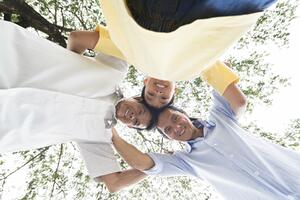 Multi-generational living situations are on the rise. Even the White House now operates as a multi-generational housing unit as the mother of First Lady Michelle Obama, Marian Robinson, lives with the family to help care for the children. The last time this occurred in the White House was during the Eisenhower Administration when 32 million Americans lived in similar situations. Today, 57 million Americans live in multi-generational housing, reflecting approximately the same percentage (18 percent) as when Eisenhower held office. This number declined in the late 1950s only to begin to rise again slowly in the 1990s, and then sharply rise from 2007 onward, according to a recent report from the Pew Research Foundation. Given the large percentage of the American population this living situation effects, we'll take a look at both the traditional and non-traditional multi-generational housing situations, as well as how to plan for the possibility of your multi-generational housing situation.
The Traditional Multi-Generational Housing Situation
My grandmother lives in a traditional (in the western sense) multi-generational housing situation. These housing set-ups provide for families living together, but not within the same unit, allowing for some degree of privacy. She lives in what is known as an accessory suite, or "mother-in-law" suite, in my aunt's backyard. Not wanting to give up her independence, but still wanting immediate family in close quarters, this feisty 80-year-old sold her own single-family home after my grandfather passed away and used the funds to build her own one-story cottage dwelling on the grounds of my aunt's home. Despite my aunt having a beautiful, large, five-bedroom, six-bathroom home with two dens and a large living space, my grandmother decided that, after having raised seven children of her own, she had no intention of moving in with my aunt, her husband, and their four large children. She wanted to live near them, but not with them. My grandmother's home has two bedrooms—one for her and one for a guest—two bathrooms, a kitchen, a living room, and a patio area. Her home is connected to my aunt's by a covered walkway. With this arrangement, my grandmother helps to care for the children and, in turn, she does not have to live alone.
The Less Traditional Multi-Generational Housing Situation
New and alternative living arrangements have emerged throughout North America in response to the rise in multi-generational housing. One of the most interesting styles of multi-generational housing is the Yumadome in Arizona. This dome-shaped structure provides for 11,000 square foot of living space for a multi-generational family. Within this space there are eight housing units, and each one has a minimum of one bedroom and one bathroom with a laundry facility and private den. In the common living area, however, the developer worked in tandem with the family to optimize the space for both functionality and cost-effectiveness, allowing families to share pricey resources, such as kitchens and entertainment space. By cost-sharing, the family could also afford a large workshop, storage space, and a beautiful inside atrium to allow the family a space to spend time together. To make the most of the situation of having four generations living under one roof, the family maintains a shared bank account into which each family unit contributes equally to cover expenses, such as utilities and groceries. Each family unit also has assigned duties or chores. An older family member, for example, manages most of the cooking while another manages yard duty.
While the Yumadome may sound like a little bit too much of family time, it's not an unusual situation, even in the western world. In countries such as Italy and Mexico, for instance, many families live on compounds with both shared family space and separate dwelling units, allowing the family to share the responsibilities of caring for older and younger family members. This situation also helps mitigate costs; it's cheaper to run one household than two. Regardless of whether a Yumadome may suit your family, read on to find out if you need to prepare for your own multi-generational housing situation.
Preparing for Your Multi-Generational Housing Situation
As a member of Generation X, you may have heard of your generation as the "sandwich generation." This means that your generation is "sandwiched" between caring for both aging parents and "boomerang" children struggling to financially enter adulthood independently. If you're in this situation and considering a military retirement or permanent living situation, you may want to consider looking at your next home as one that will provide for multiple generations living under one roof.
If you're a member of the Millennial generation, which according to the general readership of this blog, you most likely are, then you fortunately have a longer timeframe in which to prepare for your future housing needs. However, that does not mean that you should wait until the future to plan for this likely eventuality. Given that your parents may be supporting their parents and some of their children, they may find themselves in a situation in which they've not had the opportunity to save for retirement or have depleted their savings by helping to pay for the cost of living for two additional generations beside their own.
What about you? Do you live in a multi-generational housing situation? Do you know any military families who do? We'd love to hear about your experience! Please share in the comment section below.
For more information, download tips for surviving multi-generational housing below!