Quick Guide to Staging Photos for Your Home Sale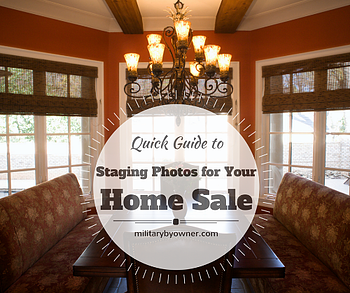 When placing your MiltaryByOwner ad, don't underestimate the importance of taking photos! Taking pictures of your home does not need to be a difficult task, but with a little preparation and thought you can take great professional looking pictures. Some basic planning will ensure that you have photos which make your home shine!
Make it theirs. Your photos should show people the best of your house and help them think about how their "stuff "will look in your house. This means getting rid of all clutter! You'll need to take down personal pictures and items that are meaningful to you, but which will look like clutter in the picture.
Consider lighting. Next, scope out the best time of day to take pictures of your home. Natural light is always preferred. This may mean you take pictures of different rooms at different times during the day when the lighting is best for that room. You want to make sure your rooms look spacious and inviting.
Staging like a pro. All pictures need a focal point or some contrast with color. Some suggestions:
Lemons and limes in a glass bowl on the kitchen counter provide focus and color. You can also put them on your dinning room table.
Flowers can also be used to give color on a dining room table or in the bathroom. In the bathroom, the flowers become the focus... and not the toilet!
If you have big furniture in a family room, you may need to remove some furniture to show the spaciousness of the room. This goes for master bedrooms as well.
Make the master bedroom appear like an oasis, i.e a great place to relax.
You now have all your pictures ready to place on your MilitaryByOwner ad! Think about the order you want them in. Post your photos as if you were seeing the house on a walkthrough: the front of the home first, then foyer, living room, dining room, family room, den, master bedroom, master bath, other bedrooms and baths, and then end with the backyard/ patio area. Help potential buyers viewing the ad feel as if like they have walked through your home. Take a look at a few of the posted ads on MilitaryByOwner in your area, as this will give you an idea what is available.
Need more help with photos for your home sale? Download our 10 tips to help your photos stand out!