Building a Life After the Movers Leave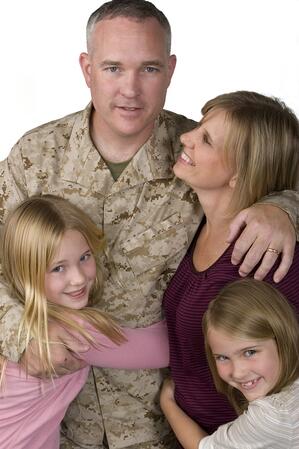 The movers have gone and you're in your new home. Since that usually means the beginning of a new school, neighborhood, and friends, it takes time and patience to make your new house feel like a home and meet the people who are going to make this PCS memorable. Now's the time to tackle the hard work of creating the latest chapter in your family's life.
I'd like to share some helpful tips and strategies to help your military family become acclimated to your latest adventure. After your home is settled, it becomes more likely you'll feel less apprehensive about making the best of this stage in your life.
Maximize Your Social Style
If you happen to consider yourself somewhat of an introvert by nature, like I do, these regular moves are even more challenging. I find that I nest in our home for the first month, then slowly emerge and begin inviting neighbors over for cocktails or playdates for our kids. It's always a good idea to have a go-to appetizer and bottle of wine or fancy coffee available at a moment's notice if some well-wishers appear at your door. Let's face it, they're curious about your family, too!
It's inevitable. You have to put yourself out there and make the first introduction or first request to swap cell phone numbers with the cool family next door. The good news is that you get better each move; the bad news is that you still have that uneasiness to conquer each time you meet the current neighbors. For all you extroverts, I bet this is the part of the PCS you like the best. One military spouse friend of mine manages to charm the pants off the all the neighbors on her street in one afternoon. It takes me longer to warm up to unknown people. Find your style and maximize it!
Knowledge is Power
We've been renters our entire military journey and it's only occurred to me within the last two moves to thoroughly know the ins and outs of our rental house, especially if it's not updated. What I mean is, know the quirks of the house and useful strategies to avoid clean up or stress that you don't need while you're still trying to make that newfangled, giant sectional couch work in the living room because your husband and 7-year-old talked you into it at the store.
A recent scenario of ours: we've never had a home with a basement or sump pump and all that entails. Recently, our area had an unprecedented rainstorm and many homes were flooded. The following trash collection day was dominated with rolls and rolls of destroyed carpeting. Our damage wasn't as bad, but it could have been mitigated by knowing to keep a hidden drain free from debris and also taking a look up on the roof to see if we inherited clogged gutters. There was a silver lining for me, though. I bonded immediately with my Navy spouse neighbor when I banged on her door hoping for help. She was too busy bailing out her own basement while wearing awesome knee-high rain boots. Nothing will bond neighbors like a disaster and cool boots! Now we watch each other's backdoors when heavy rains come through.
Make Good Use of Local Amenities
We had a full summer at our latest rental home before school started, which allowed time to investigate. The Northern Virginia area has so much to offer beyond the standard D.C. tourist sites, and we learned quickly we would catch up on all of those iconic monuments and museums after the tourists went home and the heat and humidity departed. So we amused ourselves in other ways.
I'm a huge proponent of public libraries. Now, I know some are less desirable than others and your local branch might not be the newest or nicest. But you never know, they might have a renovated kids' section or perhaps an exercise group for parents with kids in strollers. And don't forget, your best branch might be on base!
Libraries these days struggle for funding and desperately try to entice patrons to come in and utilize all their programs which leads to creative and fun options. In addition to summer reading programs and book clubs, I've seen the unique opportunity for kids to come in and read to therapy dogs for extra practice and confidence building. It's also not uncommon for a hometown author to come by and do readings or take a Q and A session.
It's also well worth the time to drop by and investigate newsletters, local publications, and advertisements. You might find your next babysitter because she left a well written ad on a community bulletin board.
Another suggestion is to look into your parks and recreation agencies. We live in a county with an extensive and impressive list of classes for children and adults. We've enrolled in activities like ice skating and summer camps. Since some parks and recs are better than others, maybe your YMCA is the place to be. I've seen Ys that are so spectacular that they beat any sports club around and had much sought after summer camps, after school activities and before and after school care. Once more, check your nearest base. Take advantage of programs offered through the MWR office, and remember that specific units may offer their own activities for families.
Before you know it, the routine of regular life will settle in. If your family is proactive, adventurous, and outgoing, you will always have the opportunity to make the most of your PCS relocations. The life skills involved with graceful transitions are some of the best preparations for your children's adult lives. At the same time, you get to work on improving and expanding your own adaptation skills…just in time for the next PCS!