Make Current Design Trends Work on a Military Family Budget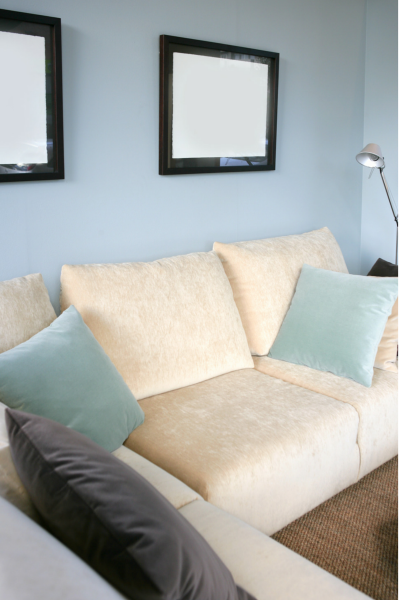 Pending PCS moves always put me in the frame of mind to reconsider which home decor I still love and which I feel a little blah about. I tend to use mostly classic, neutral, and functional elements in my scheme, but that is mostly due to budgetary restrictions.
Military families in general can't afford to buy a new sofa each time they move in order to keep up with industry trends! So it's the smaller and cheaper components like paint or pillows that I incorporate to reflect today's fashion. Since I have a wandering shopper's eye, that works for me!
Having said that, there are trained professionals out there whose job it is to make homes beautiful and current. Here's a summary of what trends designers say are in for 2015 and which are on their way out.
Color
Blue, blue, and blue. Call it indigo, denim, or Mediterranean, deep tones of blue are hot right now! Navy blue is considered a neutral these days, as it always pairs perfectly with whites and off-whites, grays and sage greens, and even pink. In fact, designers love the match between Pantone's 2015 color of the year, "Marsala," a warm brown-burgundy hue, and navy.
Natural and Industrial Elements
Although they may seem at odds with each other decoratively, if you consider the trends of mixing metals--whether it's copper and silver or black metals--they work together. Metals are found naturally and often purposefully placed in industrial looks. Industrial furniture and fixtures are still very popular and by adding contrasting metals to them, they update the room further. Metal finishes are no longer monochromatic, but layered and complementary. Lamps and other accessories with multi-metal features are easy ways to implement this trend.
Take the natural trend a step further by updating any wall space with botanical prints or pale driftwood shelving with stone accent pieces. Currently, there's an emphasis on nature and appreciating simple beauty and craftsmanship. This is why custom, reclaimed wood furniture is still holding its own--consumers like the one-of-a-kind feel to their purchases. If you do splurge on a custom piece, keep it even if the trend fades. Quality hand crafted pieces will always be in demand, just maybe later by your grandkids.
World Cultures
Luckily for military families, we are more likely than most to appreciate beauty in all forms due to overseas duty stations. I'm sure you have a friend whose home decor is predominantly Asian influenced due to time spent in Japan or Korea. Same goes for the family stationed in Stuttgart for multiple tours. It just so happens that global influences are very "in" this year. Remember--less is more, but show off a few of those cool pieces you picked up at the Vienna flea market. You'll also notice a lot of the natural trend mentioned earlier in these international looks. World Market is a fantastic source for this style.
Now for what is "out" in 2015. These are a few of the concepts losing favorability this year.
Chevrons
Even people who don't know a thing about decorating recognize the pattern on everything from household appliances to a pair of flip-flops. This is one of my favorite patterns because of its strong simplicity and versatility, but I admit it's way overdone! Just use a piece or two to cheer up a guest room, or a peek-a-boo surprise in a repurposed shelving unit.
Words and Sayings
We've all seen it a million different ways, and I think military families are especially guilty of this. We like the inspirational reminders each day to help get through a deployment or separation. From Bible verses to kitchen motifs with "Eat, drink, and be merry!" emblazoned on the front, we've seen it all.

Pinterest and other DIY websites bring global access to unique ideas that allows everyone the chance to participate and express themselves creatively. The whole world can replicate as many Chevron painted inspirational sayings as their hearts desire.
On the flip side, everyone also has access to distinctive, thoughtful projects that become next year's content for an "Out" list with whiplash speed. Anyone over Mason jars yet? My point is, buy what you love, but be open to refreshing as your tastes might change. Plus, no one does a yard sale like a military family!