A PCS To-Do List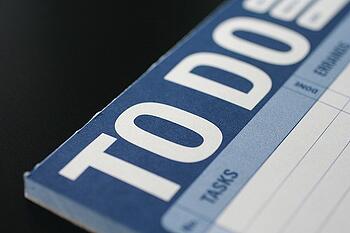 To say there is a complete PCS "to-do list" for military moves is a little misleading because each family has their own system for making the relocation work smoothly. In my opinion, the best lists are crafted after your own experiences (both good and bad) are compiled, compared with friends for their opinions, and filed away for the next time. Begin with these suggestions and customize a list with wisdom from your own military move know-how.
Household Preparation
Research:
Military Town Advisor offers reviews on housing, neighborhoods, and schools with PCS guides filled with pertinent information for major military communities.
Start with your base assignment and learn about housing offered and commute times to nearby cities.
Begin investigating real estate sites like MBO to review the zip codes you're considering.
Transfer utilities without gaps in service, or you may arrive without water or air conditioning.
Compile:
Download accurate credit reports for purchasing or renting a home.
Build a file on your computer to store notes, emails, and home search results.
Assemble a binder to hand carry important moving documents, including a list of items you want to pack in the car with you, such as a wedding dress, jewelry, or financial records.
Purge:
Donate or sell items you haven't used since your last PCS. No need to add pounds against your weight allowance for unnecessary objects.
Clean and empty attic and other storage spaces the movers will not access.
Family Preparation
Review Education Options:
Gather records, test scores, and other evidence needed for special education programs.
Research online school resources and School Liaison Officers. SLOs can also assist with easing children's transitions and moving anxieties.
Review potential schools' websites and PTA links to gauge level of parental involvement.
Plan a small goodbye party for your children. Photos at a pizza place will provide lasting memories.
Collect Paperwork:
Pick up the family's doctors and dental records. Don't forget the pet's information!
Look into your new neighborhood's parks and recreation department. Summer camps for kids can be invaluable for relieving boredom while unpacking. Camps can also supply introductions for new friends they will see in the fall at school. The best camps fill quickly and often begin registering in February or March.
Travel Preparation
Plan Ahead:
As soon as possible, reserve on-base temporary lodging. It's inexpensive and limited, so it will be difficult to book last minute during the PCS season, especially if pet accommodations are needed.
Update and fill smart phones with useful apps such as insurance carriers, hotel and airline loyalty programs, and weather predictors.
After loading the car, take a picture to reference how the jigsaw puzzle works for the next journey.
Take time for breaks from driving. Visit random tourist attractions you won't likely return to.
Packing and Unpacking Preparation
Shop:
Seriously consider providing food, snacks, and beverages for your packers and movers. Everyone is more productive when they feel appreciated. Costco is a great resource for feeding a crowd inexpensively. Note that you will have crews to feed on the destination end as well.
If not using temporary lodging, splurge on an inexpensive hotel room for a couple of nights. If you sleep well, the stress of the moving day becomes more tolerable.
Unpack:
At your new home, be clear as to what and how you would like to be unpacked. The process moves much faster after unloading the truck if you have movers assemble the large furniture such as beds and TVS, and leave the kitchenware and clothing to be put away by you when there is more time.
Ask what the moving company's policy is for box removal. Many are only required to take what you return to them the day of and do not have to return to collect them later.
Though surely you will come up with something more to add to your PCS to-do list, planning ahead will help make a move less stressful!
photo credit: To Do's via photopin (license)