3 Tips for Renting a Home Sight Unseen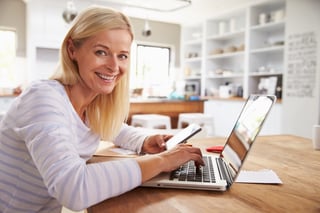 While waiting for military orders, sometimes each passing day seems like an eternity. Then, finally, your phone buzzes with a text from your spouse.
"We have an assignment to the East Coast!" Yay!
But...you currently live on the West Coast.
How will you know where to live?
Thanks to the handy search filters on MilitaryByOwner, browsing online listings near your new duty station is easy like Sunday morning. Soon, you'll narrow your wish list down to a handful of properties.
Great schools? You betcha.
Good commute? Not too shabby.
One problem? You're not alone.
Other military families in transition may be looking for properties within that same area. Even from miles away, you may need to jump on the best match while it's still available.
Before you go ahead and place hard-earned money down with a deposit, consider these three tips for renting a property sight unseen.
1. Do a little homework.
I get it. You're busy. You just found out you'll be moving. You don't have unlimited amounts of time to spend searching online for facts and figures about neighborhoods. However, the more information that you find out about a neighborhood or home ahead of time, the more comfortable you may feel about moving into a new place.
Do a little homework on the fun stuff:
Amenities of the area, like nearby parks or trails.
Local activities, perhaps an autumn harvest festival or spring egg hunt.
Community events, such as a city parade or county fair.
Also, do a bit of research on the not-so-fun stuff:
Even if you're looking for a single-family home to rent, take a gander at public reviews of apartments and condominiums in your area of interest, such as those found on Military Town Advisor. This may paint a picture of noise, neighbors, and parking. Most online reviews share direct opinions of different pockets of neighborhoods.
2. Ask for specifics.
Often, there are too many miles between you and the property you'd like to rent. If you're unable to do an in-person walk-through, focus on the photos provided with the listing. The pictures should be current, showing the true condition of the house.
If you're looking for specific things, such as walk-in closets, garage storage, or a fenced back yard, then request specific photos of those amenities.
While you're at it, ask for a floor plan of the place. By looking at a blueprint of the home, you may be able to gauge the size of each room and plan where to place your furnishings.
If you're not completely sure if this rental is "the one," you may need to call in a favor. Ask a friend or acquaintance in the area if they're willing to look at the place for you. Have them text or email pictures and share their opinion. This may help you make a decision.
3. Trust your instincts.
If a rental property sounds too good to be true, it just might be a scam. The Federal Trade Commission warns, "Scammers often advertise rentals that don't exist or aren't available to trick people into sending money before they find out the truth."
Safety first
If a landlord requests that you wire money before you've signed a lease, there may be something fishy upstream.
If a landlord says they're unable to connect with you due to traveling out of the country--even in a military community, this may seem a bit unusual.
Fraud Happens
MilitaryByOwner writer Danielle Keech experienced a frustrating rental situation.
"My husband had just completed training and we were up for a move. Since we had a wonderful experience with renting sight unseen in Virginia, we decided there was no harm in taking that route again for our assignment to Florida. My husband was on a strict schedule, so I had a tight timeline to find a rental home.

I found a home right outside the back gate of NAS Pensacola that was not only beautiful but also part of a quaint subdivision. With the pleasant renting experience we had previously, I proceeded to begin the process of signing the lease.

Thrilled about our new home, we made the drive south and arrived, not at the gorgeous home I fell in love with, but at a much smaller, odd-looking home that was certainly different from the online portrayal. It was disappointing to say the least. The quaint neighborhood was actually a deserted row of homes with the occupants crammed into a few houses that sat closest to one another.

With my hand in a bag of chips stress-eating and my husband on the phone trying to fix this absurd situation, one small ray of sunshine caught my eye. The only good thing that came of that house were the Valentine's Day flowers sitting on the front porch that my sweetheart had ordered as a surprise!

From there, we were able to get out of the lease penalty-free by finding a home on base. We were extremely blessed for everything to work out as wonderfully as it did."
Finding a rental property in one city while you are still living in another is not always the easiest task. But with helpful resource articles, engaging blog posts, and even a FREE ebook for landlords and tenants, we here at MilitaryByOwner sincerely hope your story has a happy ending.