4 Landscaping Ideas for Instant Curb Appeal
There's no doubt; spending money on your property's landscaping in preparation to sell your home is going to yield a substantial return on your investment. The figures vary slightly, but improving the overall curb appeal to attract the best buyers sits at the top of the "to do" list before any home sale.
Here's proof from the National Association of Realtors 2018 Remodeling Impact Report: Outdoor Features. The top five outdoor projects likely to bring the most added value to the home's resale are:
Landscape maintenance
Overall landscape upgrade
Standard lawn care service
New patio
New wood deck
The report goes on to detail that 74% of Realtors have suggested sellers undergo a significant landscape improvement and maintenance program before putting the home up for sale. For your home selling planning purposes, this is the breakdown of the cost recovery:

Professional landscaper estimate: $3,000
Realtors estimated cost recovery: $3,000
Of course, you can't do better than 100% of the value recovered! Want to know what other outdoor improvements will instantly add to your home's curb appeal?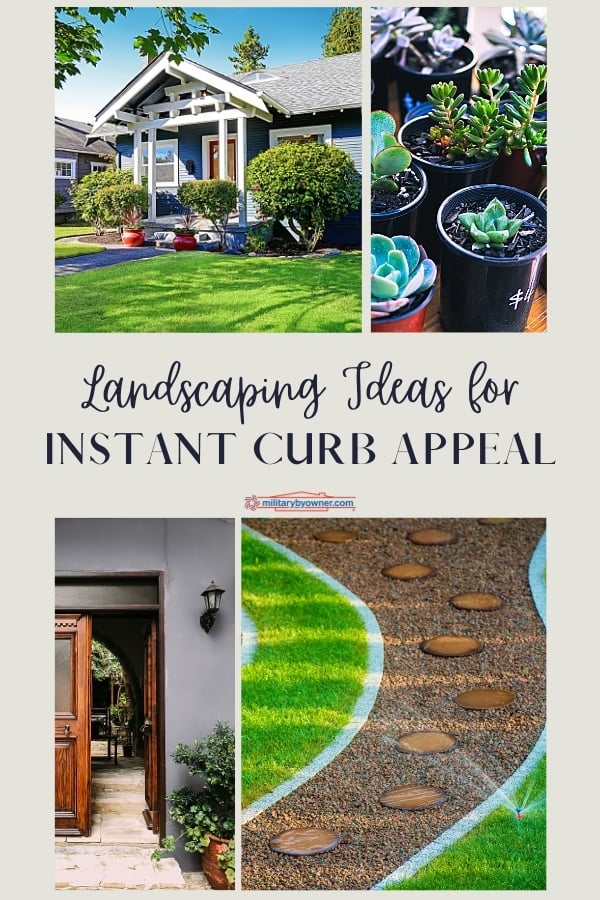 Preparing a Landscaping Plan
It's practical to assess your yard's needs for improvement by breaking them down into groups. Using the categories Softscaping, Hardscaping, Decorative Accessories, and Entryway helps plan your purchases and visualize the elements you need. Categories also serve to manage predetermined budgets.
More and more buyers are looking to buy homes with cost-cutting and environmentally friendly landscaping. When shopping for plants and trees, consider species that require less watering. In the same sense, if an irrigation system is needed, a water-saving and energy-efficient system is a significant selling feature to share with potential buyers.
Although most of these projects can be done with limited landscaping experience, if time is of the essence, a professional crew can likely knock the projects out in far less time than novice weekend DIYers.
For more curb appeal related home selling advice, read Don't Neglect These Outside Repairs When Selling Your Home.
1) Softscaping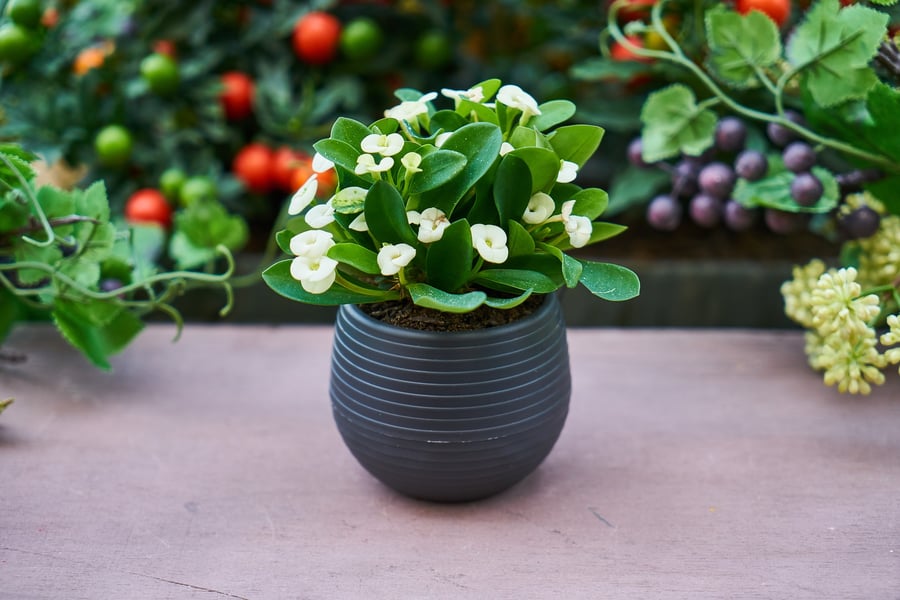 Softscaping encompasses living elements like lawns, trees, shrubbery, and flower gardens. Just like the hardscaping elements, the living elements have to be cleaned and improved to offer buyers the look they are shopping for. Some tasks to tackle:
Clean pots and containers
Shape shrubbery
Weed beds and discard dead plants
Plant colorful annuals
Two of the top features in landscaping that homebuyers are immediately attracted to are 1) the amount of shade that covers the house and 2) the condition of the lawn.
Shade is not only far more comfortable to sit in, but from a cost-saving perspective, the shade keeps the home at cooler temperatures during the heat of the summer. Although you won't immediately provide shade cover from mature trees towering over the house, there are other ways to make the outside more comfortable.
Temporary and retractable canopies are becoming more popular and cost accessible. Tall potted trees and fencing covered in shade plantings accessorize a rustic pergola easily.
Green Grass and Edible, Colorful Gardens
A barefoot-worthy lawn speaks for itself—the more lush and green, the more curb appeal it provides. A beautiful lawn doesn't come quickly, and installing sod might be the only way to get the look you need before an open house. But if time is on your side and you have the energy to tend to a lawn that attracts buyers, be prepared to maintain the cut and aerate, rake, feed, and edge the grass regularly.
Instant color comes from potted plants in decorative containers as well as garden beds. Take these colors to the next level and coordinate them with the colors of your outdoor finishings like cushions and rugs.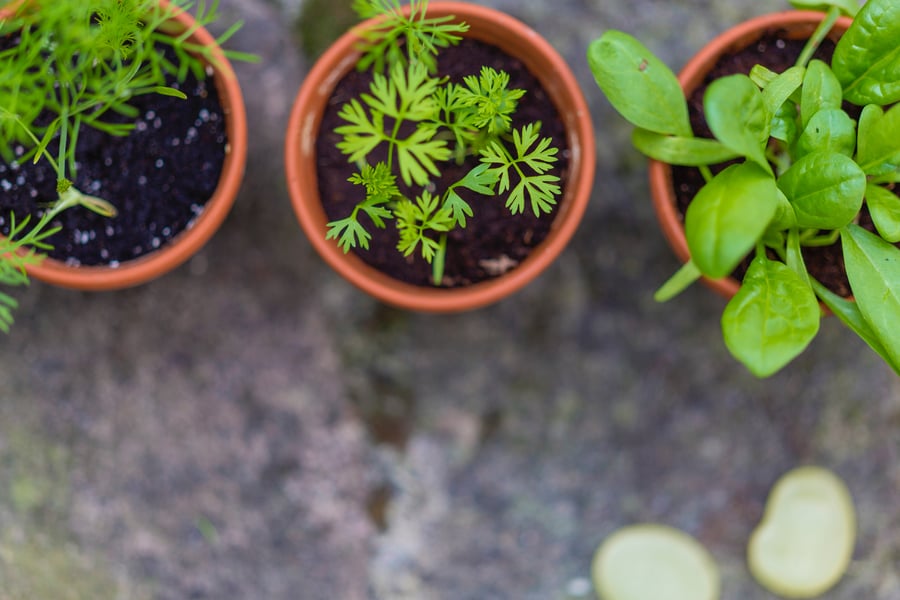 Salsa and pizza gardens aren't just colorful; they provide ingredients needed for two of the most beloved snacks. Ideally suited for pots on decks, kids and guests will be quick to jump at the chance to pick the food they're about to eat.
For a clean and upscale effect, line garden beds with substantial edging. You'll have to invest in durable materials like aluminum, fiberglass, or steel because the lesser quality options appear amateurish. Buyers are also impressed by gardens and yards that invite insects and creatures that encourage a more natural look and feel. Pollinator gardens that support wildlife are an example.
Show off Your Garden During an Open House
An open house is designed to wow home shoppers, so take gardening to the next level and label plants in your garden and containers to create an identification and picture book for potential home buyers.
Those with a green thumb will be particularly impressed that they won't have to research which varieties grown well in your yard. Those without a green thumb will be relieved to have easy-to-read information on maintenance.
2) Hardscaping
It's easy to think of hardscaping as the hard components of landscape elements, like decks, patios, outdoor kitchens, and stone walkways.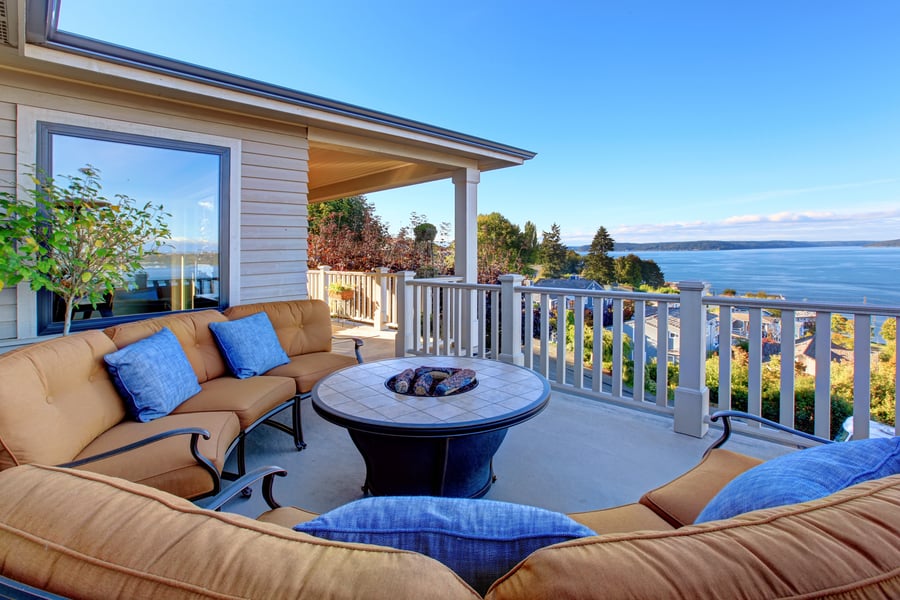 Mother Nature is a force to be reckoned with, and she'll leave her mark on your existing landscape elements. Whether it's wear and tear or general grime, it all must be spruced up to measure favorably against any newly installed features. Buyers are looking for move-in ready and won't be interested in spending time and money to power wash surfaces after they move in.
Clean and/or repair:
Water features

Deck and patio surfaces
Walkways
Extended Living Spaces
The desire to extend living spaces outdoors continues to drive the landscape industry. If a substantial investment into a deck or patio project is necessary, define the purpose of your additional outdoor space to maximize your investment dollars. Will the space be used for relaxing or meditation, or is it more likely to be used as an entertaining area?
For a multi-purpose driven landscape project, chose to install a masonry or flagstone surround around an existing tree or a newly planted garden bed. The eye-pleasing update will be noticed, and the surround could provide extra seating for guests.
Swimming Pool ROI
A note about swimming pools; they are an expensive risk for most locales, but are almost mandatory in some parts of the U.S. to entice buyers. It's considered to be a negative attribute for a home not to have a pool in places like Arizona or Florida. But in many other states, home pools are turn-offs to buyers for numerous reasons: upkeep costs, safety, and liability issues top the list.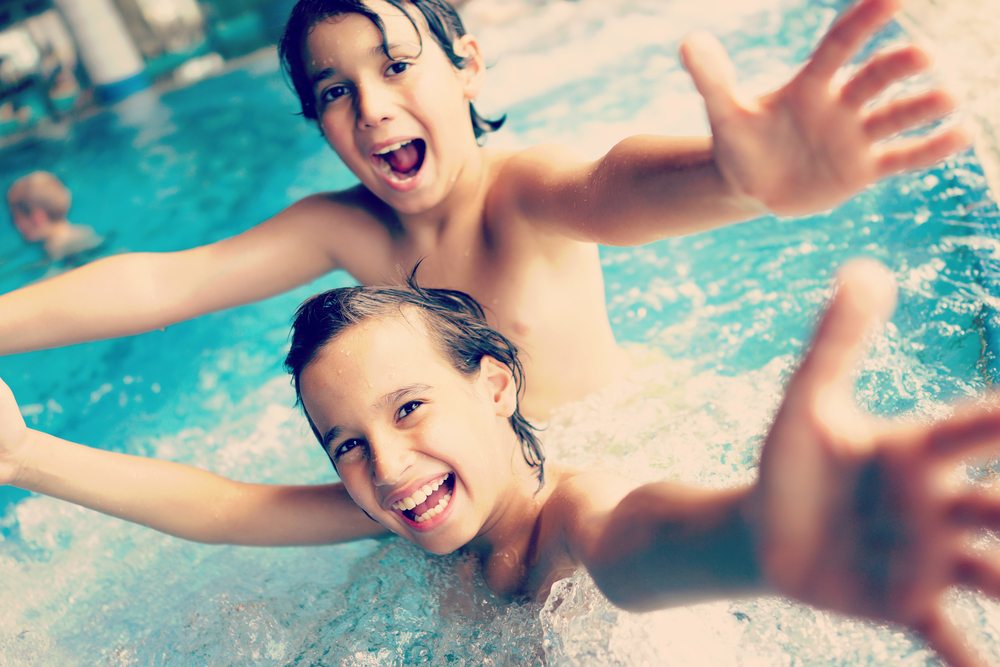 Again, your timeline and enjoyment factor could overrun a mathematical equation for ROI. The National Association of Landscape Professionals estimates a new pool reaches $50,000, and owners can expect to recoup about 50% of the expense.
3) Decorative Accessories
Outdoor furniture, rugs, and personal creature comforts are examples of decorative accessories, but the options are limited only by budget and personal preferences.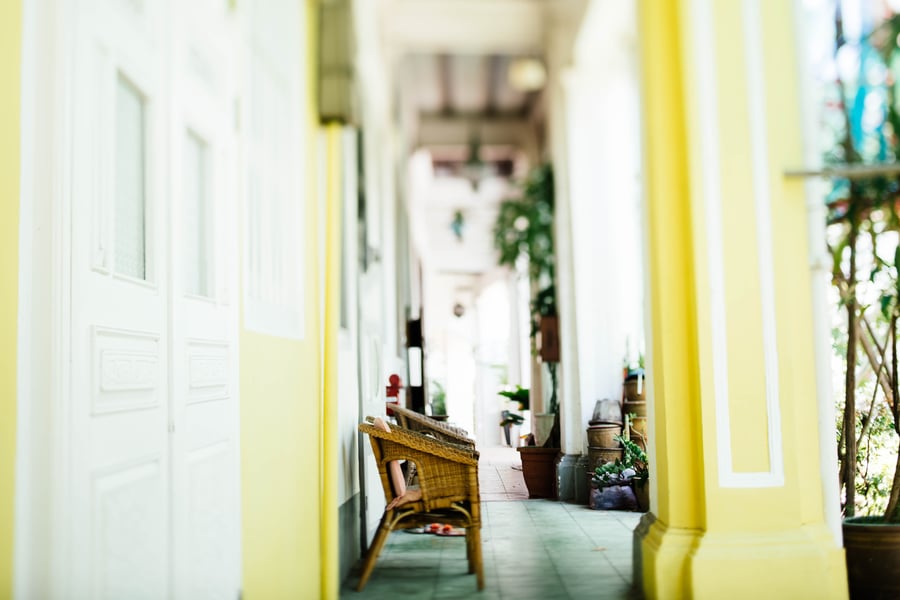 Determining logical focal points within your landscaped areas is a great place to start with decorative items, especially if the budget is limited in hopes of selling quickly. An outdoor fireplace with a mantel requires an item or two to look as though the space is regularly occupied.
To feel inviting, back decks and patios with outdoor furniture should feel comfortable and not forced into tight perimeters. Consider scale and the available space before purchasing oversized outdoor sectionals, which are difficult to rearrange. Pillows, rugs, side, and coffee tables are musts for entertaining and the ease of guests. Lantern, torch, or overhead lighting are also decorative items that finish the space.
4) Front and Back Entries
Although technically not landscaping, the front entry, in particular, promotes another chance to catch the eyes of potential buyers. Cleaning and updating components of the porch and doors give the impression of a well-kept home. New paint for the door, improved house numbers, and a cleaned light fixture are inexpensive updates.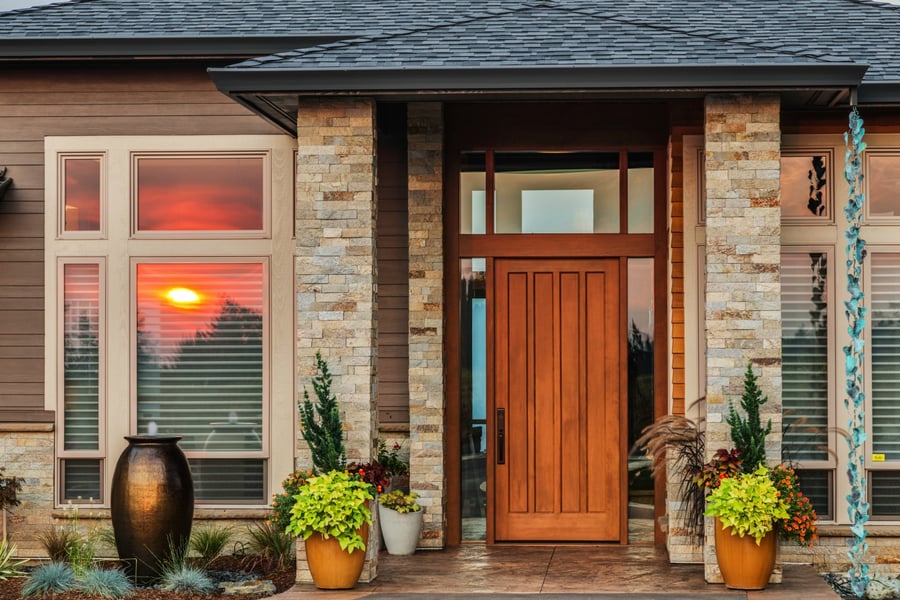 But what makes the porch pop from the street view is the look of luxurious and layered plants. Hanging, potted, and container plants, especially with colorful blooms, are low-cost improvements that provide the complete picture of a home worth the full asking price when joined with other landscaping elements.
Factoring Military Life into a Landscaping Plan
Military life doesn't always allow for these kinds of investments into landscaping. Tight timelines often prohibit a profitable sale, or a difficult selling atmosphere in your neighborhood might take these improvements beyond your monetary comfort zone. But, because curb appeal is so crucial to draw in buyers and even renters, it cannot be ignored. Perhaps a new patio isn't in the budget, but plenty of sweat equity and reasonable updates are.
Updates are also very tied to your timeline for selling or renting. If you anticipate moving in a year, installing an outdoor fireplace or fire pit brings plenty of quality time with the family, but probably won't meet 100% ROI. But, if you return to your dream home after housing tenants for a couple of years, the custom fireplace will be a joy to come back to.
The Need for Current Landscaping Trends
Sometimes, home selling is a challenge, especially for military families with individualized time and location restraints. Keeping up with the latest landscaping trends that attract a variety of buyers should be something that you keep on an eye on as the homeowner, especially as you begin to map a future beyond your current home.
Maintaining a beautiful yard and incrementally adding improvements during your time in residence and as your budget allows keeps the pace flowing forward, so a mad scramble to wow buyers isn't necessary when the time comes to list the house for sale.
For more home selling advice, follow MilitaryByOwner's blog and download our free resource below! You'll find tips not only for first-time property owners but for seasoned movers who simply need new and creative ideas for putting their home's best image forward.